IE's cold air intake for your supercharged C7 A6 or A7 has been obsessively engineered for performance first using professional motorsport practices and computational flow dynamic software. The result is an uncompromising intake system that sounds and performs for the street or track with a sophisticated and sporty design.
ADD UP TO
15-20HP
ON TUNED ENGINES
EASY INSTALL
BOLT-ON
NO MODIFICATIONS
FLOW OPTIMIZED
VELOCITY STACK
MOTORSPORT DESIGN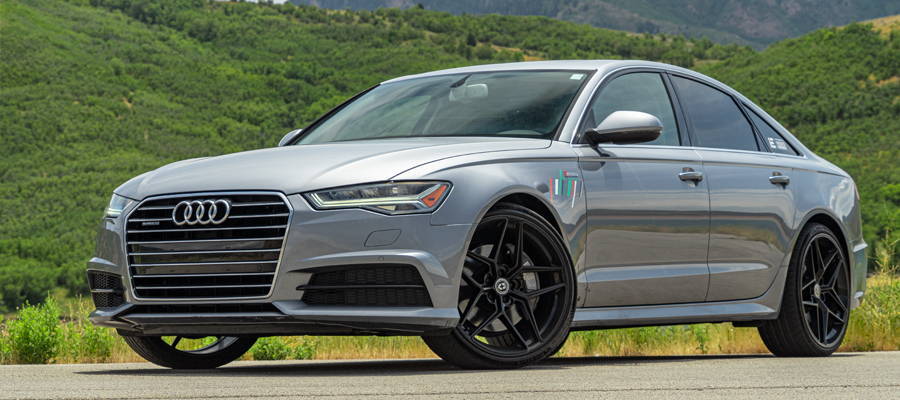 More power, stronger torque, fantastic sound, impressive looks -you can have it all! IE's A6 & A7 intake system delivers a direct ram air flow to your engine, delivering instant power gains and an aggressive supercharger sound.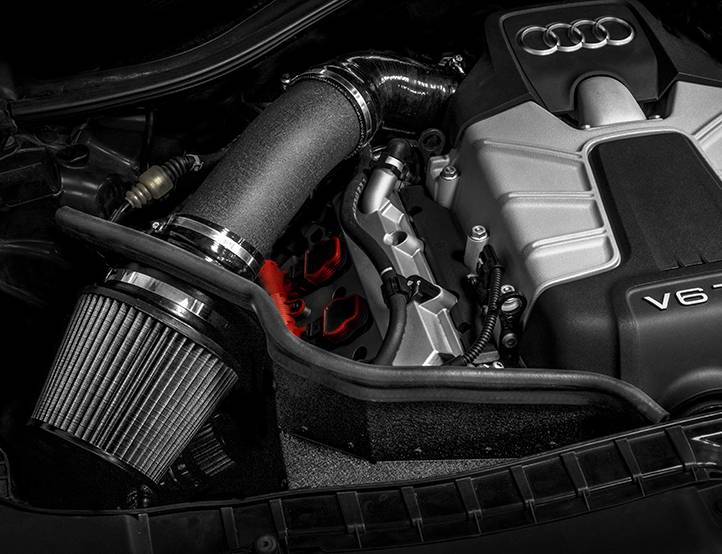 Gain 15-20 horsepower and torque with tuning

Available with optional high gloss carbon fiber lid

Adds aggressive supercharger whine

Ram-air inlet pulls fresh air from front of car

High-flow built-in velocity stack & 5" air filter

Flow-optimized for pulley upgrades and ECU tunes

Smooth transition 3-ply silicone couplers

Perfect fitment by utilizing factory airbox mounts

Laser-etched stainless steel logo plate

Black powder-coated aluminum

Stainless-steel hardware

Perfect fit with bolt-in installation
OPTIONAL CARBON FIBER LID
Upgrade your intake and bring a classy and stylized look to your engine bay with the optional carbon fiber lid upgrade. The carbon shape is specially designed to fit your IE intake and conform to the factory engine bay for a 100% perfect fit and finish. A hidden series of install holes under the trim seal on your intake allows for an easy installation for your carbon upgrade.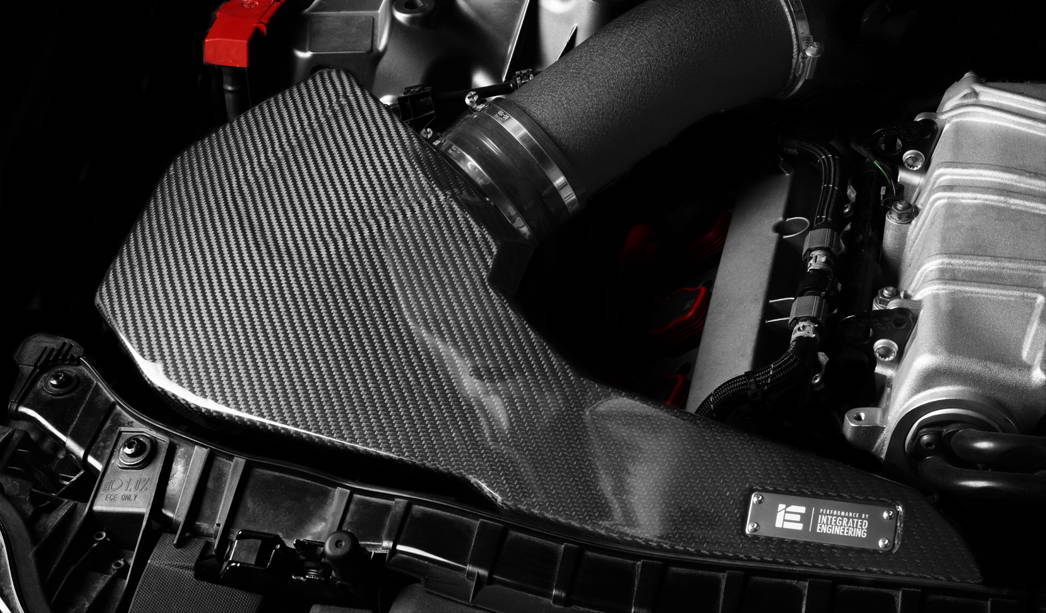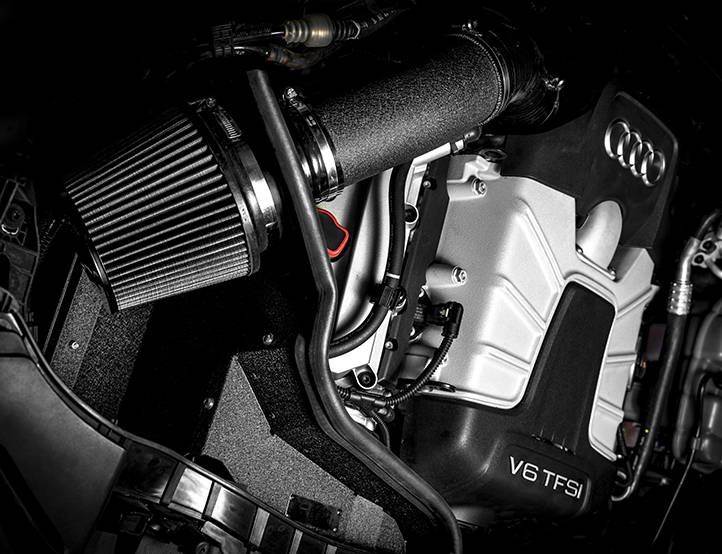 Upgrading your ECU tune, pulleys, and other power adders requires airflow beyond the factory intake box. Ditching your restrictive stock airbox for IE's intake system feeds an impressive flow of air from the front of the vehicle. More airflow means more power!
Delivering cold air effectively for power takes more than just an open filter. Velocity stack technology like that found in professional motorsports has been incorporated into our intake design to efficiently channels air as quickly as possible. The velocity stack also functions as a solid mount for the air filter, which means no intake pipes rattling or rubbing on heat shields.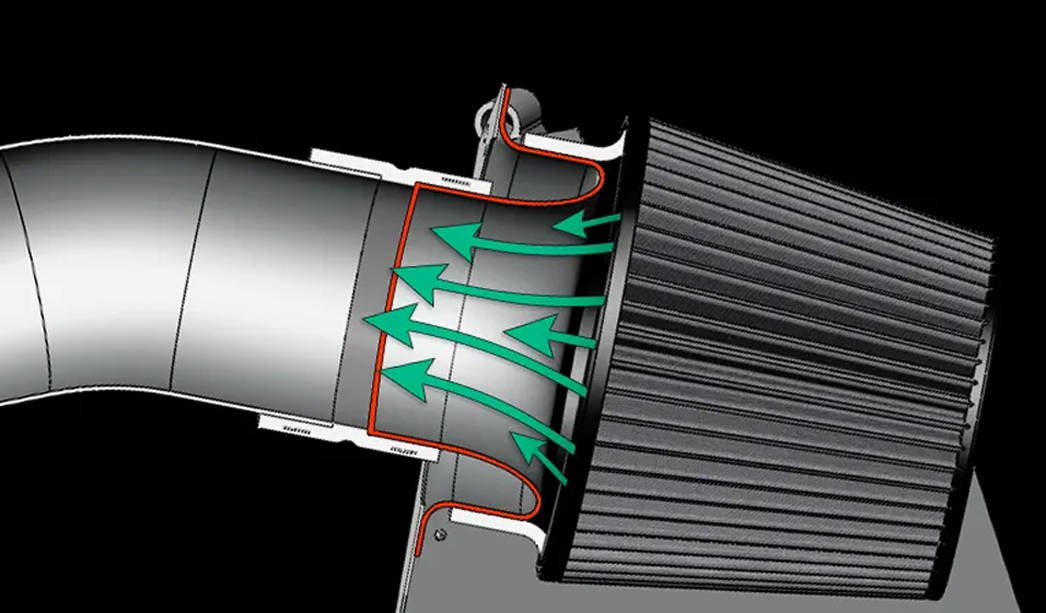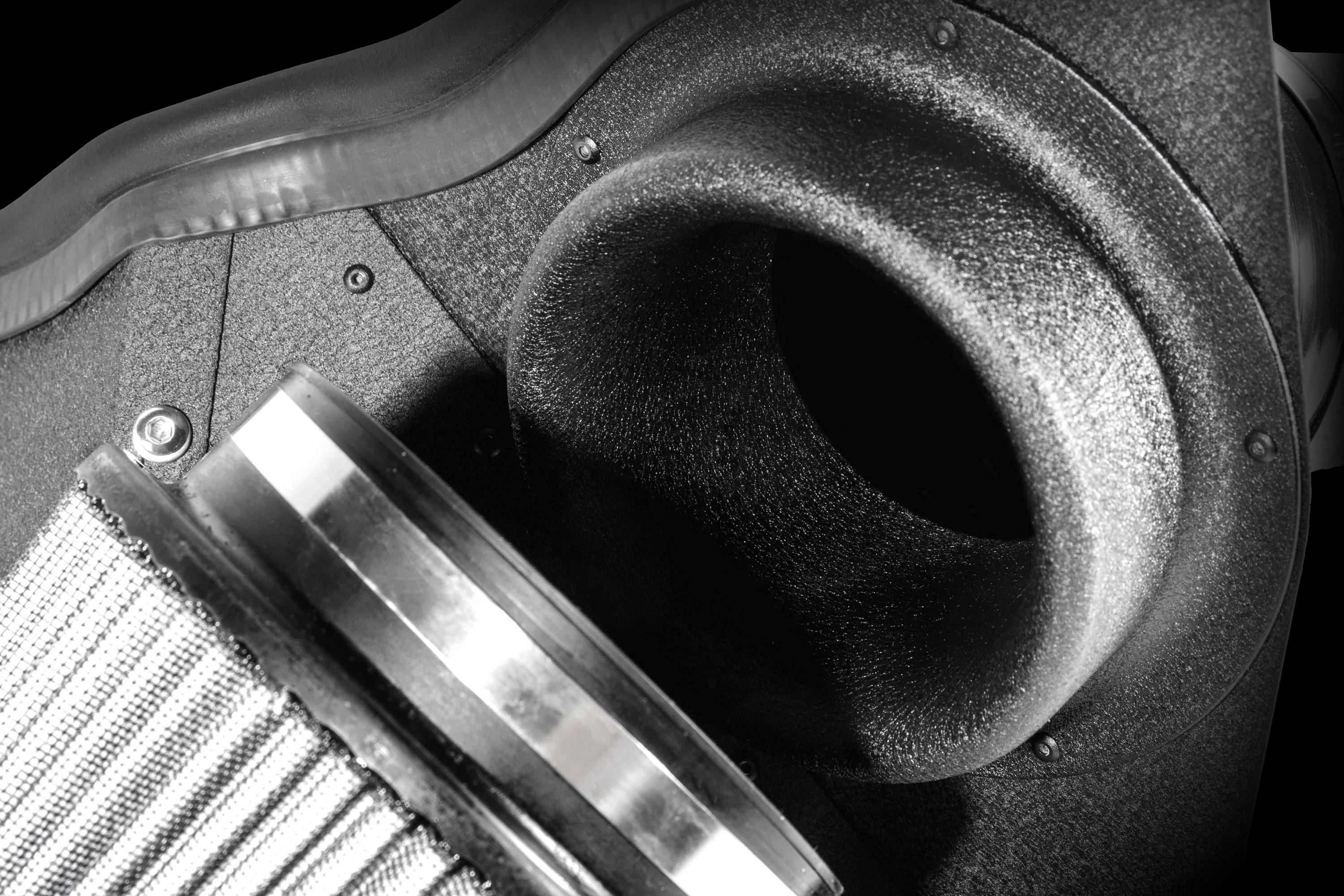 We know superchargers are fun to drive, but releasing that iconic whine will put a smile on your face. The high-velocity bellmouth and free flow design produce a completely addicting symphony of engine and SC sounds.
The multi-piece heat shield not only looks great but is built to perform by effectively channeling cold air from the front of the car to the massive air filter. The heatshield's location, shapes, and angles are no accident; these are all designed to protect the intake from hot air surrounding the engine bay.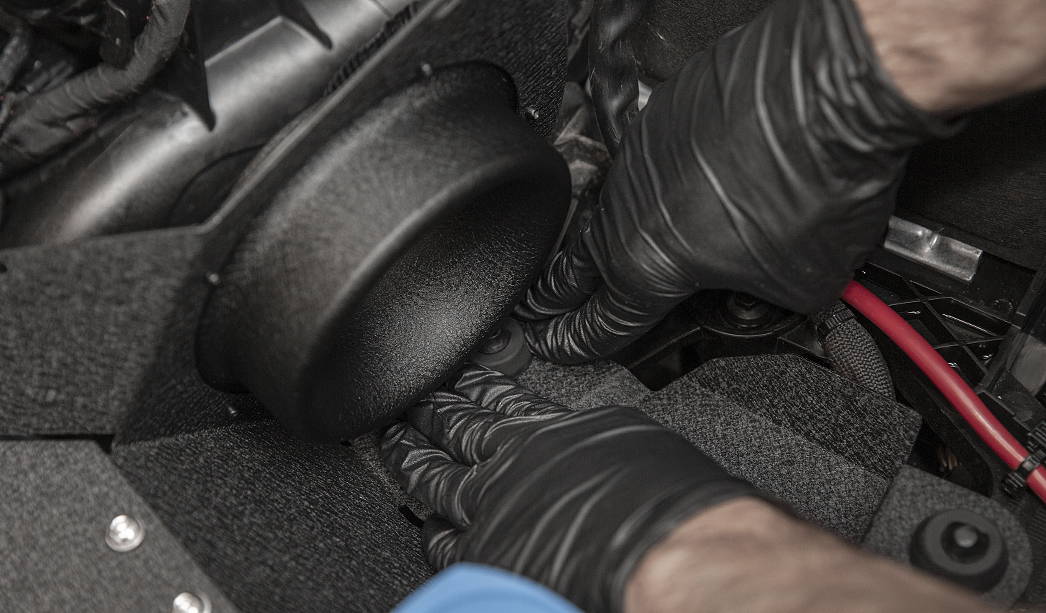 Our true-performance intake system includes genuine motorsport features such as the ram air design, built-in velocity stack, and a massive 5-inch air filter to deliver the most power possible from an intake system. The result introduces a jump in power to your 3.0T supercharged engine with peak gains of 15-20+HP/TQ on a tuned ECU!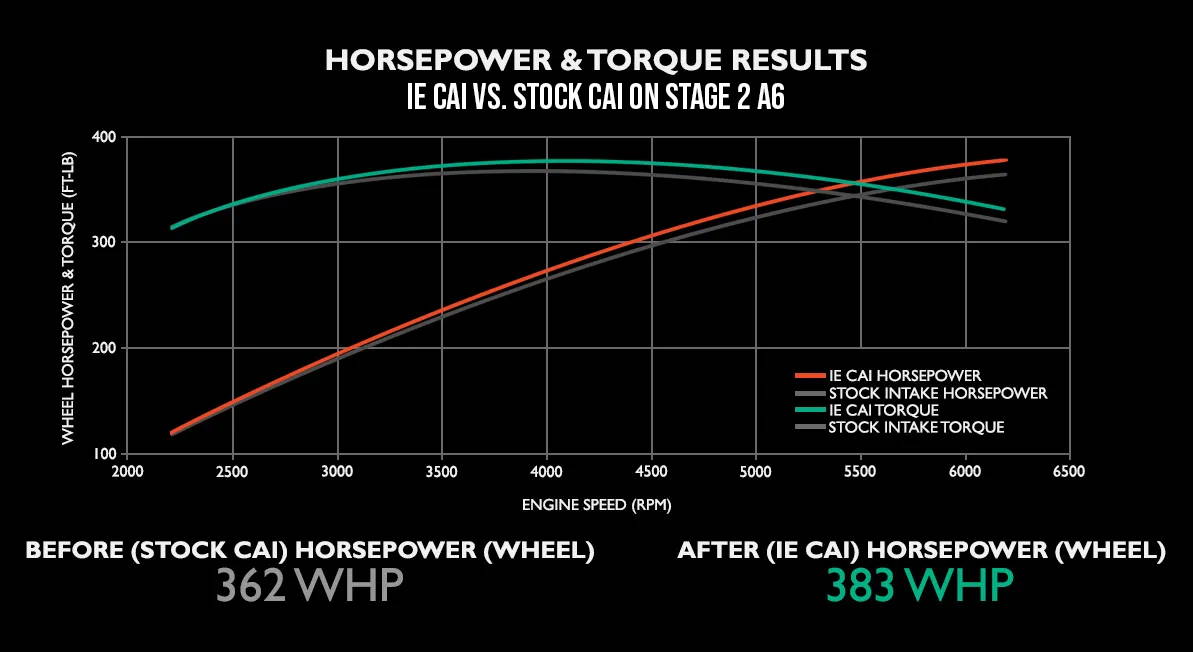 The above gains are a result of various design details:
The 5" air filter surface area and increased air volume improve supercharger efficiency.


The internal velocity stack provides a low-turbulence transition from the filter to the inlet.



Ram air scoop channels low-temp airflow quickly to the engine while protecting it from radiant engine heat.
To learn more about these features, click the design tab above.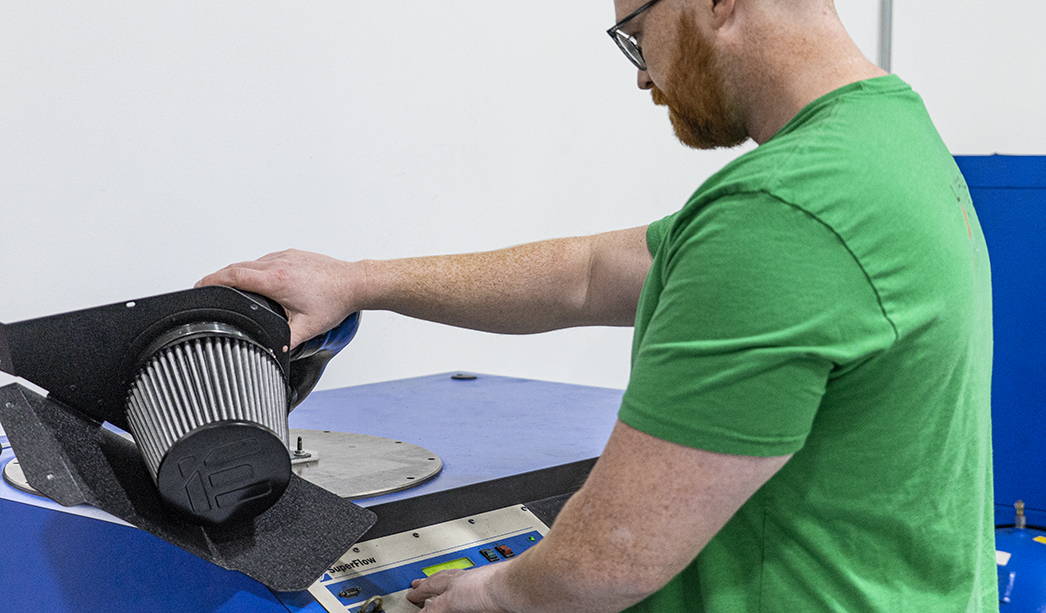 This Intake fits Audi C7 A6 & A7 3.0T V6 Supercharged engines without modifications or hassles. The installation process is simple and can be done quickly with basic tools. IE intakes utilize the factory airbox mounts ensures a perfect and long-life fit. Additionally, the stock mounts allow engine movement, keeping intake components from getting damaged.
Install time around 1 hour