Upgrading our Audi 3.0L turbocharged engine with aftermarket upgrades such as ECU tunes and larger turbos adds fast and easy power, but demands more airflow in return. The factory airbox and turbo inlet are adequate enough for stock power output, but become a large restriction on engines with aftermarket upgrades that can restrict horsepower. Pairing an IE Cast Turbo Inlet Pipe to your IE Cold Air Intake completely removes the factory flow restriction allowing your stock or aftermarket turbocharger to breathe free and make unrestricted power!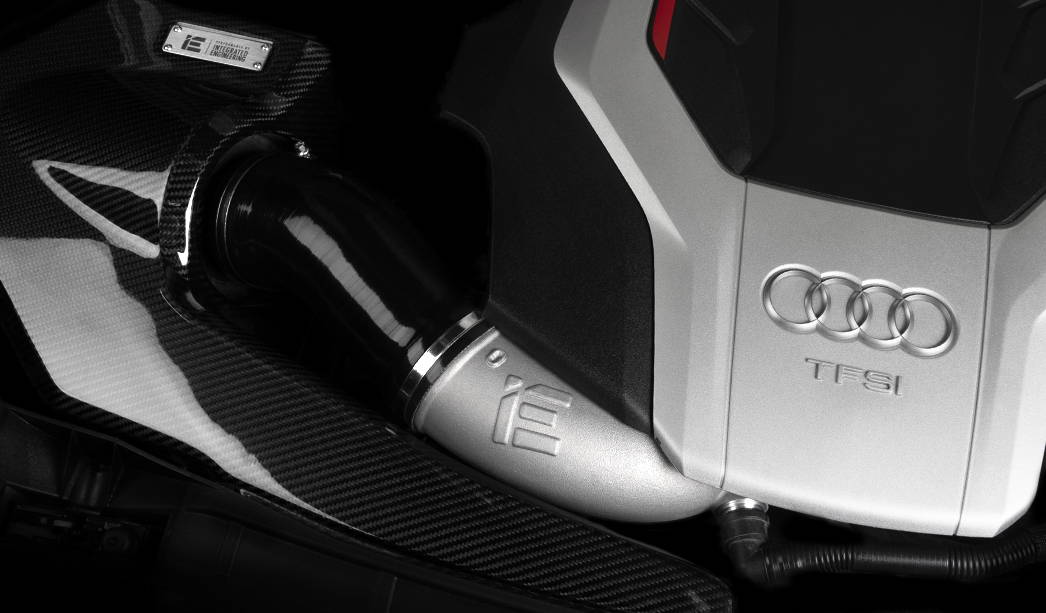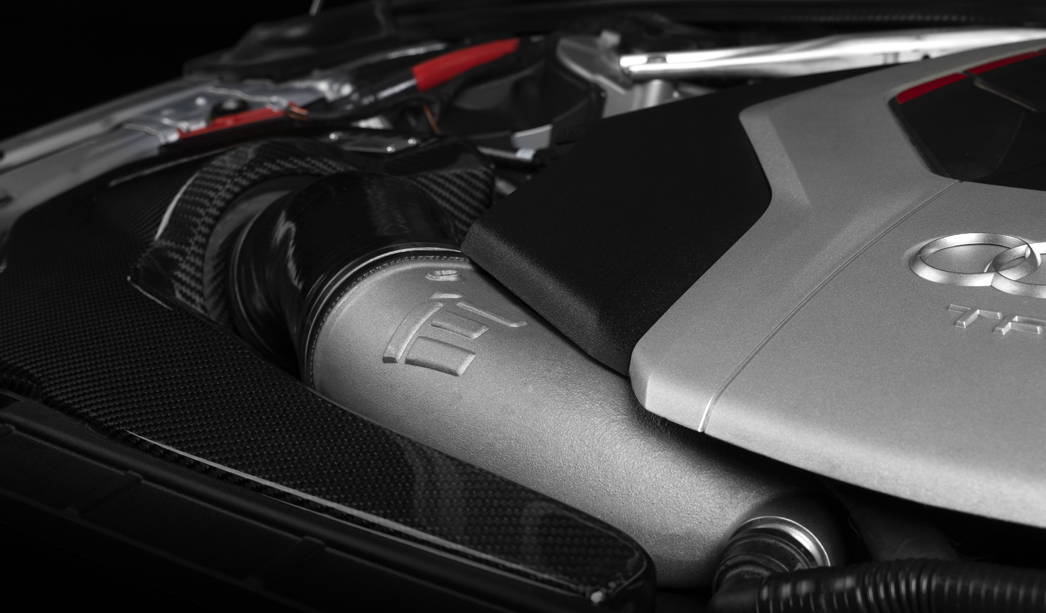 IE's inlet design has been engineered as the ultimate turbo inlet solution. Only the best materials and design features were used for a high-end fit, function, and ultimate reliability.  
23% higher flow over stock turbo inlet

37.4% higher flow than stock with IE carbon intake (stock turbo)

61.49% higher flow than stock with IE intake (hybrid turbo)

4" effective inner diameter cross-section

85mm inlet side to 66mm turbo side (before adapter plates)

Up to 19HP & 21ft-lbs over stock when combined with IE intake

Hassle-free slip-fit retainer post design for easier install

Engineered for hybrid turbo flow-support

Direct bolt-on fit to stock and popular hybrid turbos

Cast aircraft-grade aluminum

In-house CNC machined for exact tolerances

Maximized shape and size for flow

Adaptable for stock or larger turbos

O ring sealed turbo flanges for a leak-free seal

Perfect addition for your IE Cold Air Intake

Stock intake silicone adapter available
Gaining more flow is all in the size and shape of the turbo inlet pipe within the constraints of the factory engine bay. 3D scans were taken of the engine bay and stock inlet pipe to identify the space available to work in. This allows us to maximize the flow characteristics of the design without running into any clearance issues or rubbing expensive factory hoses or lines. This results in a very large effective 4" inner diameter cross section taking up all available space for the most airflow physically possible.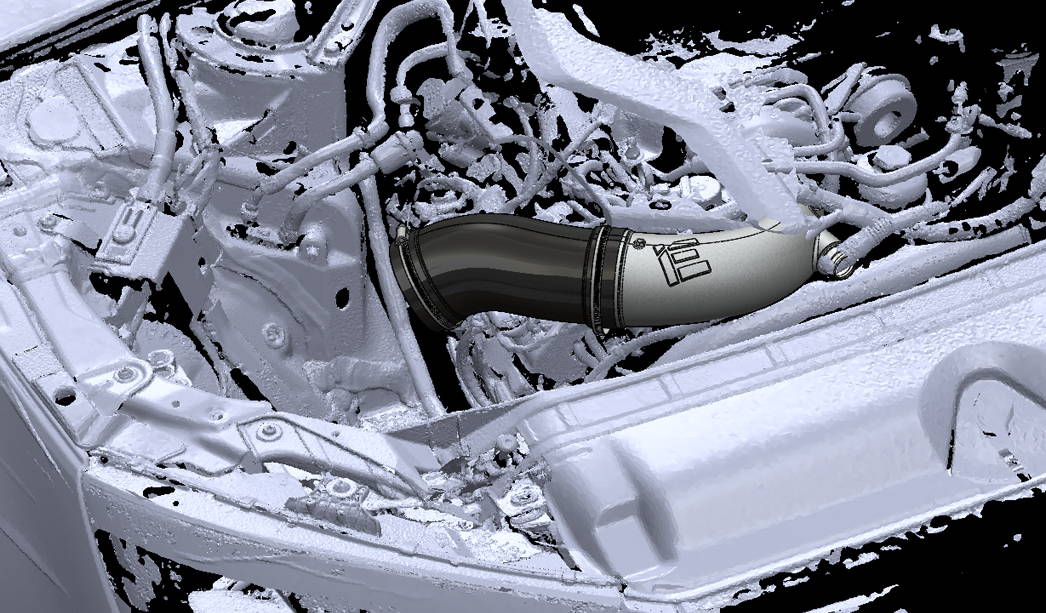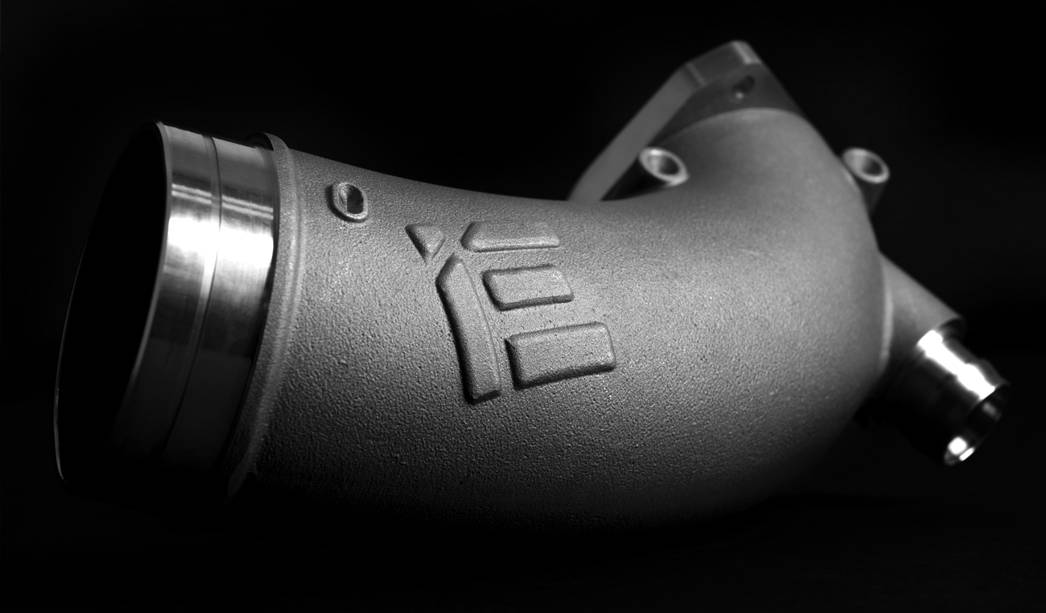 Designing a performance turbo inlet design is one thing, bringing it to life is another. To accomplish the unique shapes and bends required to achieve the maximum airflow, IE turbo inlets are manufactured from aircraft-grade aluminum castings. This process also results in an attractive finish and incredibly durable product.
The IE Turbo Inlet Pipe has been designed with future options in mind. The 3.0T is a very popular platform for modifications and with many owners looking into upgrading the turbocharger for even more power. What's the point of designing a performance turbo inlet capable of hybrid flow rates if it doesn't fit? Our adaptable design utilizes CNC-machined and o ring sealed adapter rings to fit either the stock or a variety of aftermarket turbos without hassle. Turbo upgrade adapter rings are sold separately.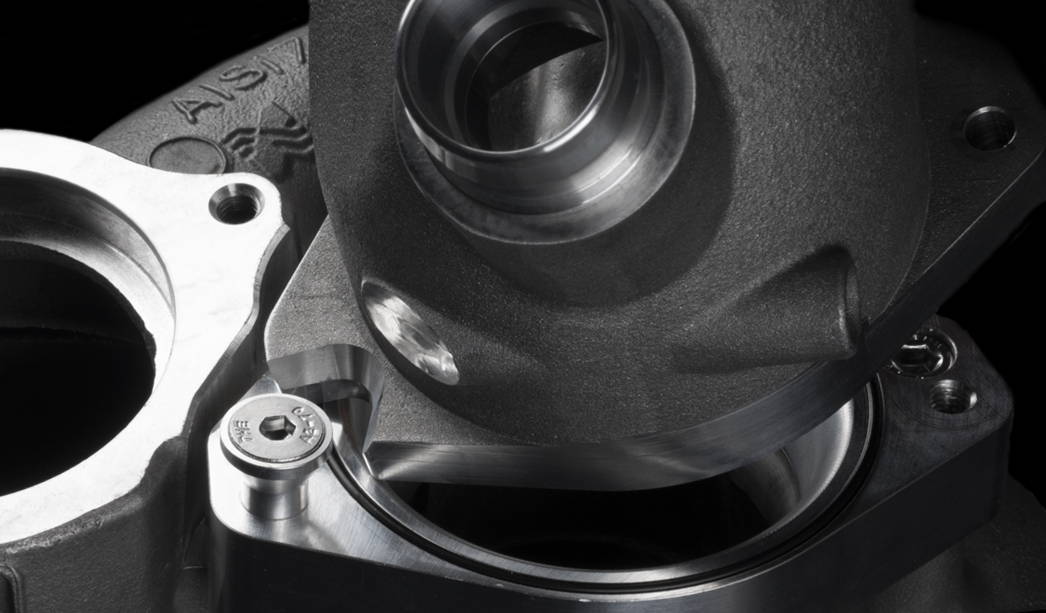 The factory lower bolt locaiton is a very tight fit with little space for tools and can be a frustrating bolt to install -especially with a large aftermaket inlet. For a hassle-free installation, our design features a billet aluminum retainer post that creates a leak-free slip fit for the bottom bolt making the process fast, smooth, and easy!
We know you want the most performance from your investment in aftermarket upgrades and wouldn't sacrifice power for a small, plastic, factory-equipped turbo inlet. IE's engineers have thrown out the factory design and started from the ground up to maximize performance. Utilizing advanced engineering techniques and industry-leading manufacturing processes, IE's Turbo Inlet Pipe takes full advantage of all available space with a unique shape to maximize airflow. This optimized design results in a massive 23% increase in flow over stock!
Back-to-back flow bench testing shows consistent airflow gains over the stock turbo inlet pipe.
The chart above details flow gains (CFM) over stock.
Flow bench results show the massive flow improvements from our Turbo Inlet Pipe upgrade.
Since the IE inlet is designed to fit the largest space for high-flow as possible, the machine work required for the raw aluminum castings must be done with incredibly tight tolerances. Utilizing our own in-house CNC machines, each individual casting undergoes multiple operations and is verified with a strict quality control process. This ensures every inlet is shipped out with a beautiful machined finish and a precise installation.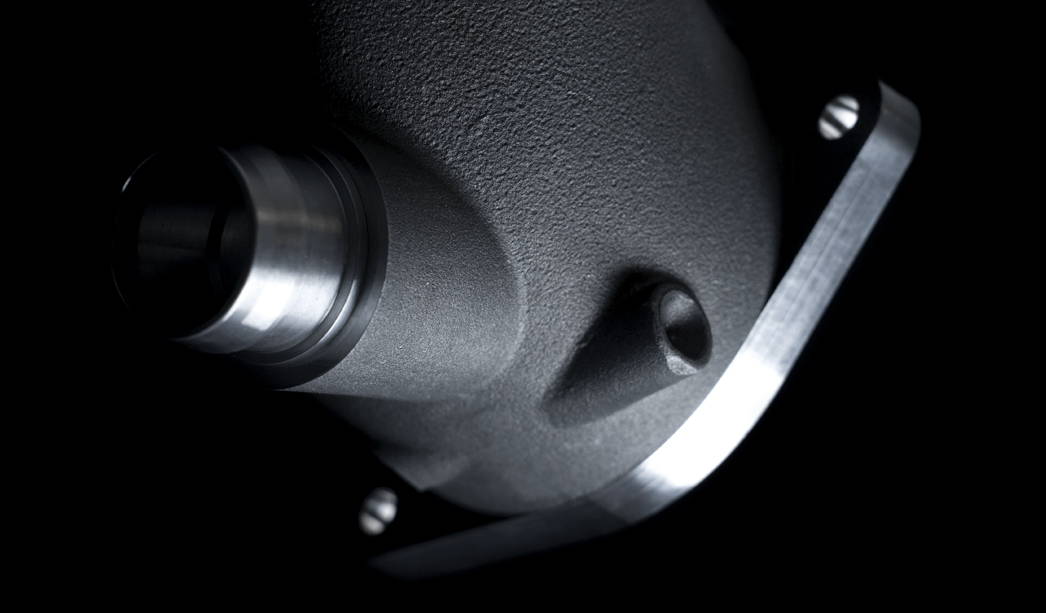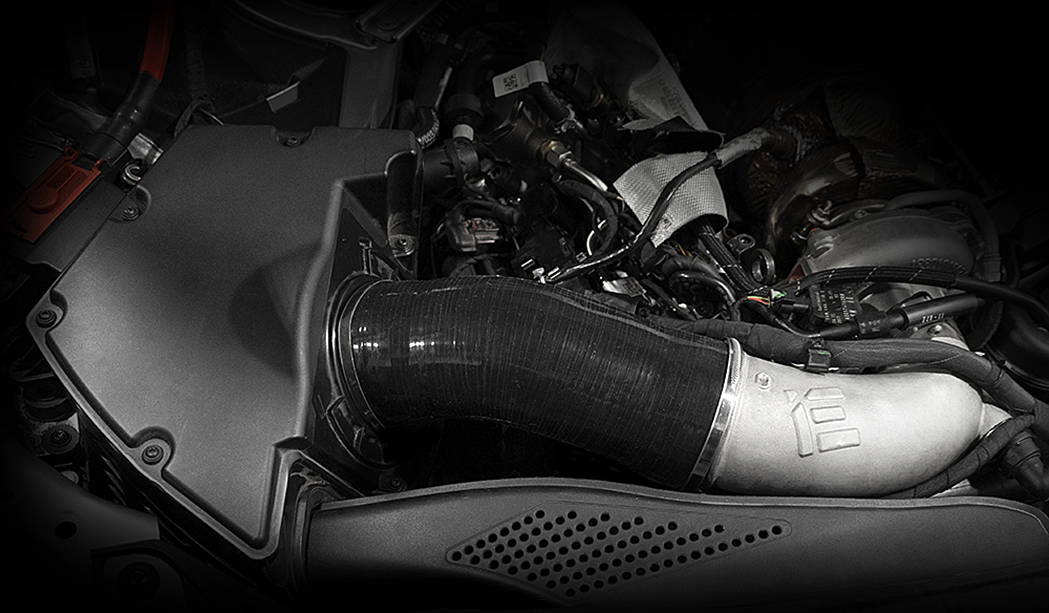 The silicone adapter included is for a direct fit to our IE cold air intake kit (part number IEINCK3). An optional silicone adapter is available to adapt to the stock intake. This may also fit with some non-IE brand intake kits, a direct fit is not guaranteed and modification may be necessary. Not required when installing with an IE cold air intake, sold separately.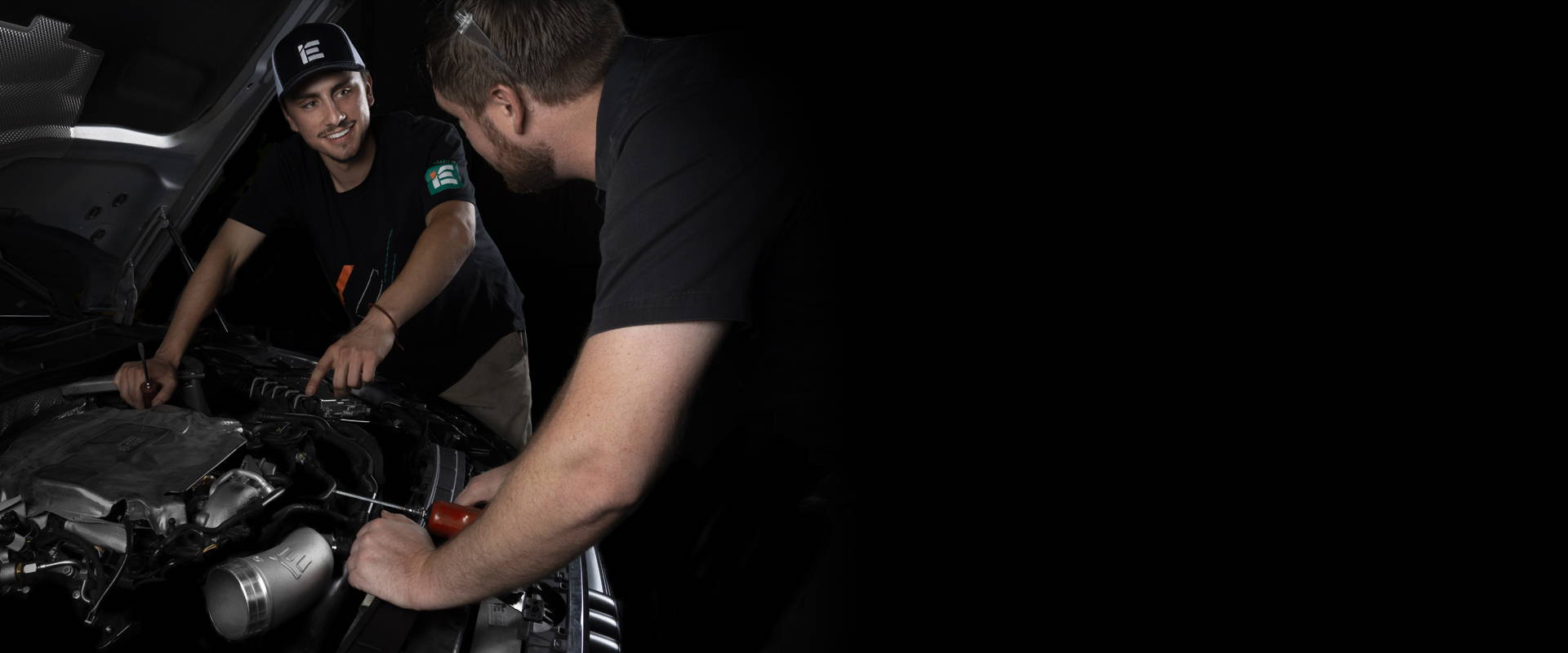 IE's Turbo Inlet fits Audi B9/B9.5 S4 & S5 3.0T V6 Turbocharged engines without any modifications or installation hassles. The install process is straightforward and can be done with basic tools. Fitment is not verified on non-IE brand intakes without modification, purchase is at your own risk.
Install time around 1 hour