IE's carbon fiber intake system for your Audi B9/B9.5 RS5 or RS4 has been engineered with meticulous attention to detail. The one-peice carbon fiber airbox increases volume, airflow, and manages intake air temperatures (IATs) to elevate turbo and engine efficiency. Enjoy a boost in power you can feel and seamlessly combine style, sound, and performance for your RS-class Audi.
HIGH-GLOSS
CARBON FIBER
AIRBOX
UP TO
+28HP & 26TQ
POWER YOU CAN FEEL
FLOW OPTIMIZED
VELOCITY STACK
MOTORSPORT DESIGN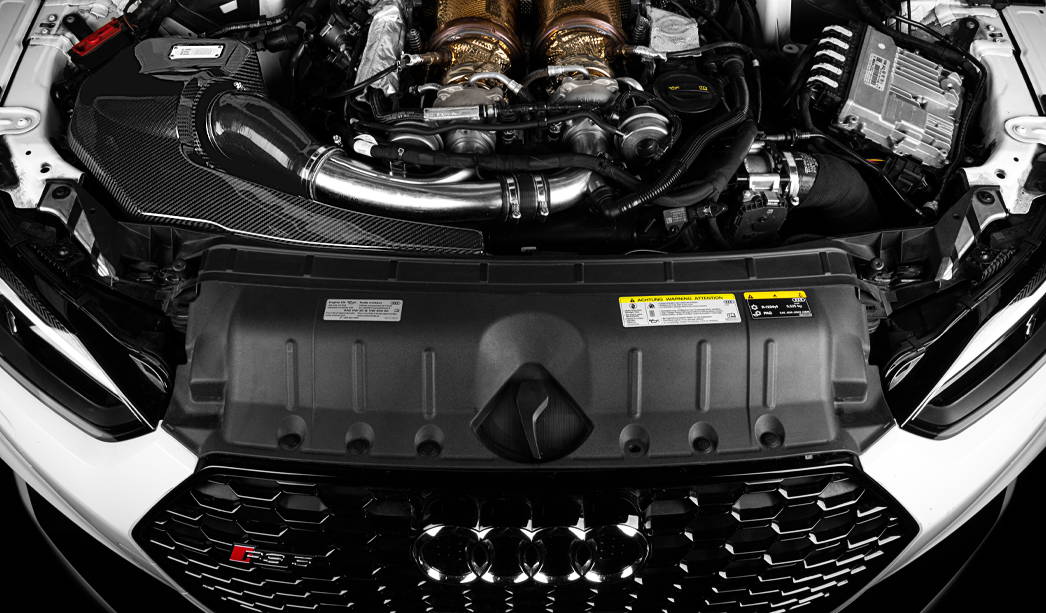 H

igh-gloss genuine carbon fiber construction

Leak-free seamless 1-piece airbox

Up to 28HP & 26ft-lbs over stock (with IE turbo inlet)

Flow 27.75%% more than the stock intake system

Enhanced turbo & engine sound

High & low pressure air zones for any power level

Maximized turbo & engine efficiency

Massive 5" air filter & velocity stack for excellent laminar flow

Factory-style mounts for reliable & easy installation

Includes all stainless hardware

Multi-ply silicone with stop-flat edges

High-quality clamps

Powder-coated aluminum filter plate
IE engineers have meticulously crafted every millimeter of this intake system, utilizing intricate shapes and angles to minimize turbulence and maximize internal volume. All restrictions are eliminated through performance optimizations, increased airflow, a generous filter surface area, and heat protection for maintaining low intake air temperatures (IATs). This unleashes the true potential of your engine tunes and hardware upgrades to deliver the most performance enhancements possible.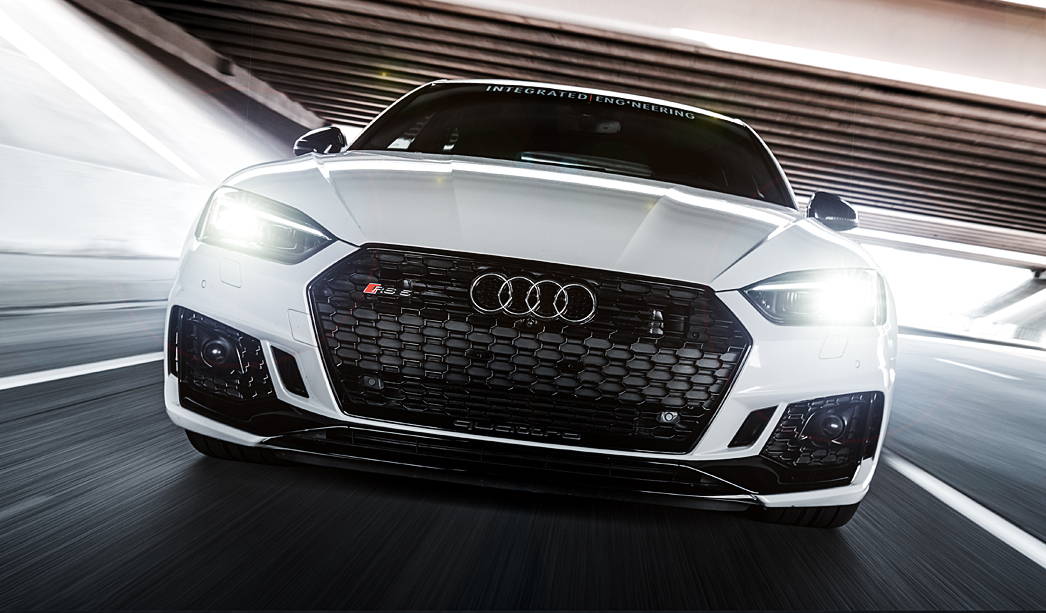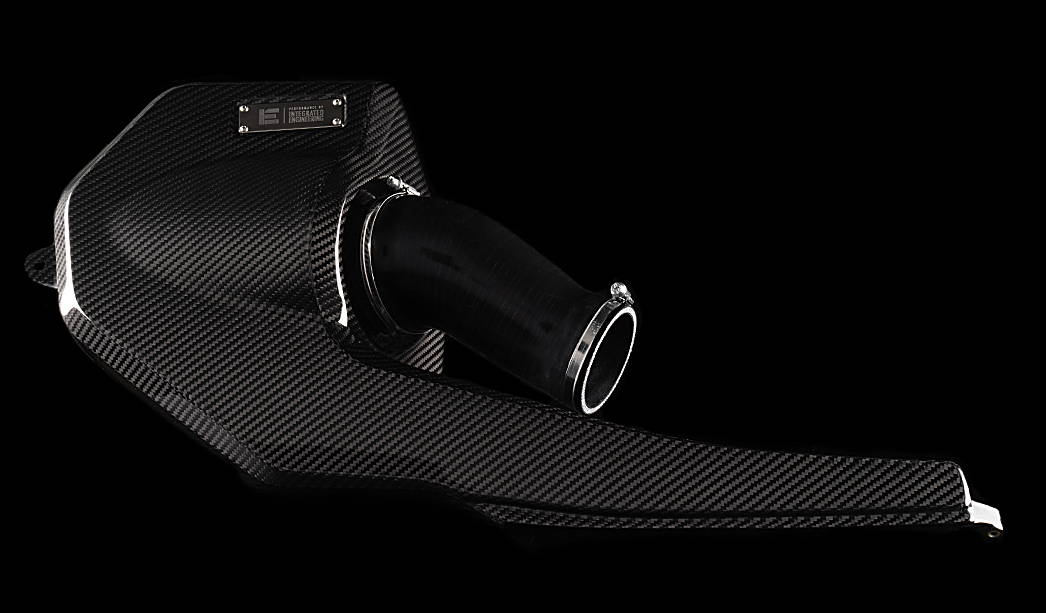 STYLE & RELIABILITY WITHOUT COMPROMISE
Enjoy the style and worry-free operation with our seamless one-piece airbox design. Unlike competitor multi-sectioned airboxes, our approach eliminates the risk of air leaks, complicated installation, rubbing noises, and parts loosening over time while maintaining the smoothest internal airflow path.
ENJOY YOUR THROTTLE PEDAL
Sound is as integral to your driving journey as power. Immerse yourself in the addicting symphony of turbocharger spool, engine throttle, and diverter valve noises that resonate from your twin-turbo RS engine. Unlike the factory airbox that suppresses all sound, our intake system embraces the excitement with a refined and exhilarating audial experience that perfectly complements the enhanced performance of your build.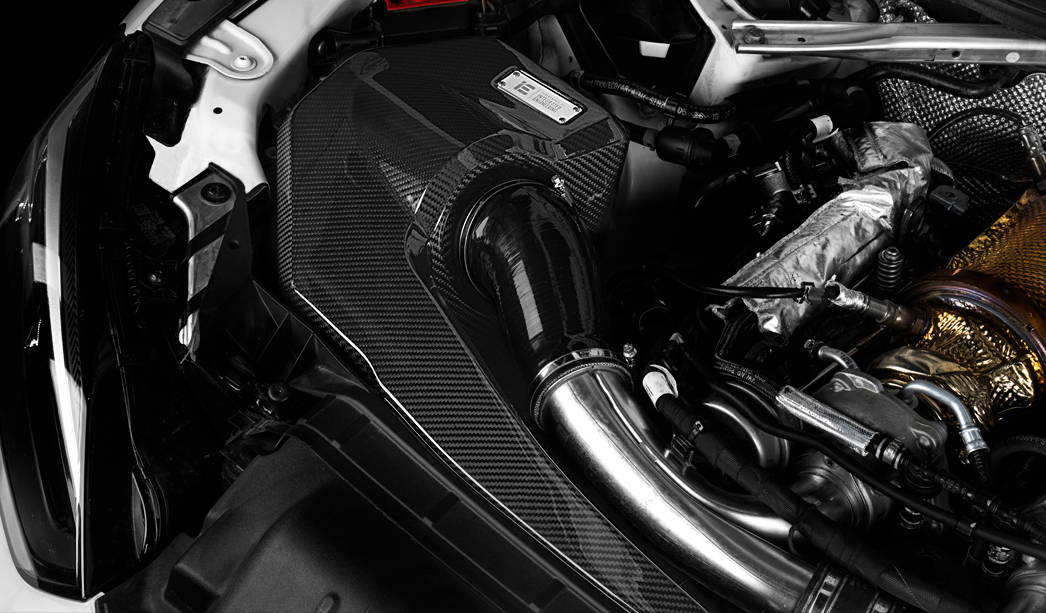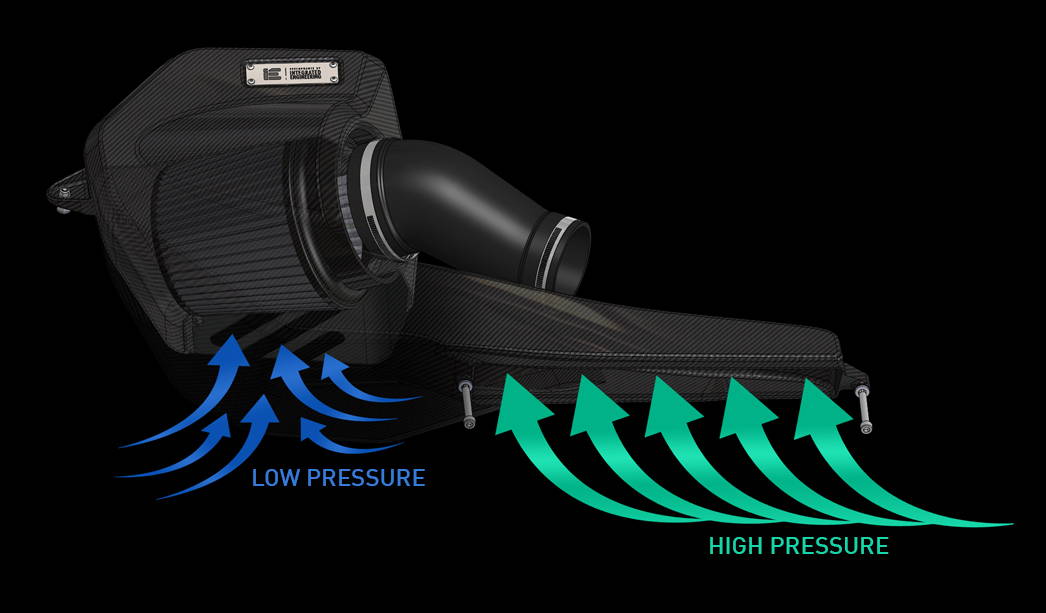 AIR SUPPLY FOR ANY POWER GOAL
Our carbon airbox is equipped with multiple air supply avenues to support various power and build levels. The front and expansive air inlet captures outside high-pressure airflow and acts as a ram air design. Additionally, the filter plate louvers draw in extra air as required from the low-pressure zone below the intake. These dual zones provide an unrestricted air supply across the entire filter, eliminating power limitations for even the most extreme builds.
Uncommon in consumer-level applications, our integrated velocity stack strategically amplifies and smooths flow dynamics at a vital point as air enters the charge system. This advanced design element provides a gradual reduction from the substantial 5" air filter to the smaller turbo inlet. By precisely controlling this crucial transition, our intake system accommodates increased turbocharger and engine airflow demands with minimized drag and power-robbing turbulence.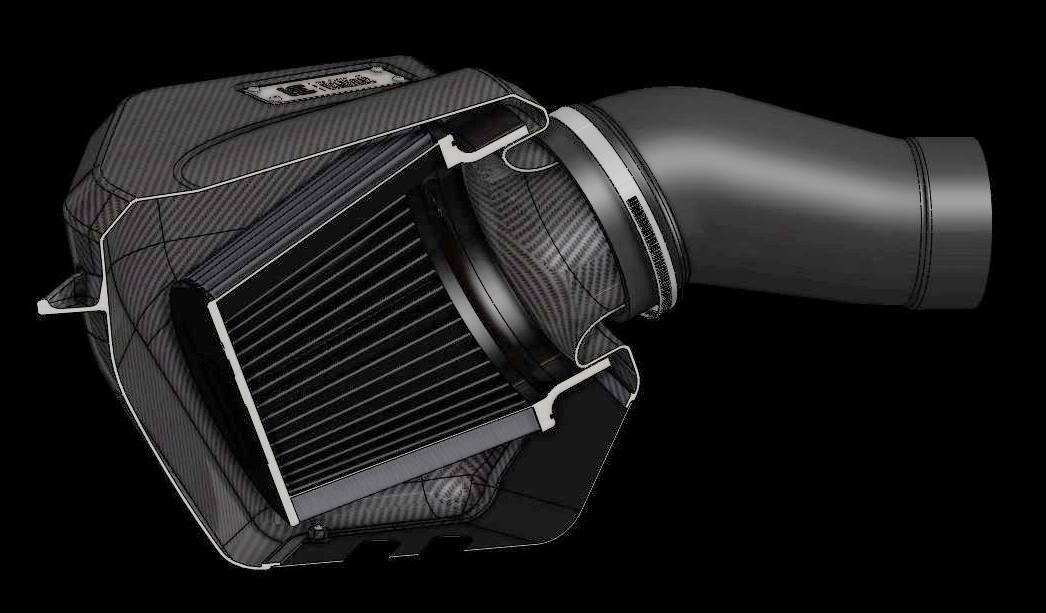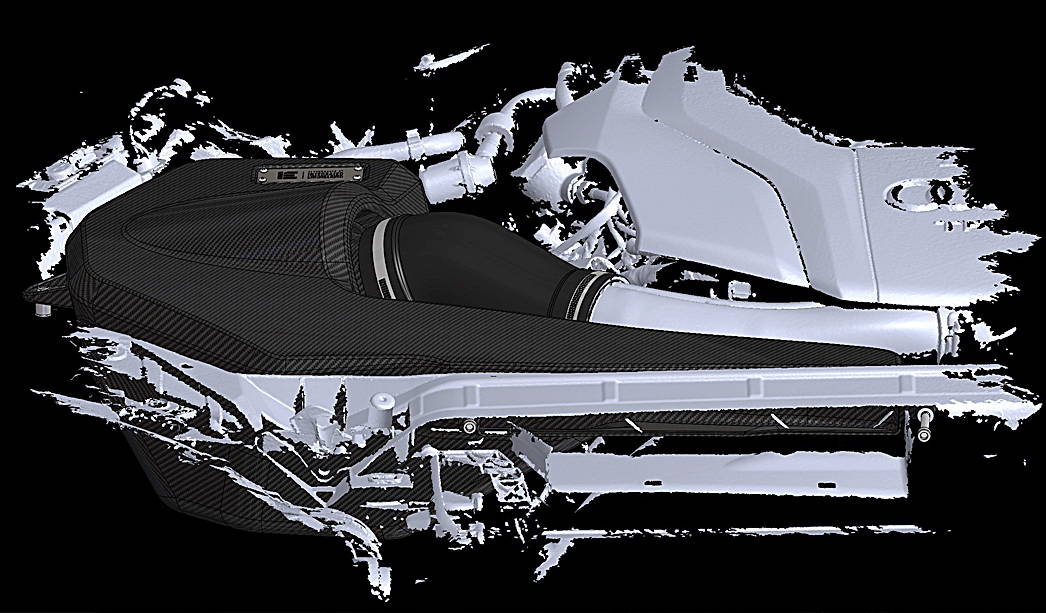 QUALITY IS IN THE DETAILS
Our team of experts utilize cutting-edge 3D scanning tools and software to capture the precise dimensions of your vehicle's engine bay, grille, bumper, and hood. These high-resolution scans create an exact digital duplicate, enabling our engineers to harness every inch of available space with utmost precision. By leveraging this digital environment, we ensure a flawless design with the perfect style, fit, and feel.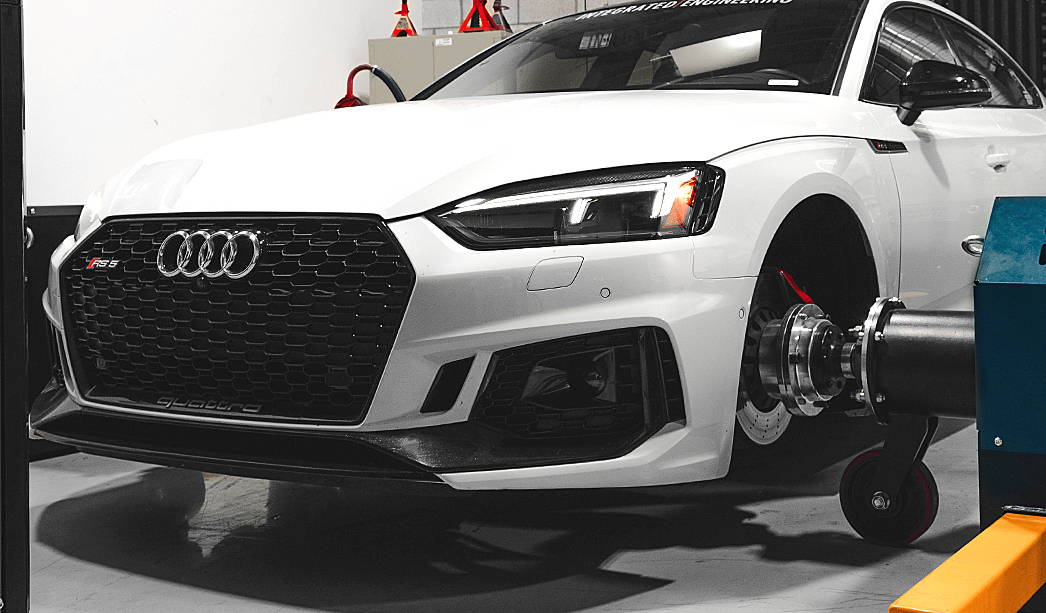 The IE Performance 2.9TT Air Intake System has been power tested to deliver impressive gains of up to 28HP and 26ft-lbs on tuned engines (with stock turbos)! Feel the surge of performance as you take command of the road, leaving ordinary RS5 and RS4s in the dust.
Back-to-back flow bench results show constant and consistent CFM gains of up to 27.75% CFM over stock! This increase in flow details the intake design's efficiency over the factory parts and capability to provide any required airflow demands from ECU tunes and hybrid turbocharger upgrades.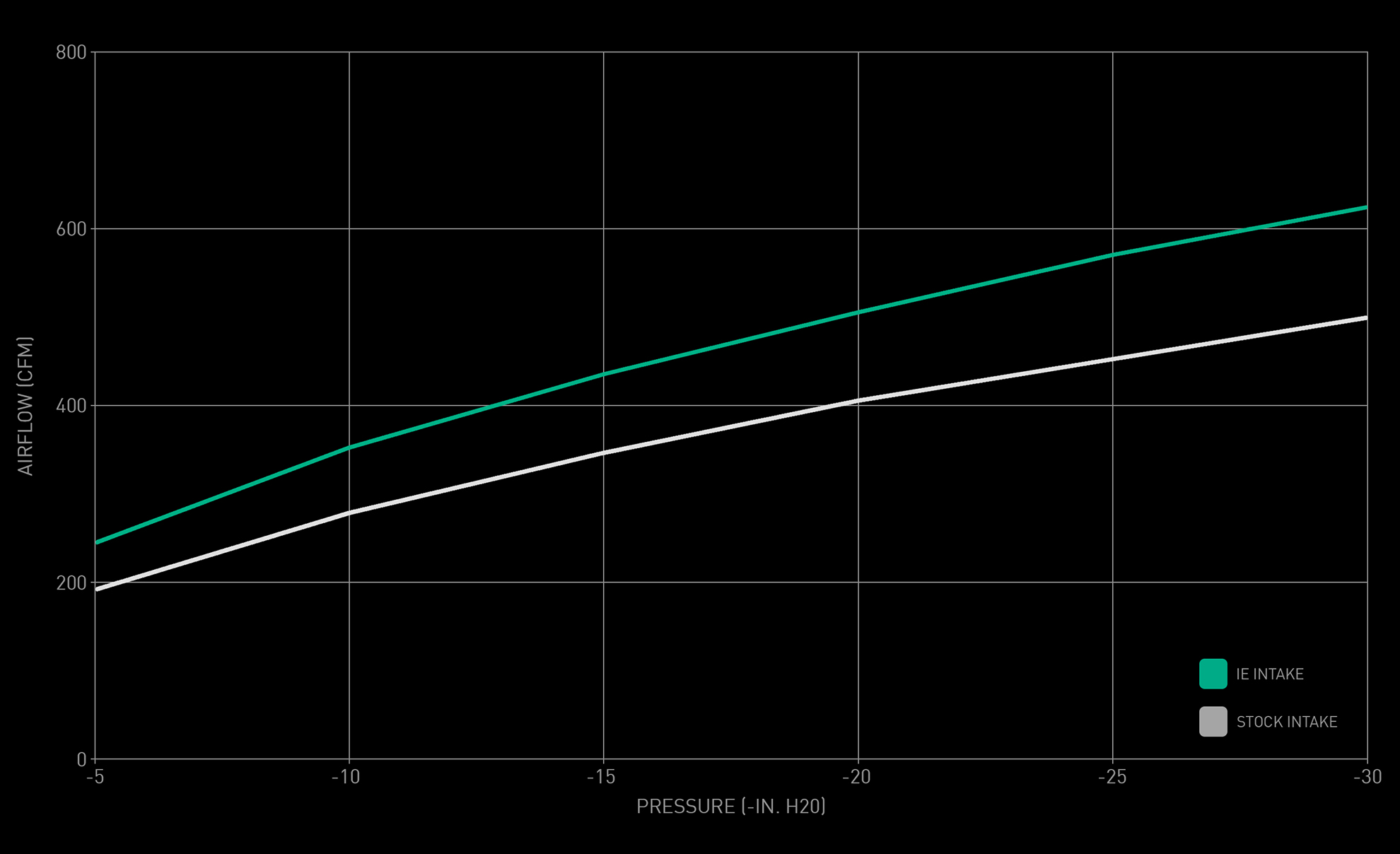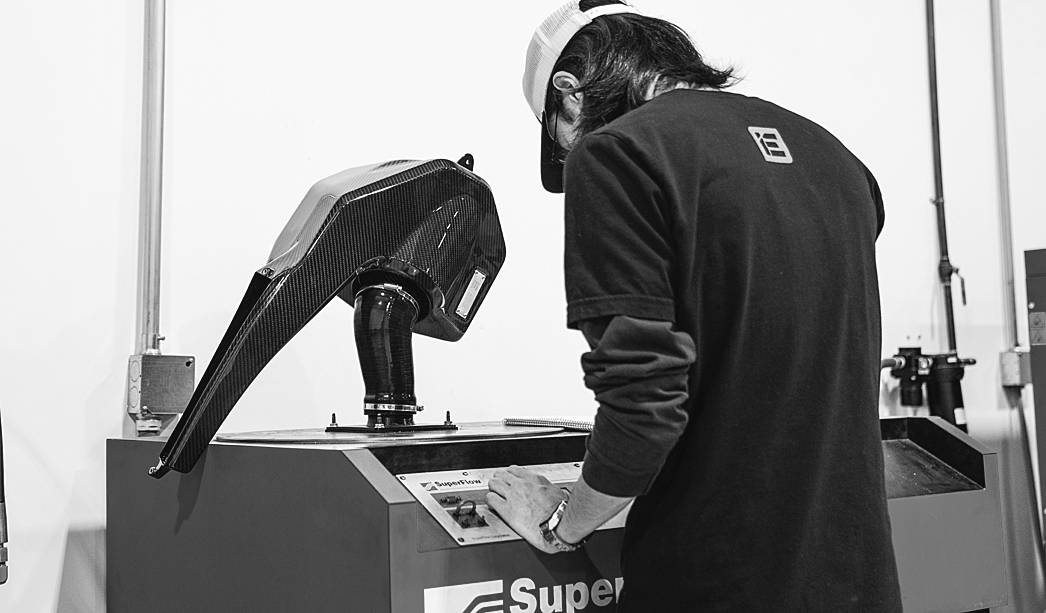 | | | |
| --- | --- | --- |
| -IN. H20 | STOCK INTAKE | IE INTAKE |
| | | |
| | | |
| | | |
| | | |
| | | |
| | | |
The above gains are a result of various design details:
The 5" air filter surface area and increased air volume improve turbo efficiency.


The internal velocity stack provides a low-turbulence transition from the filter to the inlet.



Carbon airbox high & low-pressure zones channel low-temp airflow quickly to the engine while protecting it from radiant engine heat.
To learn more about these features, click the design tab above.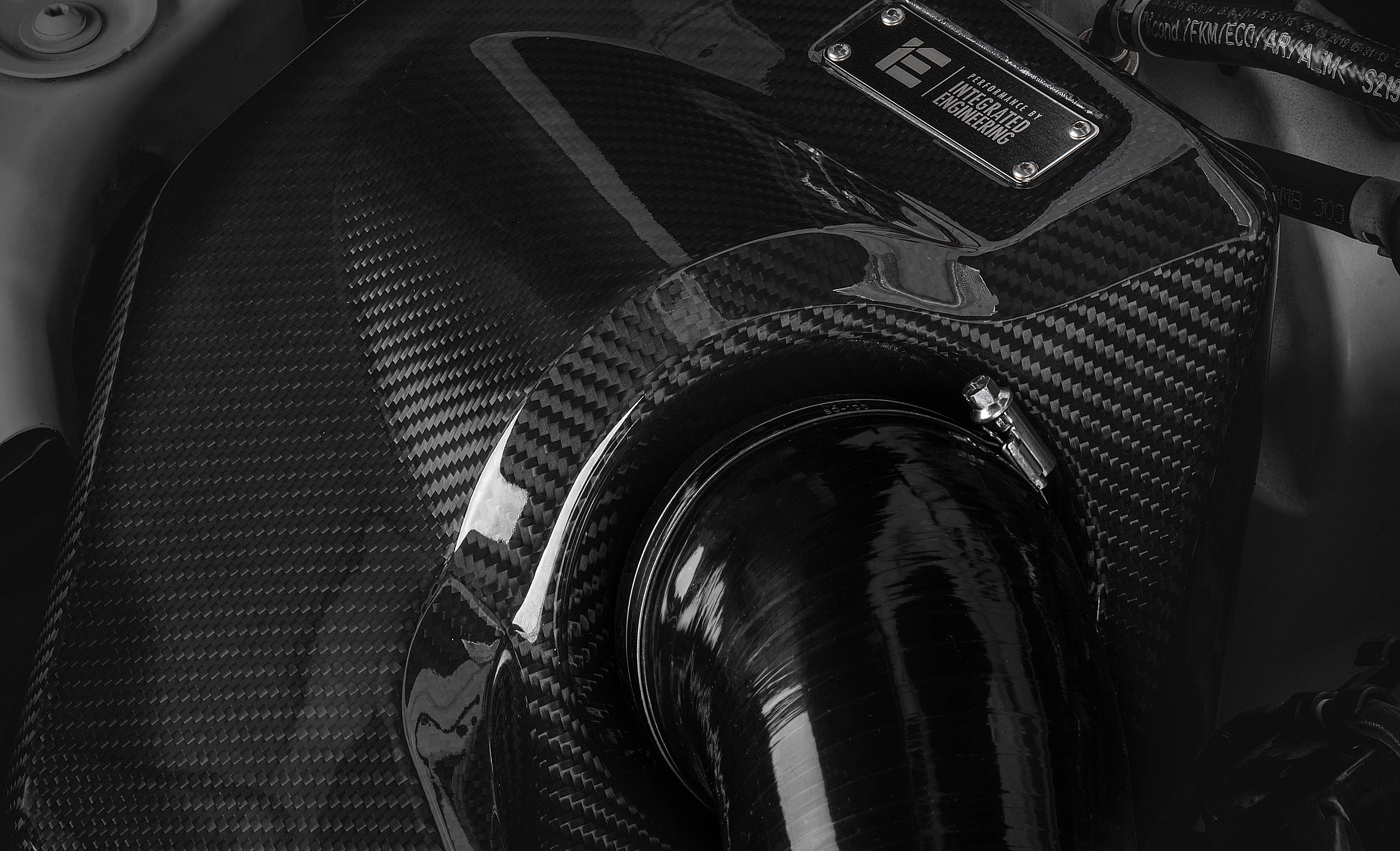 The installation process is quick and easy, requiring only a few basic hand tools. The airbox is a direct install and utilizes factory-style mounts that ensure a perfect, hassle-free fit.

Average install time: 20-30 minutes