The IE Carbon Fiber Intake System for your Audi C8 RS6 or RS7 has been engineered for performance first through extensive airflow analysis and design testing. Get ready to experience massive real-world power and torque with 60-70HP gains on tuned engines! Elevate your driving experience by releasing the unique turbo and engine sound, bringing your twin-turbocharged V8 powerhouse to life!
MULTI-PIECE
FULL CARBON
COMPLETE INTAKE
INSANE POWER GAINS
60-70+WHP
ON TUNED ENGINES
CFD OPTIMIZED
HIGH-FLOW
MOTORSPORT DESIGN
More power, more sound, more fun
60-70+ WHP over stock airbox (tune & fuel dependant)


60-70+ WTQ over stock airbox (tune & fuel dependant)

Up to 230 CFM flow increase over the stock airbox

Unique internal design reaches peak boost faster improving acceleration

Increased flow rate for tuned engines and hybrid turbos

Optimized airflow and volume with minimal pressure drop

High-level motorsport engineering for the highest possible power gains

Delivers maximum gains from ECU tuning & hardware upgrades

Greatly reduces airflow turbulence for increased turbo efficiency

CFD software engineered for optimal flow with excellent laminar properties

Complete carbon fiber multi-piece system

Largest possible internal volume for available space

Advanced 3D scanning tools are used for an exacting fit and finish

Perfectly blends into the vehicle's bay for a high-end look

Long life high-gloss carbon fiber construction

Performance-designed high-flow pleated cotton filter
The Audi C8 RS6 and RS7 include a unique factory intake design built on the factory radiator shroud. This location provides access to cool air from the front of the grill. Still, it lacks the internal volume, flow optimization, and filter efficiency to support higher power from ECU tunes and turbo upgrades. Extreme engineering practices were required to redesign a proper motorsport intake maximizing the potential of all available space within the challenging factory intake location. The resulting IE performance system delivers power and sound with breathtaking looks for your 4.0TT twin-turbo engine.
   
Continue reading below for a more in-depth overview of design strategies and features.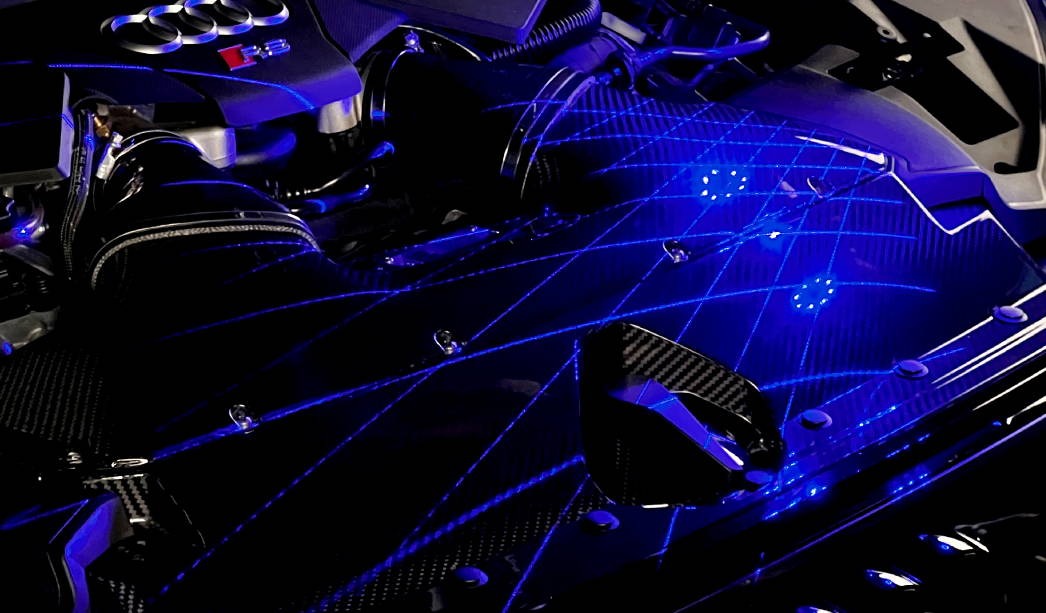 CARBON FIBER: STYLE & FUNCTION
The entire airbox is genuine carbon fiber providing superior heat dissipation, lightweight, and solid yet thin-wall construction. Carbon fiber can be molded into near endless shapes allowing our engineers to design complex angles, corners, and extremely tight tolerances to maximize flow and volume in the design without material restrictions or compromises. The final design is all performance on the inside while carrying a stunning gloss carbon weave finish on the outside.

COMPLETE MULTI-PIECE SYSTEM
Maximizing intake efficiency requires taking advantage of every millimeter of available space within the tight confines of the factory engine bay. By dramatically increasing the size and design of the air box's lower and upper sections, the intake can support much higher airflow and volume with superior laminar over the filter, providing unrestricted airflow for higher boost demands and power.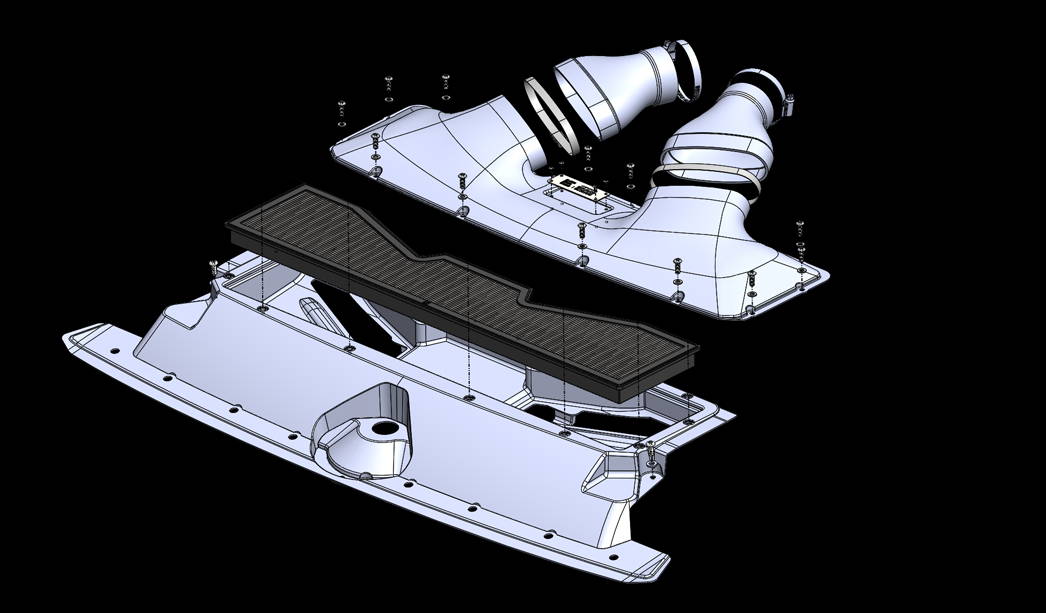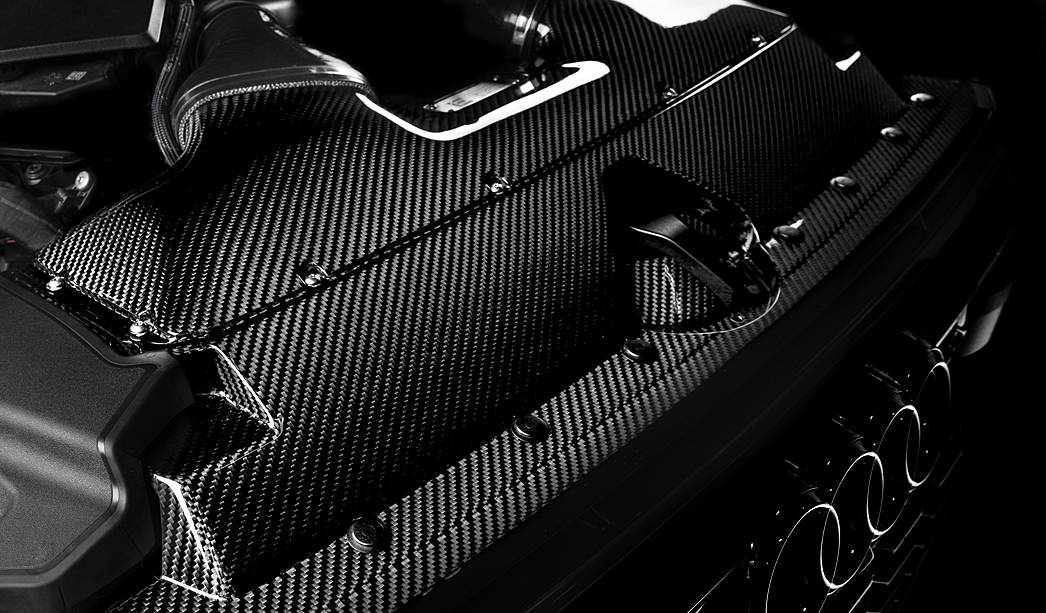 More power requires additional airflow. Maximizing the interior volume of the intake is an attack on two fronts. First, the upper lid has been increased in size, filling all available space under the hood with a much smoother transition to the inlets. Volume is further optimized by increasing the internal size and angle of the filter base. The result is far superior air supply on tap for tuned engines requesting more significant boost pressures than stock.
Increased intake volume is only helpful if the air supply can reach the turbos effectively. High-level computational flow dynamic (CFD) software is leveraged to calculate the best possible internal angles and shapes to reduce turbulence and increase flow inertia. The organic and smooth transitions are a considerable departure from stock, aiding in faster spool times for reduced lag while reaching peak boost pressures at the earliest point in the RPM band possible.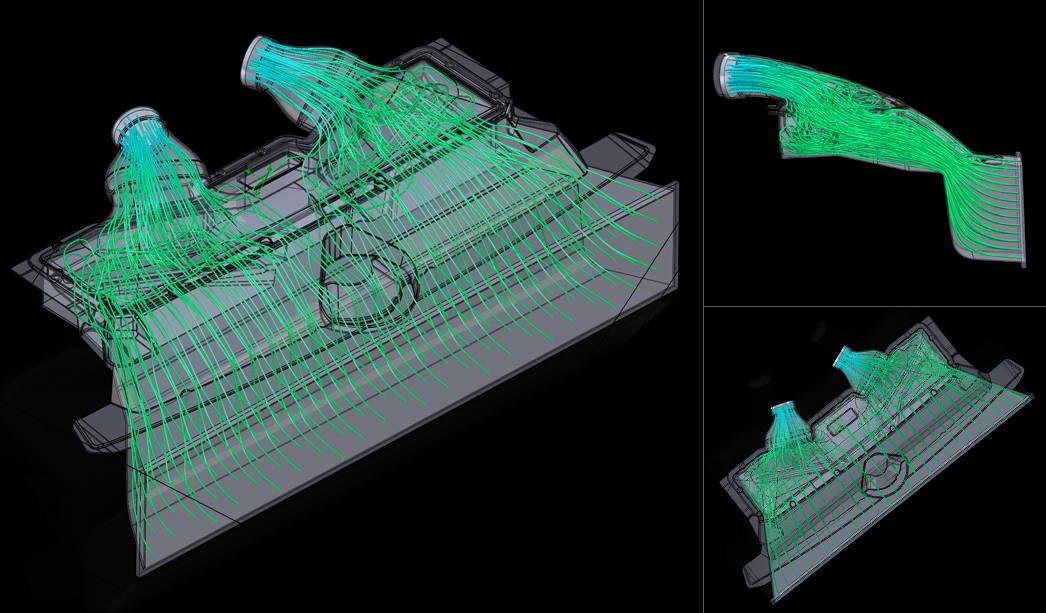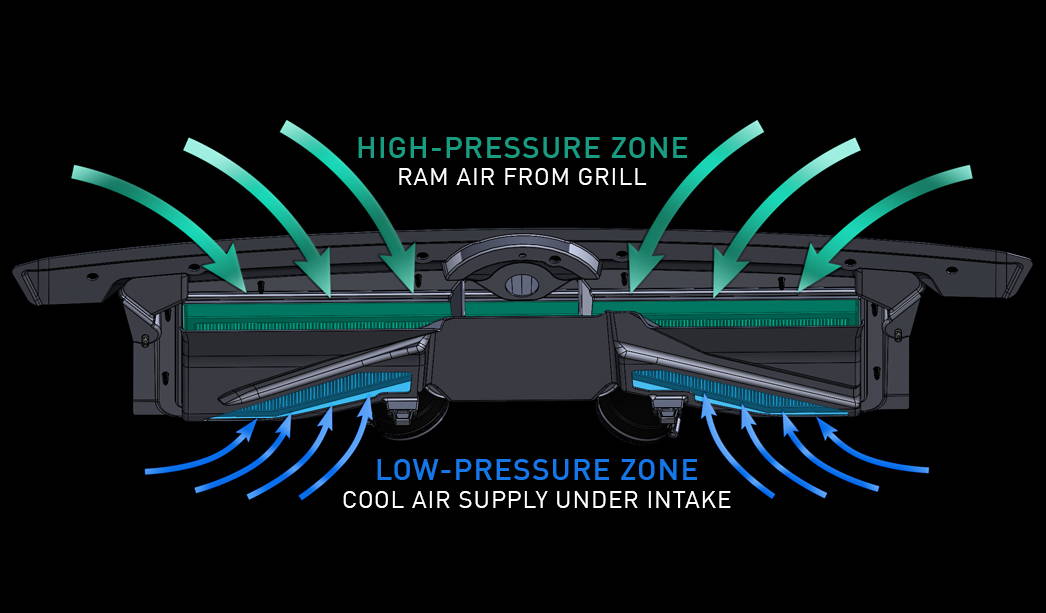 The IE airbox has been optimized with the performance advantage of multiple air supply avenues. The front large air inlet receives outside high-pressure flow from the front of the grille and acts as a ram air design for most of the air supply. Additionally, the bottom airbox inlets pull extra air as required from the low-pressure zone under the intake. These dual zones provide a free air supply across the entire filter and ensure your intake will never be a power limiter for even the most extreme builds.
The included high-performance air filter maintains superior filtration properties keeping your engine and turbochargers safe from outside contaminants while dramatically increasing performance. The cotton 4-pleat design allows the intake design to increase airflow velocity while retaining a low pressure drop as the airflow passes through the filter element.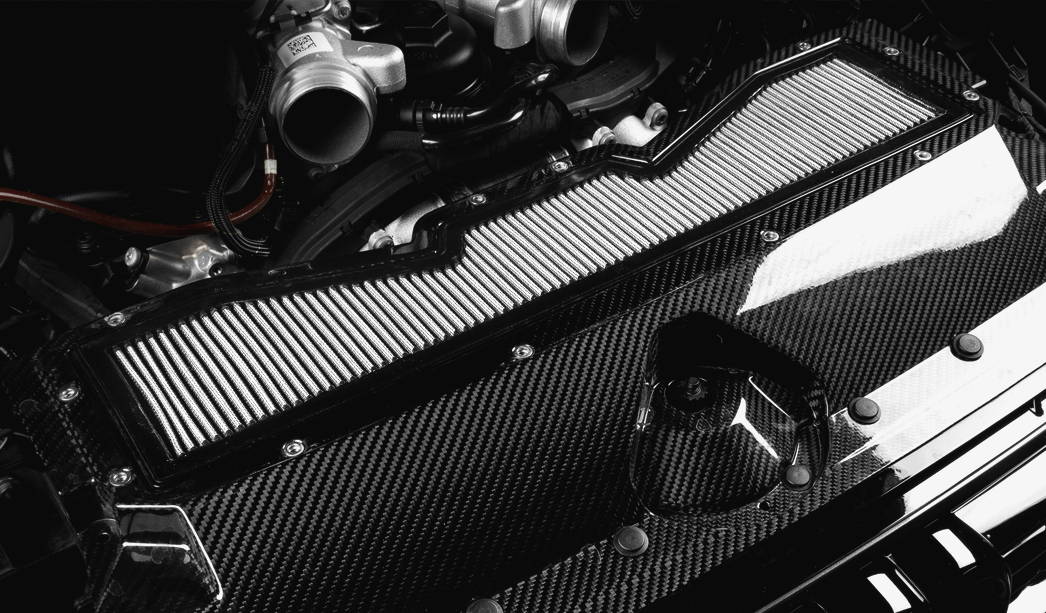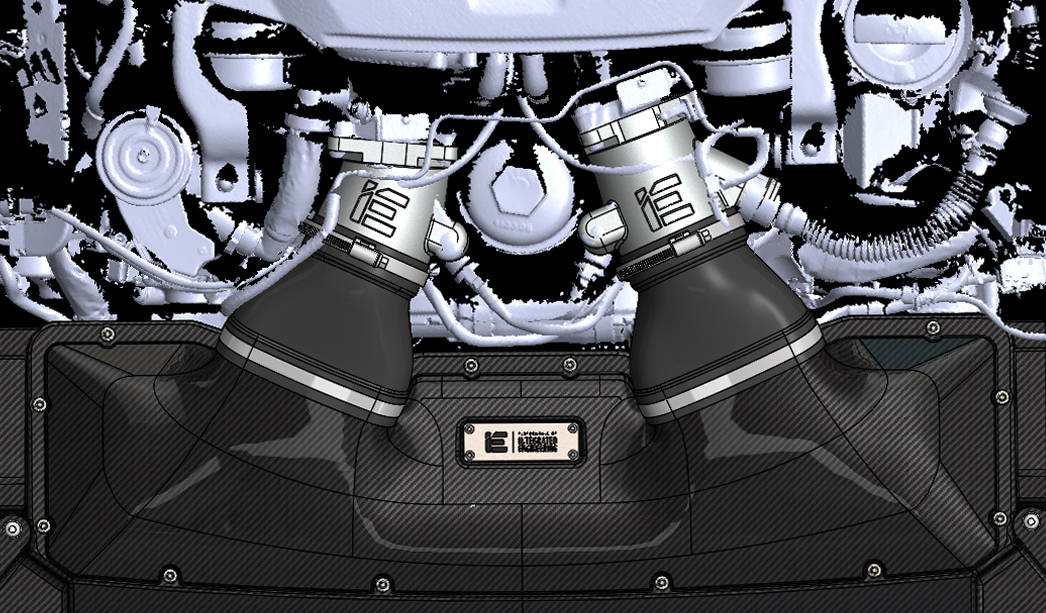 TURBO INLETS (COMING SOON)
For those looking to extract every bit of power from the intake system, a set of optional IE cast turbo inlet pipes further increase the size and flow of the intake. This combination works together to reduce further drag and turbulence where the increased airflow from the intake transitions into the turbocharger compressor housings.
IE C8 RS6 & RS7 Turbo Inlets will be sold separately with available adapters for stock turbos or TTE1020 hybrid turbos. This product is in development now and coming soon. 
Installing your intake not only delivers a performance boost, but also releases a new symphony of turbo, throttle, and engine sounds that will make your throttle pedal more addictive than ever.
You drive a twin-turbo V8 flagship Audi; prepare to sound like one!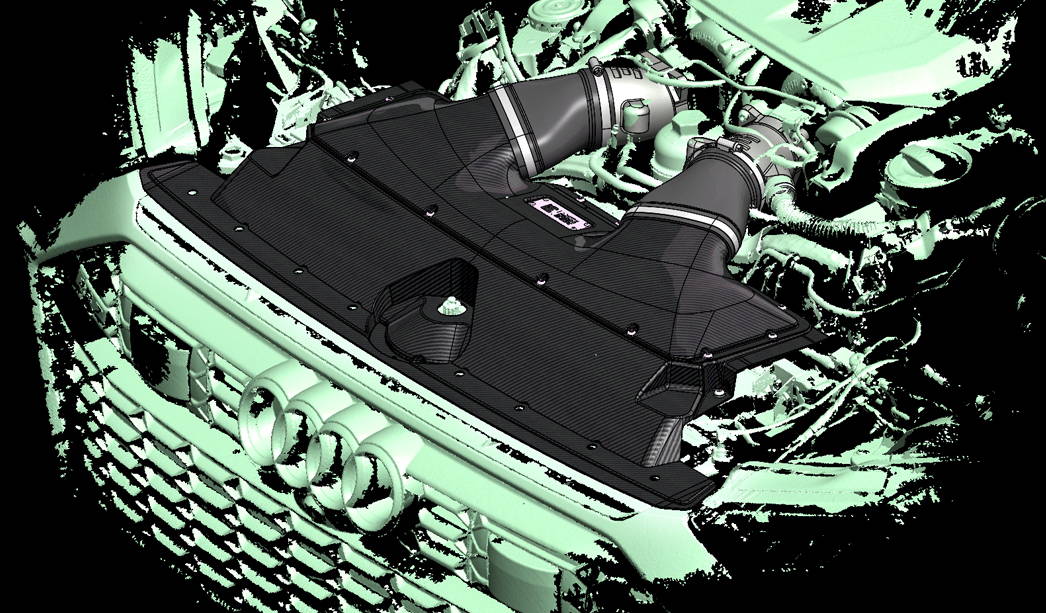 IE's 3D scanning tools create a digital duplicate of the vehicle's engine bay, grille, bumper, and hood. These scans provide an incredibly high-resolution environment allowing our engineers to take advantage of all available space and perfect an extremely high-end install.
Real-world power numbers are achieved using our in-house dyno cells to record the effect the optimized flow rate, air supply, and volume have on horsepower and torque. The testing was performed in controlled conditions with stock turbo inlets on the same day back to back. Dyno results show consistent and significant power gains of 69HP & 55ft-lbs on our Stage 2 tuned RS7 at high altitude!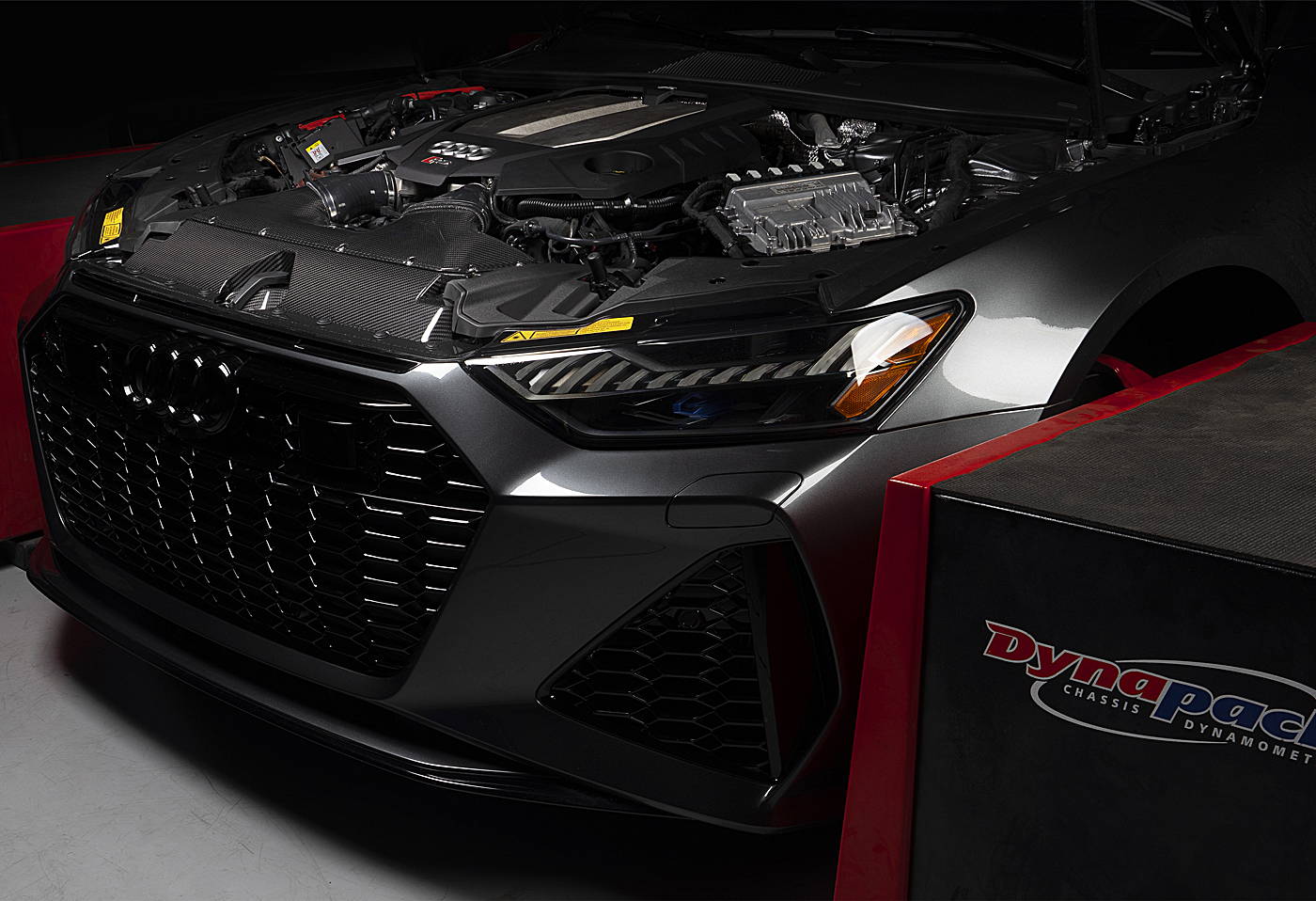 Power testing was performed in SLC, Utah, at 4,226 feet of elevation. Vehicles at or closer to sea level can expect even higher power gains exceeding 70-80HP depending on ECU tune, matching hardware, and fuel type.
All intake prototype designs undergo back-to-back flow rate testing to validate the engineering efforts and confirm real-world results from the computational flow software. The result of the final optimized intake system delivers up to a 230 CFM increase over stock!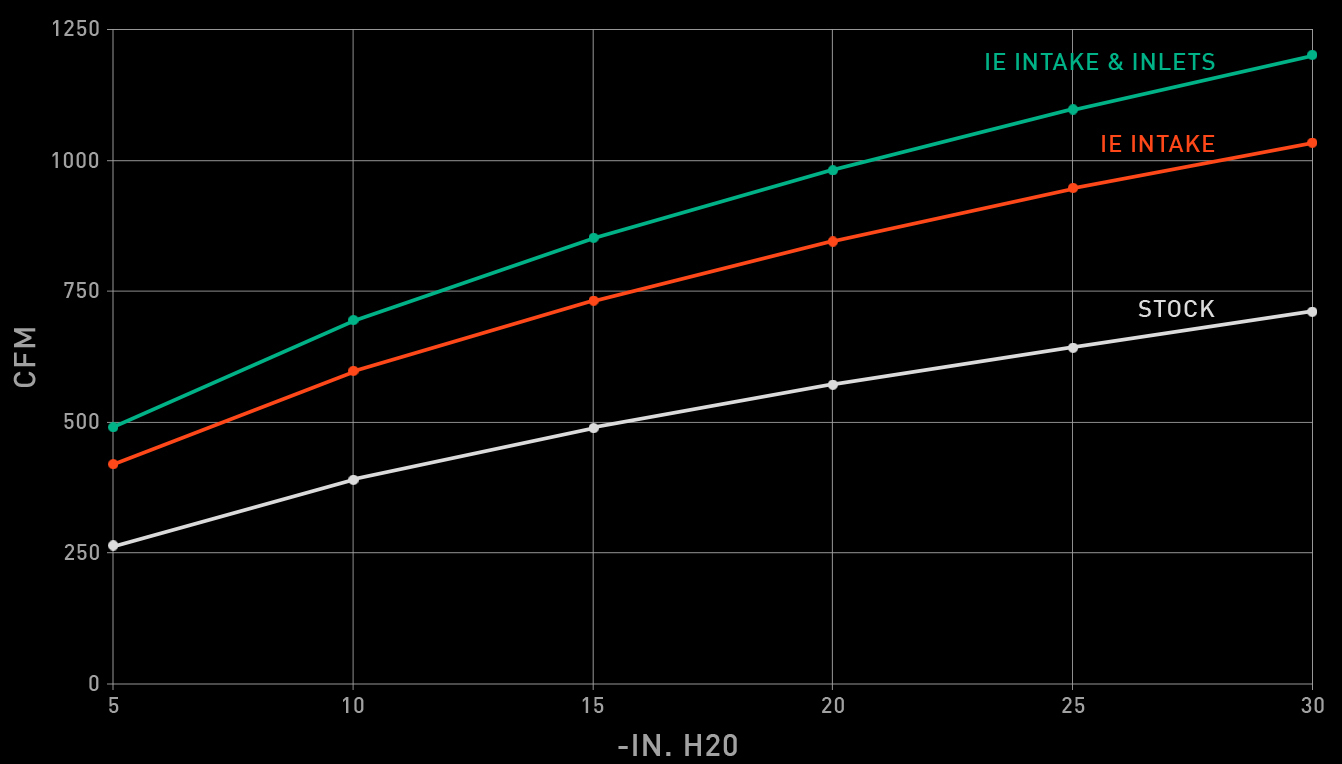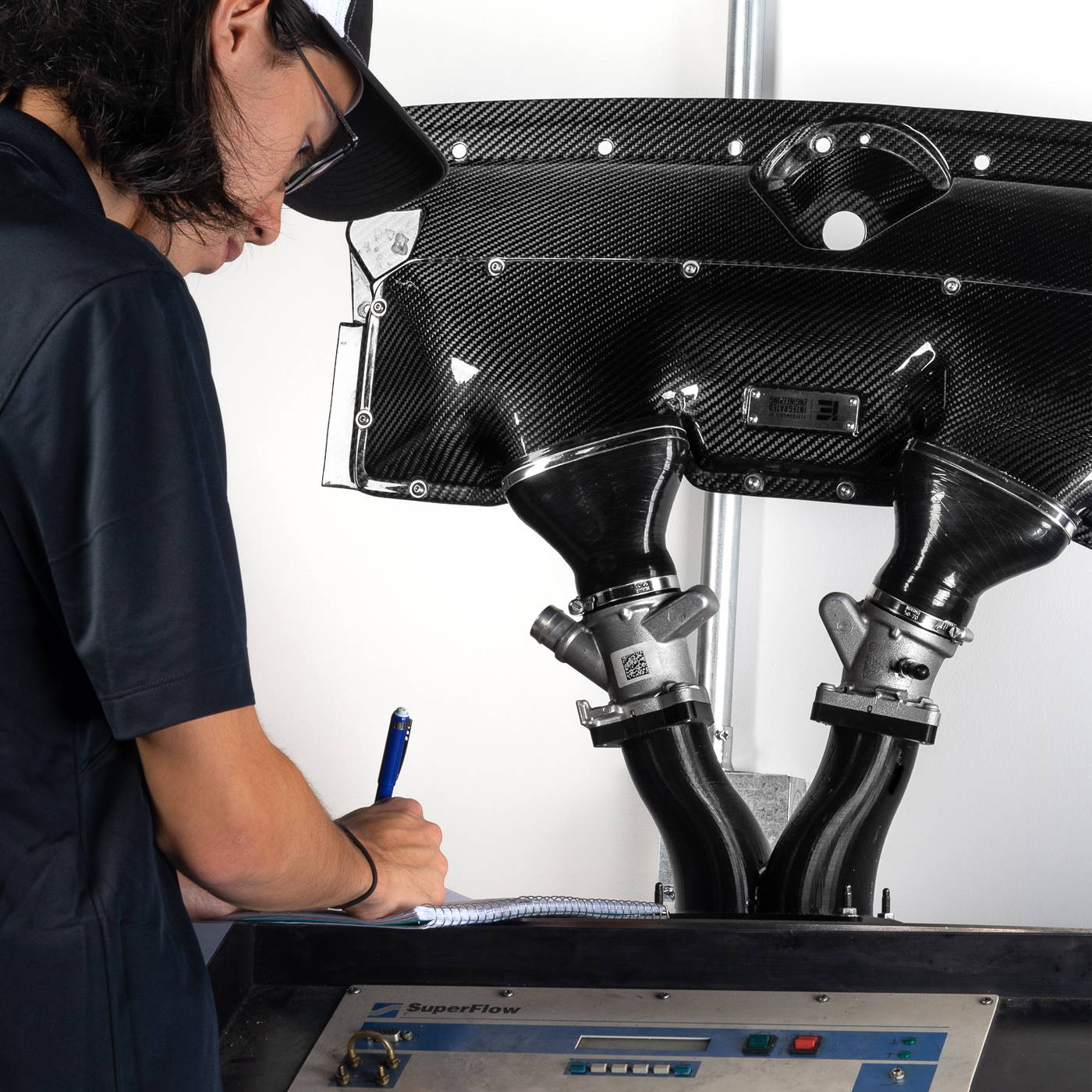 This flow increase results in a higher air supply ceiling to the twin turbochargers allowing for more boost and power. With the factory intake restrictions and airflow shortcomings resolved, the improved intake design delivers the airflow required for the turbochargers to produce a higher boost request (power). The intake improvements also achieve this boost request with less effort, reducing the wastegate demand.
| | | | |
| --- | --- | --- | --- |
| -IN. H20 | OEM AIRBOX | IE INTAKE SYSTEM | IE INTAKE & INLETS |
| | | | |
| | | | |
| | | | |
| | | | |
| | | | |
| | | | |
The above gains are a result of various design details:
The entire upper and lower airbox redesign provides organic transitions to optimize and speed up airflow while maintaining the lowest possible turbulence with excellent laminar properties.


The internal volume increase feeds a significantly increased air supply to the turbochargers removing the factory restrictions and raising the ceiling for larger boost requests.



The front ram air scoop and lower inlets provide multiple ambient temperature air sources for the engine to support greater demands from tuned and hybrid engines.
Click the design tab above to learn more about each of these features.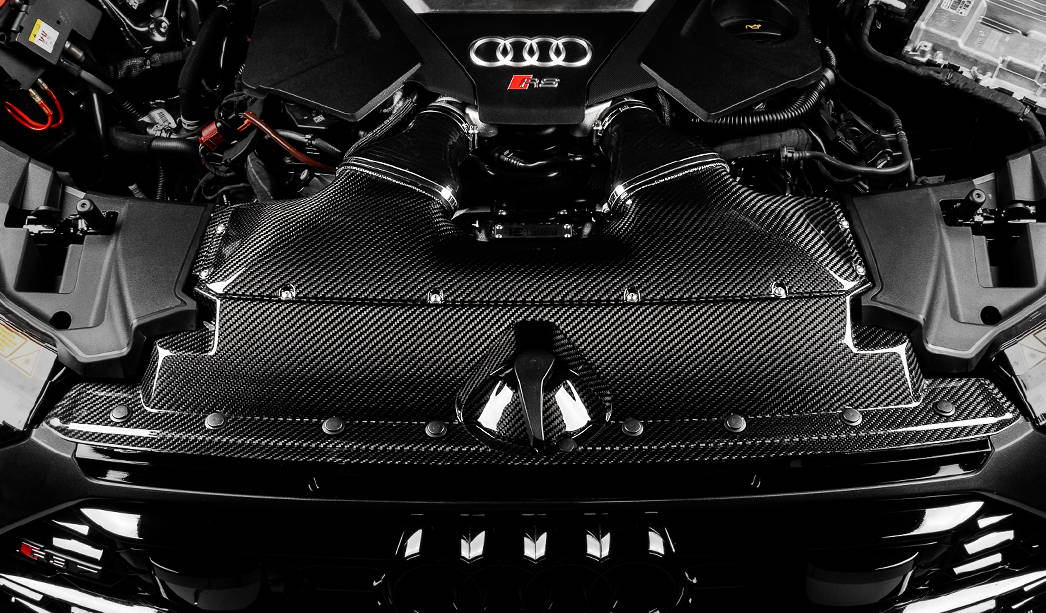 Installation of your new intake kit requires basic tools with zero permanent modifications or installation hassles.
Install time around 1 hour or less
Installation of your new intake kit requires basic tools with zero permanent modifications or installation hassles.
Install time around 1 hour or less