IE set out to produce the highest performing air intake for the RS3 and TTRS DAZA 2.5T cylinder turbocharged engine available. Extreme design measures were employed with a "no-corners-cut" attitude and no expenses spared. A massive air filter, built-in velocity stack, carbon fiber construction, large internal volume, and 4-inch piping diameter ensure the engine breathes sufficiently for any power setup and produces large power gains across the entire powerband.
HIGH GLOSS FINISH
CARBON FIBER
CONSTRUCTION
ADDS HORSEPOWER
UP TO 25+ WHP
ON TUNED ENGINES
FLOW OPTIMIZED
VELOCITY STACK
MOTORSPORT DESIGN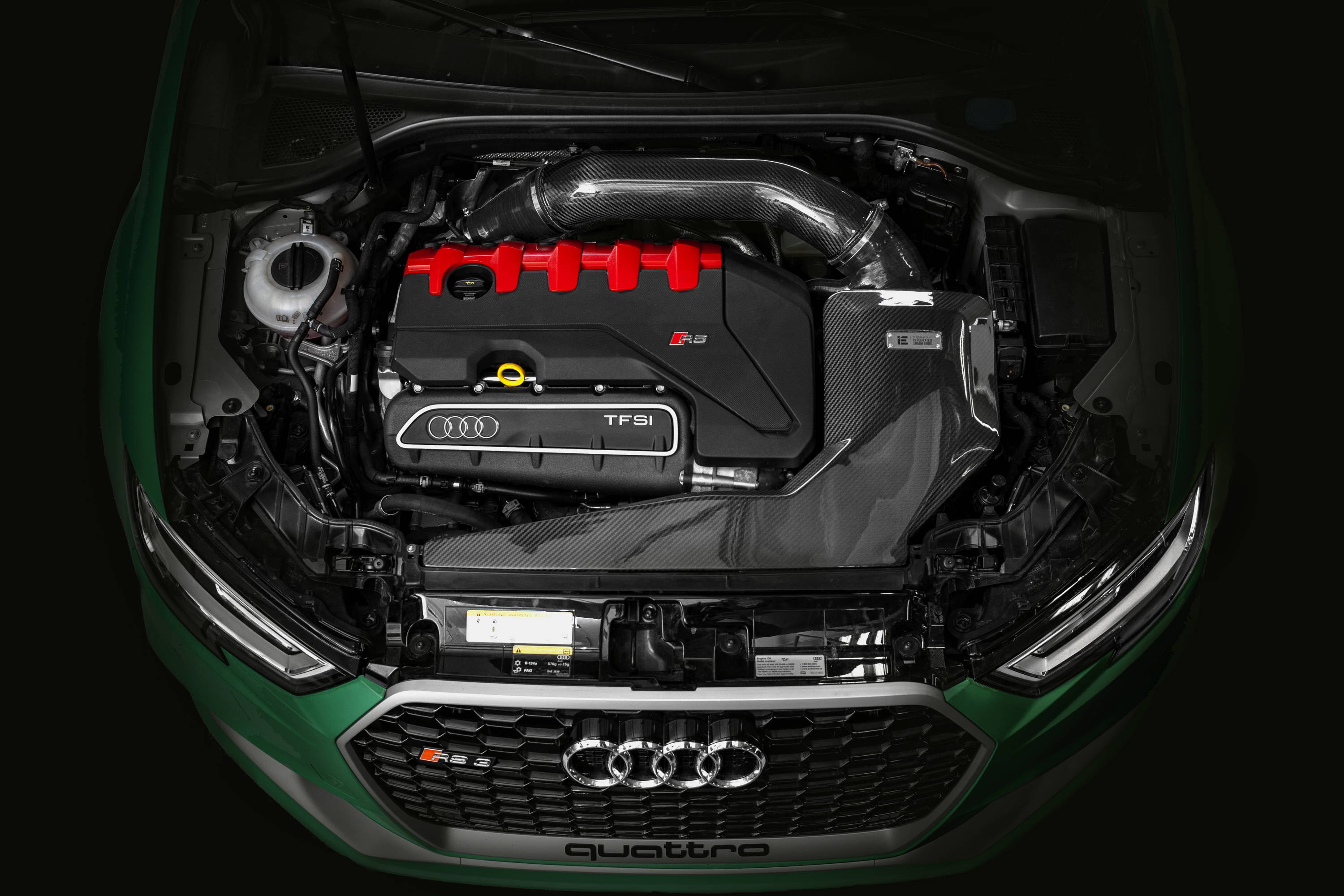 High-gloss genuine carbon fiber construction

Leak-free seamless 1-piece airbox

Instant power and torque gains on tuned engines

4-inch carbon inlet pipe

Enhanced turbo & engine sound

High pressure & low pressure air zones

Maximized turbo & engine efficiency

Huge air filter & velocity stack for excellent laminar flow

Includes carbon inlet pipe heat shield

Factory style mounts for reliable & easy installation

All stainless hardware

Multi-ply silicone with stop-flat edges

High-quality clamps

Powder-coated aluminum filter plate

Stainless laser-etched logo plate
CARBON FIBER - MORE THAN STYLE
Carbon Fiber air intakes not only look great but they also have a key performance advantage of being less heat absorbent. By absorbing less heat intake air temperatures remain cooler than other common construction materials such as sheet metal heat shields and aluminum piping.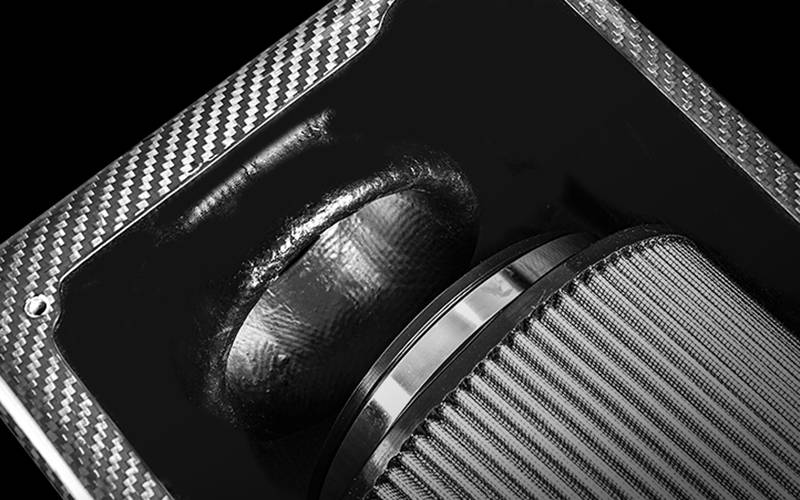 Utilizing a velocity stack design like that found in professional Motorpsorts, this efficiently channels air as quickly as possible to the turbocharger and engine. The velocity stack also functions as a solid mount for the massive air filter keeping it in securely in place.
IE engineers incorporated the largest filter possible. In addition to the sheer size, the frontal area of the air filter incorporates a pleated inverted cone which results in more air induction.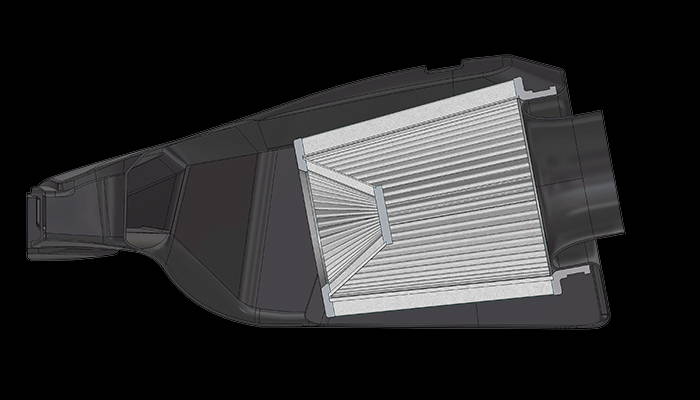 For additional flow, the access panel for the air filter features a series of louvres designed to deliver a completely unrestricted supply of air to the intake for any horsepower level. This works in conjunction with the front ram-air design creating a duo of options for unrestricted air supply to ensure you always have full power potential for any turbocharger or ECU tune stage. -Power is in the details!
Vented plate design increases flow by 7.92% (CFM) over a solid plate!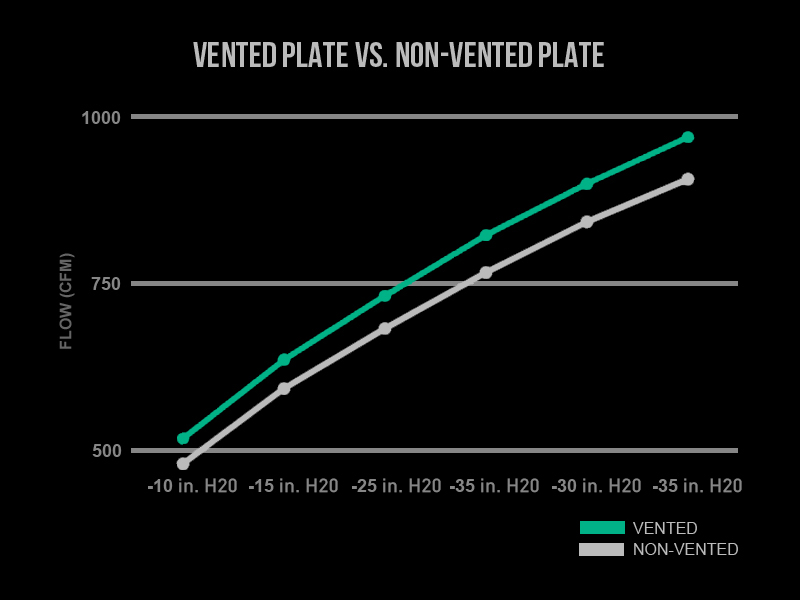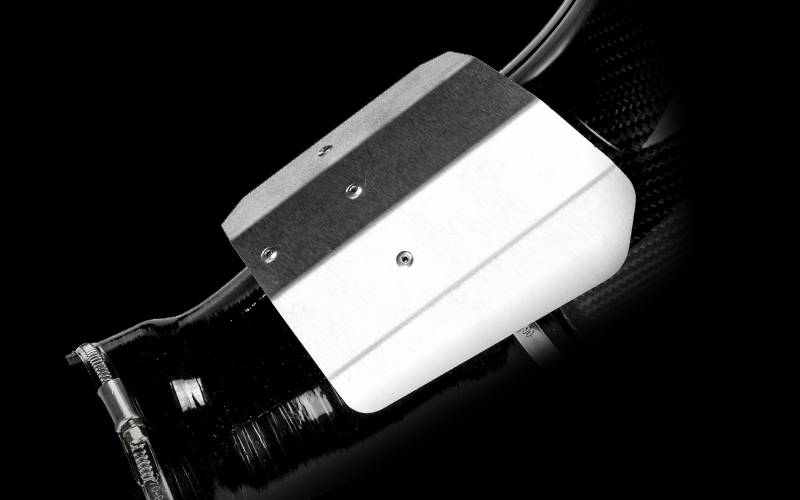 In order to further keep your intake air cooler and protect the high-quality finish of your carbon fiber, a stylish heatshield is included with your intake. This heatshield features bends to wrap it around the inlet and sits between the carbon pipe and turbocharger at their closest and hottest point.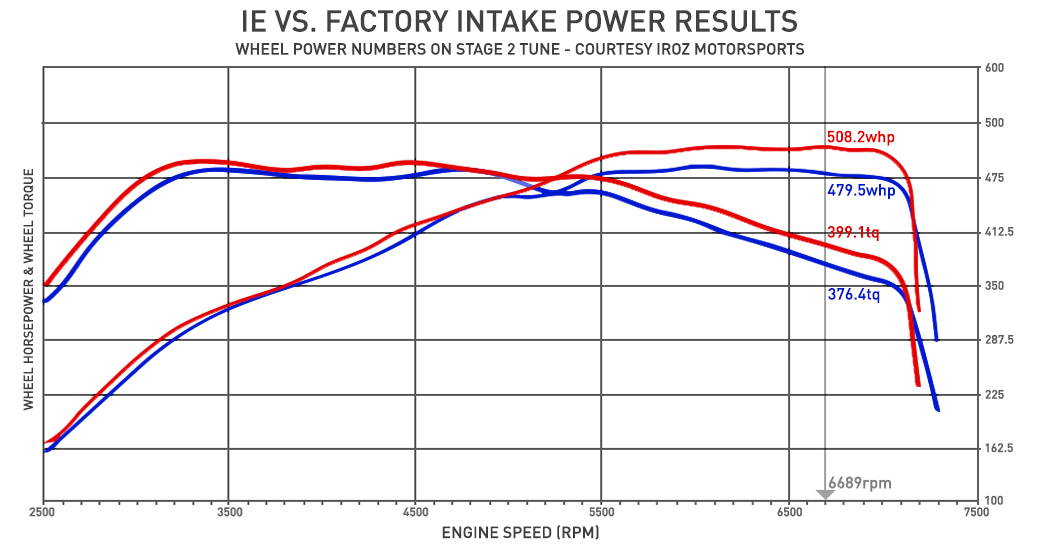 The ram-air design and performance features translate into big power gains. This intake system performs great with upgraded ECU Software or upgraded turbochargers. Stage 2 software yielded greater than 25 Horsepower with the addition of the IE intake.

3rd party dyno chart provided by Iroz Motorsport.
This intake is engineered to achieve maximum airflow and performance on multiple fronts. The sizeable front scoop spans the entire front grill width feeding cold ram-air to the airbox's internal volume while additional air requirements are pulled in from the low-pressure air supply through the intake louvers. The massive filter provides an expansive surface area with excellent laminar flow properties. The intense supply of airflow entering the intake is reduced through the velocity stack with very low turbulence and minimal drag, speeding up the airflow into the large diameter 4-inch carbon inlet pipe and ensuring unrestricted airflow into the turbocharger, allowing the engine to breathe correctly.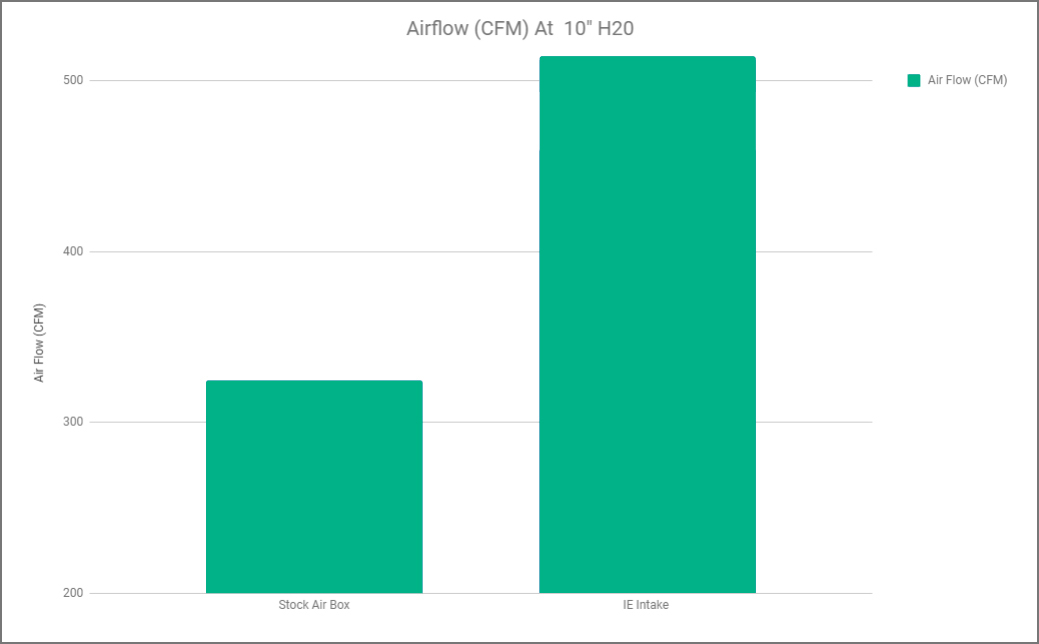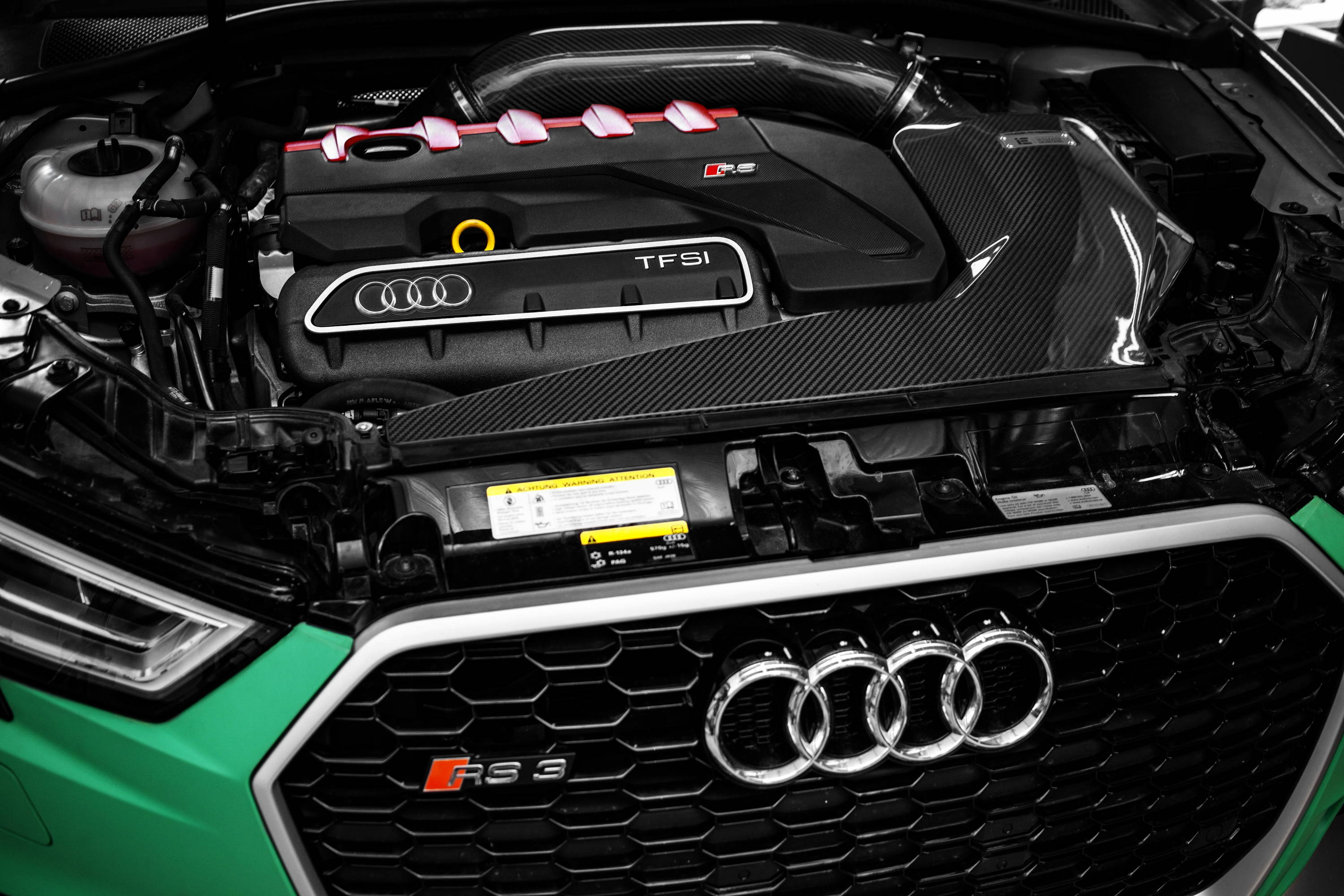 The above gains are a result of various design details:
The air filter surface area and increased air volume improve turbo efficiency.


The internal velocity stack provides a low-turbulence transition from the filter to the inlet.



Carbon airbox high & low-pressure zones channel low-temp airflow quickly to the 4-inch inlet pipe while protecting it from radiant engine heat.
To learn more about these features, click the design tab above.
Installation of your new intake can typically be completed in about an hour using basic tools. Be sure to read the install instructions in entirety before starting the process.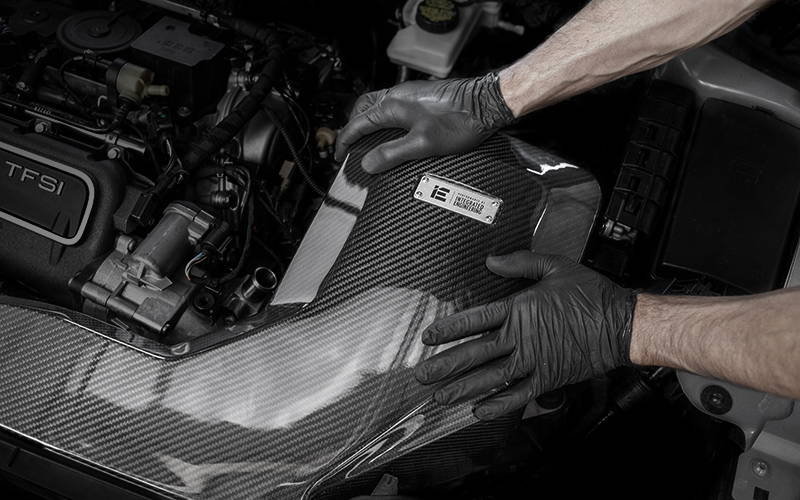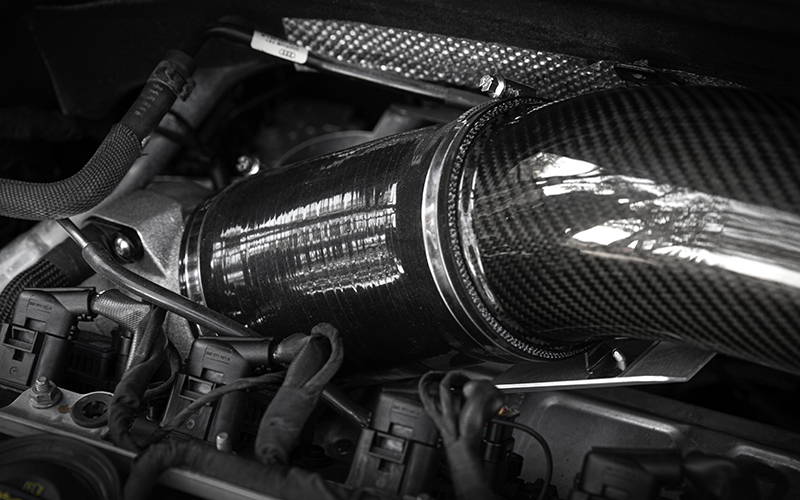 EASY INSTALL WITH TURBO INLETS

The intake will fit directly to either your stock turbo or IE inlet pipe with no modifications. For the ultimate combination of intake flow, it is also a direct fit with IE's Cast Turbo Inlet Pipe IEINCQ2 (sold separately).

If you are installing along with a non-IE brand 4" sized turbo inlet pipe, an optional silicone adapter kit IEINCQ1-19 (sold separately) is also available to make your install easy .