The IE Polymer Air Intake System for your Audi B9/B9.5 S4 or S5 delivers easy performance through significant airflow gains. Add up to 19 horsepower and 21ft-lbs of torque on tuned engines while maintaining lowered intake air temps. A factory-like install delivers power, sound, and fun without sacrificing style or quality for your S-class turbocharged V6 engine.
ONE-PIECE
POLYMER
AIRBOX SYSTEM
REAL POWER
+19HP & 21TQ
WITH ECU TUNE
INTEGRATED
VELOCITY STACK
HIGH FLOW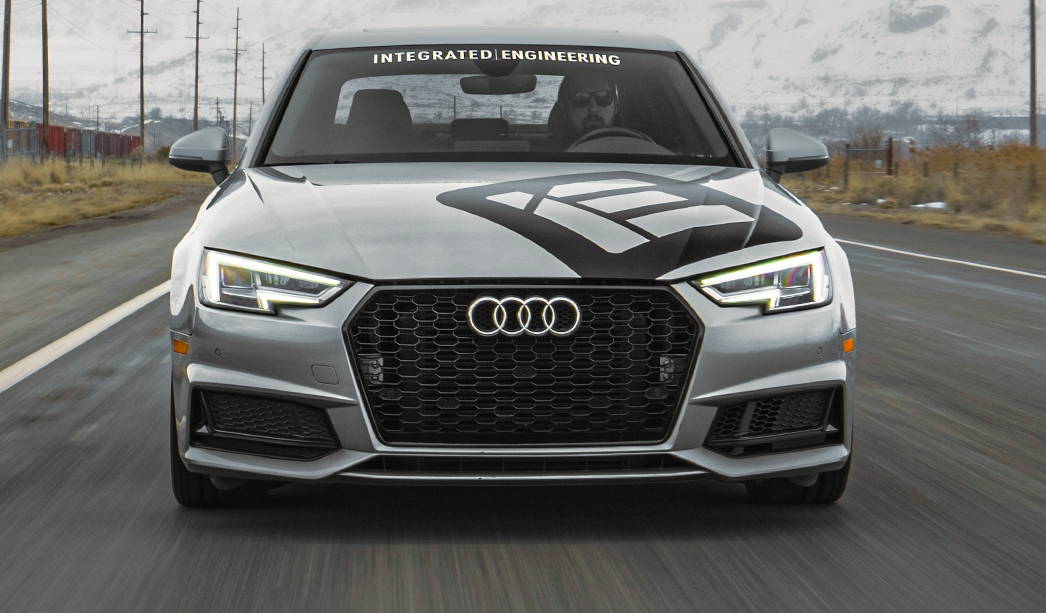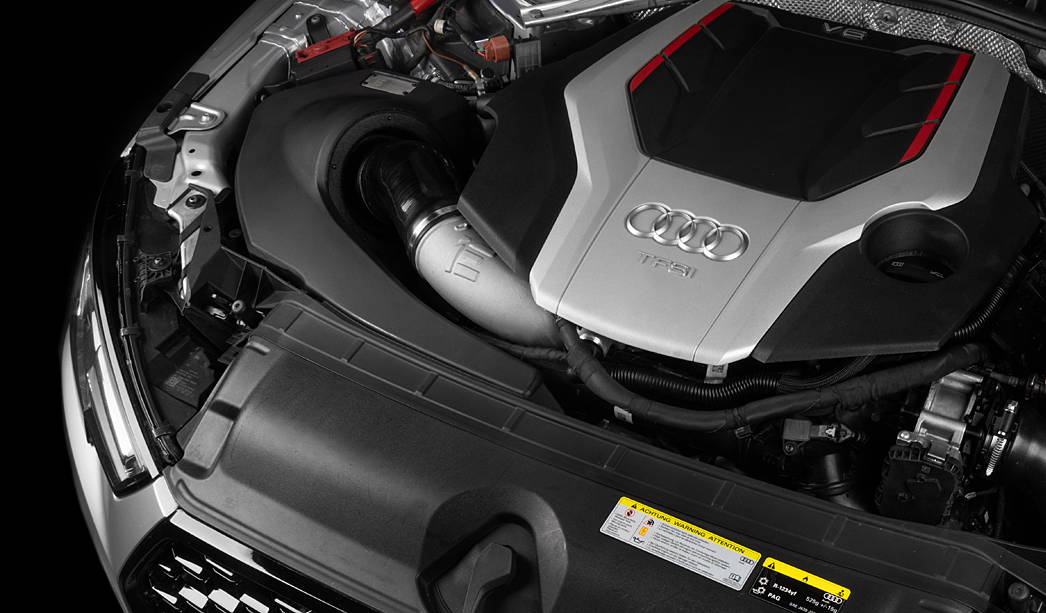 Rotomold polymer for superior heat resistance

Up to 19HP & 21ft-lbs over stock (with software)

Flow 37% more than the factory airbox

Flow 61% more than stock with IE turbo inlet

Increased turbo & engine sounds

Maximized turbo & engine efficiency

Huge 5" air filter for excellent laminar flow

Integrated velocity stack for smooth airflow

High pressure & low pressure air zones

Designed for stock turbo and hybrids (with IE turbo inlet)

Factory style mounts for reliable & easy installation

All stainless hardware

Multi-ply silicone with stop-flat edges

High-quality clamps

Powder-coated aluminum filter plate & velocity stack

Stainless laser-etched logo plate
A special rotomold process is used to manufacture our premium polymer 3.0T intake airbox. This method leverages complex shapes and angles to maximize internal volume for air supply and smooth flow for a true performance design. This molding style also produces consistent wall thickness, strong corners, and superior heat resistance for a cost-friendly intake without compromises.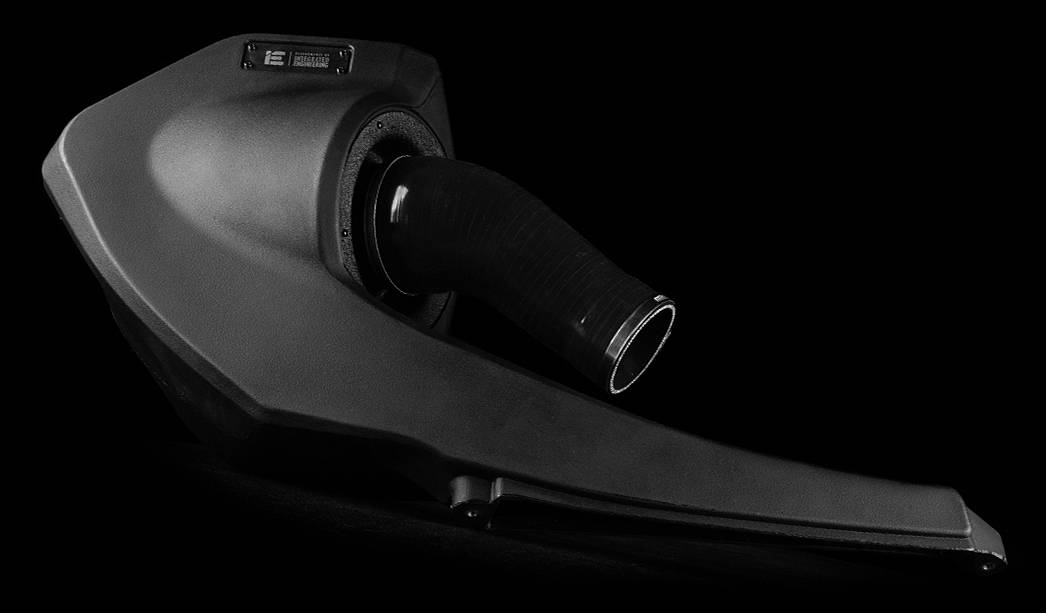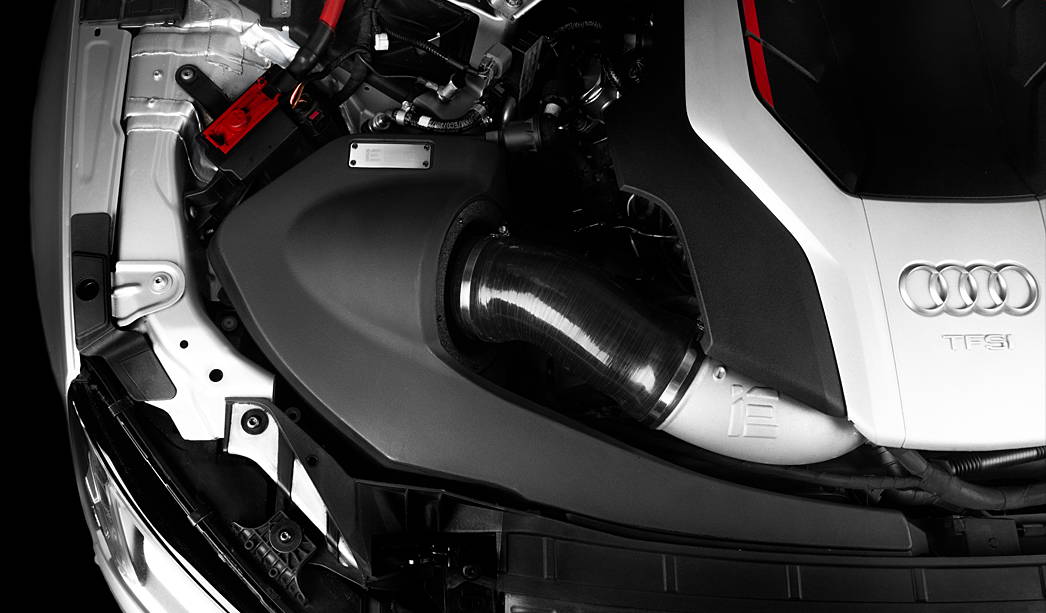 The entire intake is designed as a single-piece airbox to offer a seamless and complete look with an above factory quality fit and finish.
Our motorsport-designed velocity stack creates a smooth transition from the large filter area to the turbo inlet with excellent laminar properties. This uniquely engineered detail produces a high inertia flow with reduced drag and power-robbing turbulence.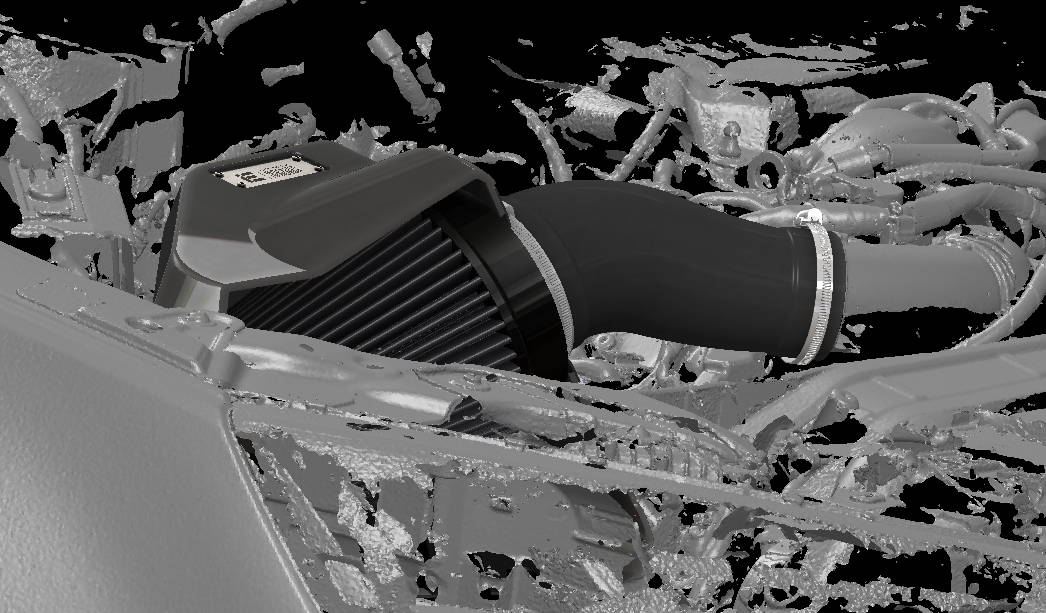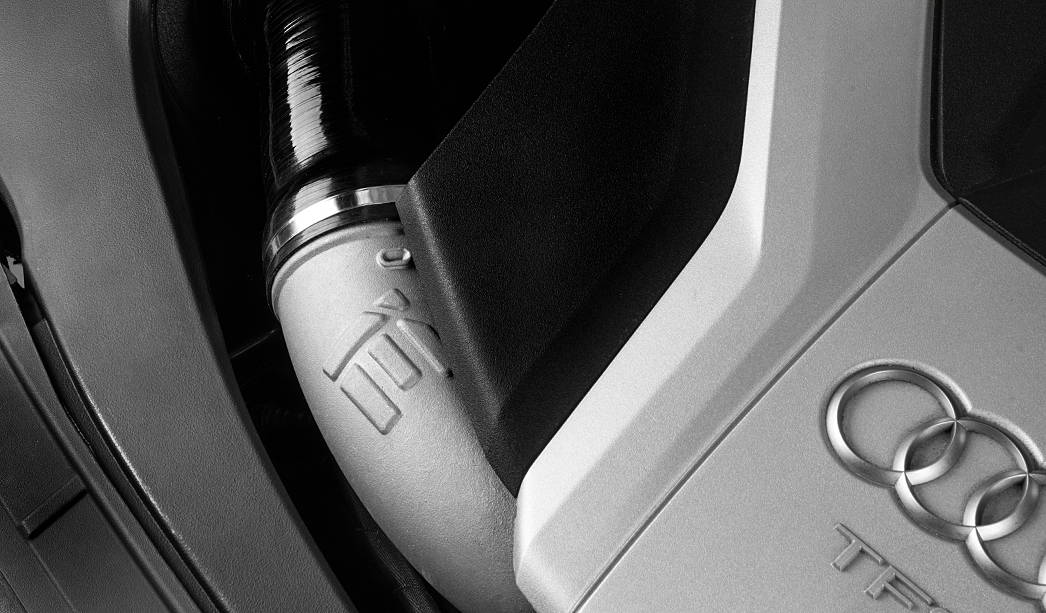 Adding the optional cast turbo inlet upgrade further reduces significant air restrictions while maintaining the largest size possible from the airbox to the turbocharger. The intake and turbo inlet further increases airflow from 37% (intake only) up to a combined 61% over stock!

Turbo inlet pipe is an optional upgrade and can be purchased with your intake or added at a later date.
The intake and turbo inlet designs offer a straightforward and bolt-in job of available hybrid turbo upgrades. Our turbo-specific CNC-machined and o ring sealed adapters always maintain the largest size possible without introducing flow restrictions. Upgrading to a TTE or Pure Turbo hybrid is easy, simple, and hassle-free.

Hybrid turbo adapter rings are sold separately from the turbo inlet upgrade.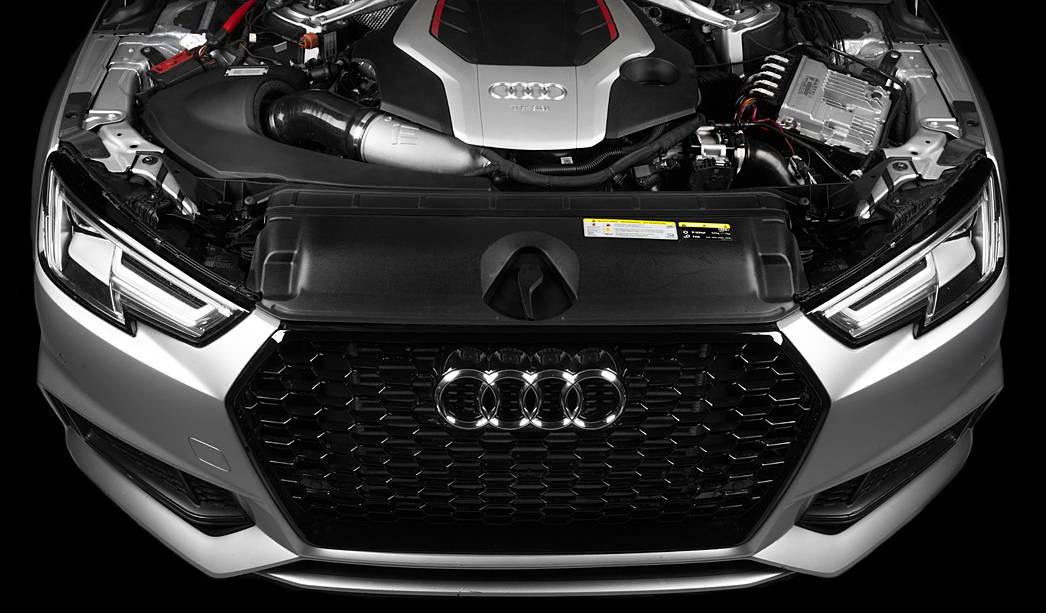 IE 3.0T INTAKE SYSTEM & TURBO INLET PIPE INSTALLED WITH TTE810 TURBO ON WORLD-RECORD 9-SECOND B9 S4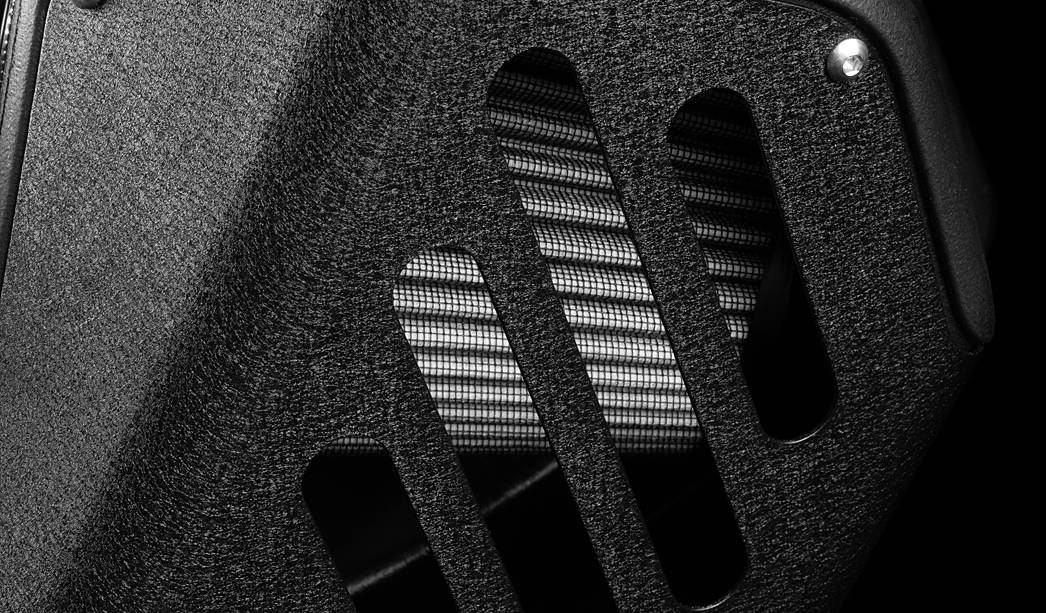 IE's multi-zone intake design delivers all the performance benefits of an open-filter intake while maintaining protection from hot engine bay air from under the hood. A constant ram air supply is forced in from the grille inlet, while any additional air demands are supplied from the low-pressure zone through the filter plate louvers. This dual-zone approach ensures airflow demands for any power level, even the most extreme builds.
The byproduct of a true performance-designed intake is more than power. Our uniquely engineered velocity stack, pressure zones, and extensive internal volume also work together to release a myriad of turbo spools, engine throttle, and diverter blow-off sounds that transform your S4 or S5 with the under-hood acoustics of a genuine sports car.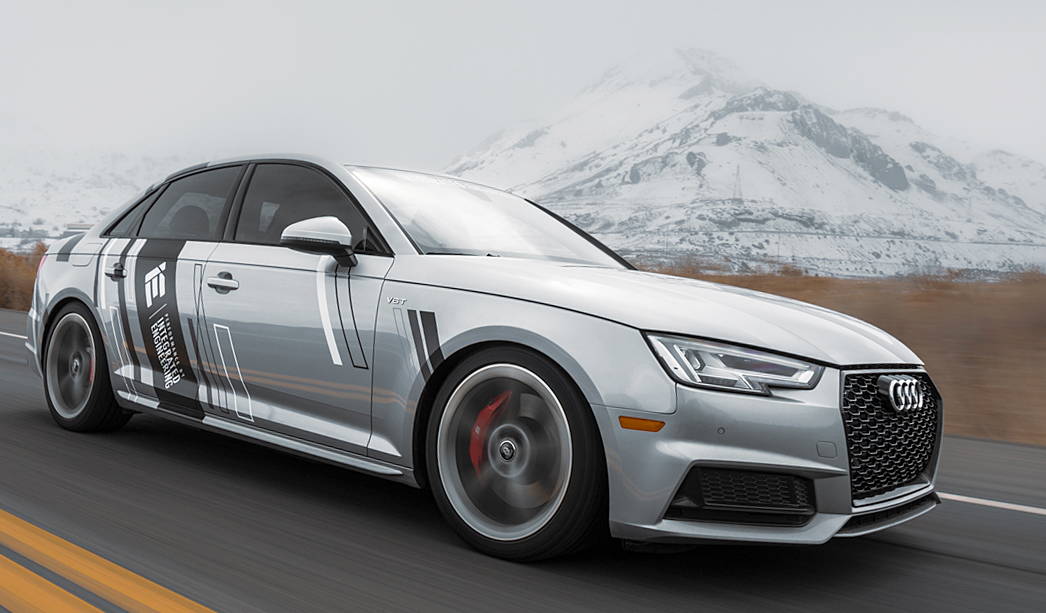 3D scanning tools are leveraged to create a high-resolution digital environment. This technology allows IE engineers to use all available space for a complete performance design while ensuring a hassle-free fit and installation.
Our cost-effective intake without compromising quality or performance.

/ Integrated Engineering.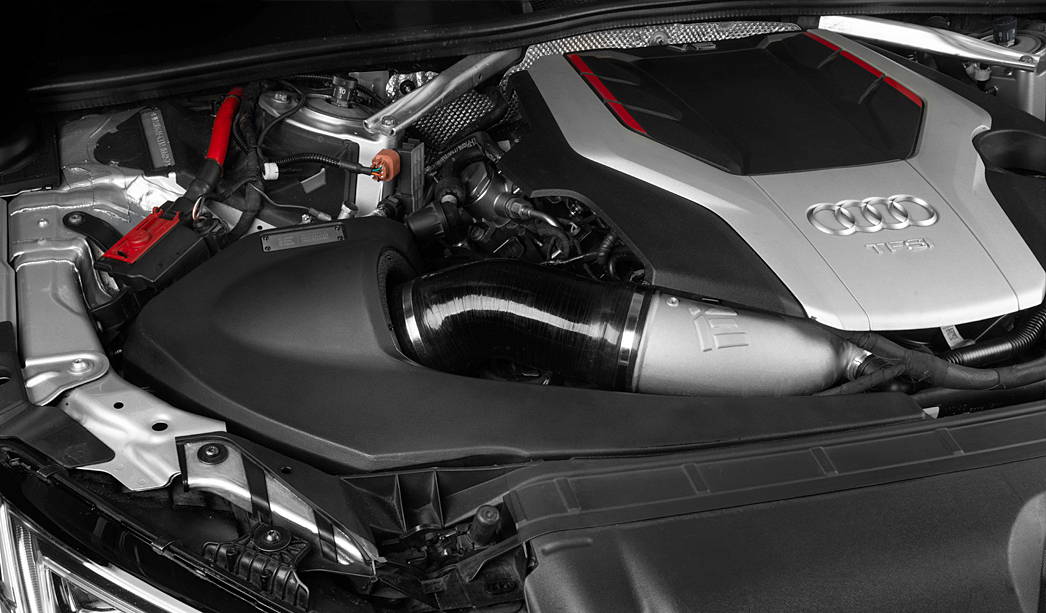 Every inch of this intake system design has evolved from countless revisions, rapid prototyping, flow bench testing, dyno runs, and real-world verification to maximize performance benefits. The result is power gains of up to 19WHP and 21ft-lbs of torque, with even higher gains possible on hybrid turbo setups!  
Our polymer intake provides consistent gains of up to 61.43% CFM over stock during back-to-back flow bench testing! This increase in CFM proves the upgraded intake system's efficiency over the factory parts and capability to provide any required airflow demands from ECU tunes and hybrid turbocharger upgrades.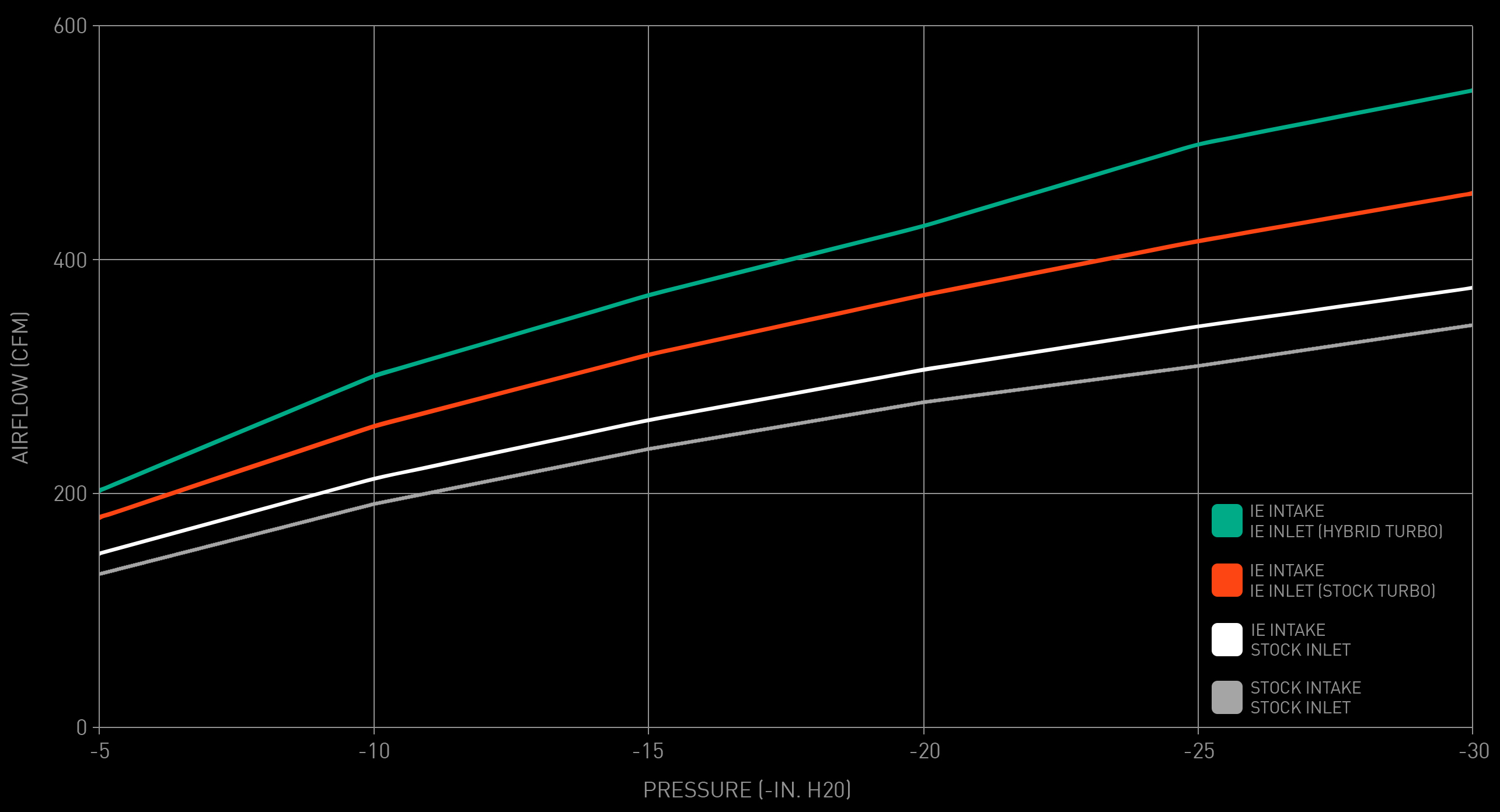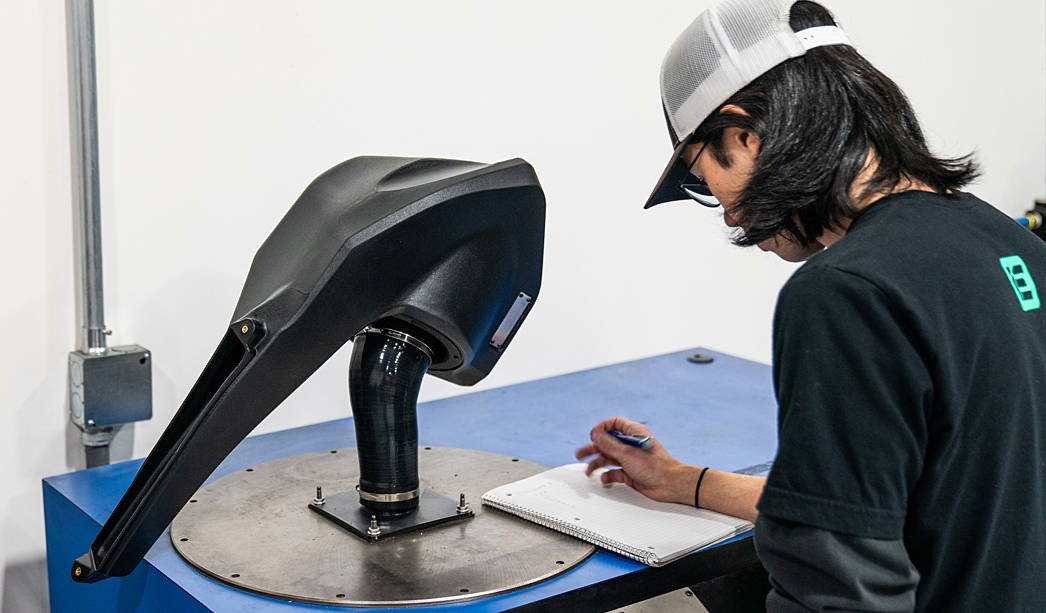 The following report details the above graph proving the efficiency gain of our performance intake system on the stock turbo.
| | | | |
| --- | --- | --- | --- |
| -IN. H20 | STOCK INTAKE | IE INTAKE & STOCK INLET | IE INTAKE & IE INLET |
| | | | |
| | | | |
| | | | |
| | | | |
| | | | |
| | | | |
| | | |
| --- | --- | --- |
| | IE INTAKE & STOCK INLET | IE INTAKE & IE INLET |
| | | |
Upgrading the turbocharger to a hybrid setup demands even more airflow. The following flow results represent IE's intake and inlet upgrades with a hybrid turbo adapter.
| | | |
| --- | --- | --- |
| -IN. H20 | STOCK INTAKE | IE INTAKE & IE INLET |
| | | |
| | | |
| | | |
| | | |
| | | |
| | | |
The above gains are a result of various design details:
The 5" air filter surface area and increased air volume improve turbo efficiency.


The internal velocity stack provides a low-turbulence transition from the filter to the inlet.



High & low-pressure zones channel low-temp airflow quickly to the engine while protecting it from radiant engine heat.
To learn more about these features, click the design tab above.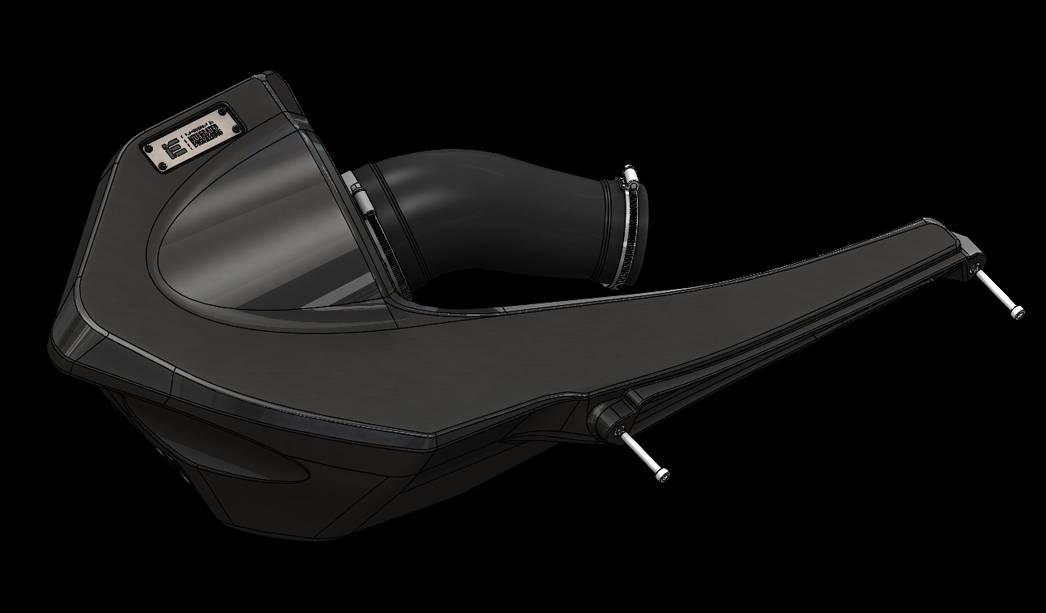 Install your new air intake using basic hand tools in no time. Our thermoplastic intake utilizes factory-style mounts that ensure a perfect and hassle-free fit.

Install time: 20 - 45 minutes