The IE Polymer Air Intake System delivers performance, sound, and style to your Audi B9/B9.5 (80A) Q5 2.0T engine. Our specialty rotomold construction maintains low intake air temps and brings an elevated look to your engine bay. Gain easy power from the massive filter, high and low-pressure inlets, large internal volume, and built-in velocity stack. Add airflow gains and addicting sound without sacrificing quality.
PREMIUM QUALITY
POLYMER
CONSTRUCTION
POWER YOU CAN FEEL
10-20HP GAINS
WITH ECU TUNING
FLOW OPTIMIZED
VELOCITY STACK
HIGH-FLOW DESIGN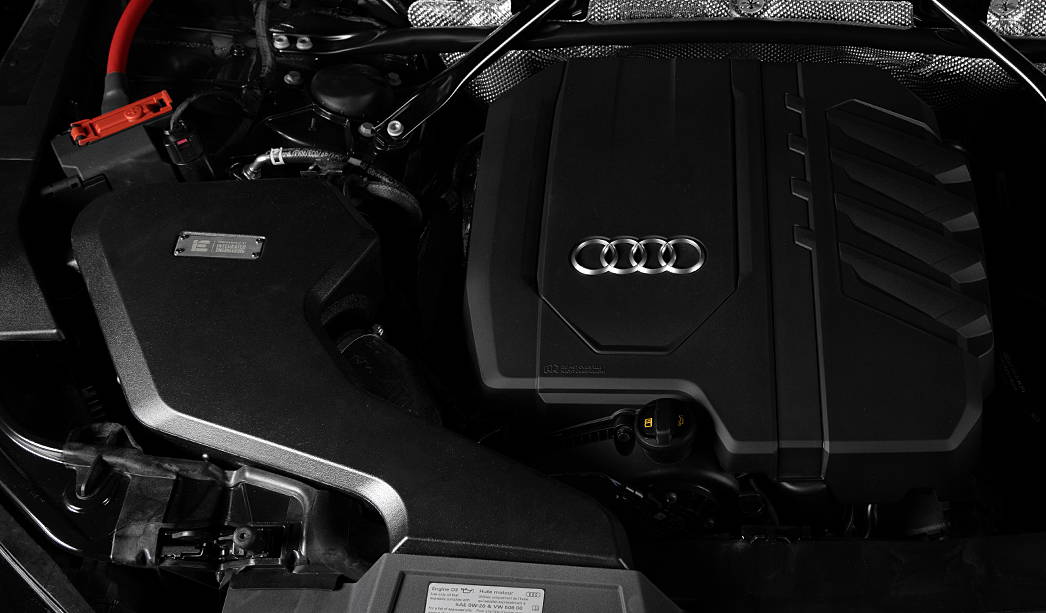 High-flow design -5" air filter, velocity stack, & larger volume
Perfect fit -Factory style mounts for reliable & easy installation
Unlimited air supply -High/low-pressure zones for any power goal
Aggressive engine sounds -Releases hidden turbo & engine notes
High-flow design
5" air filter, velocity stack, & larger volume
Perfect fit
Factory style mounts for reliable & easy installation
Unlimited air supply
High/low-pressure zones for any power goal
Aggressive engine sounds
Releases hidden turbo & engine notes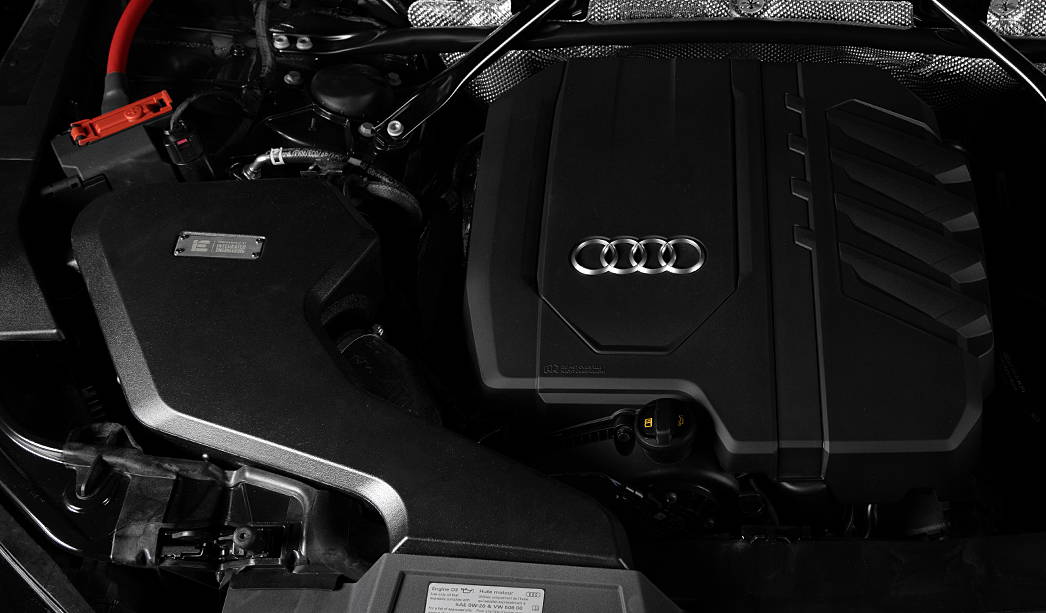 Plastic desn't mean cheap. This cold air intake is manufactured from a high-quality rotomold procedure that produces a superior polymer material with consistent wall thickness, strong corners, and excellent heat resistance. Enjoy a premium intake design without compromise.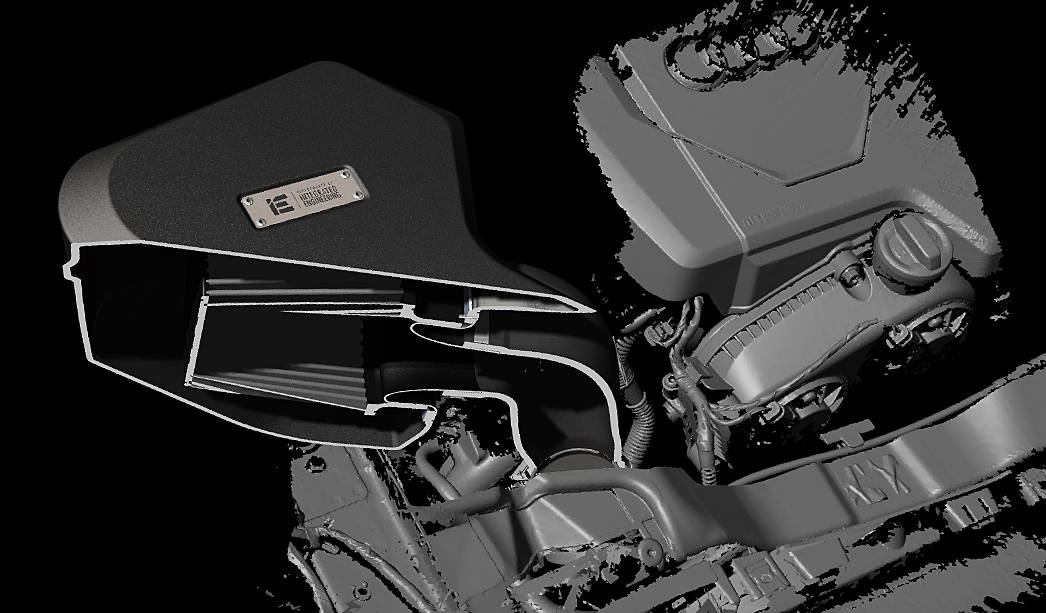 The internal volume of the intake and its complex shapes are the results of application-specific engineering for the Audi SUV platform. Every inch has been performance-designed to feed your turbocharger with the most airflow possible.
The factory airbox is designed to mute all engine and turbo sounds. When upgrading to an IE intake system, you will instantly become addicted to the new turbocharger spool, engine throttle, and diverter valve symphony under the hood. Your Q5 will pull harder and make you smile with with the new refined and exiciting engine sound.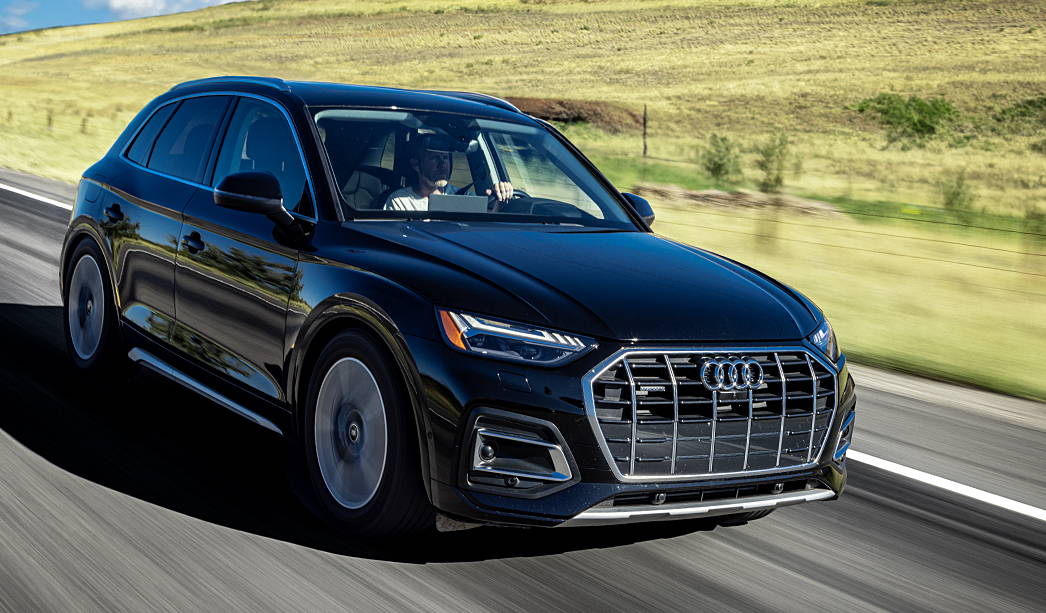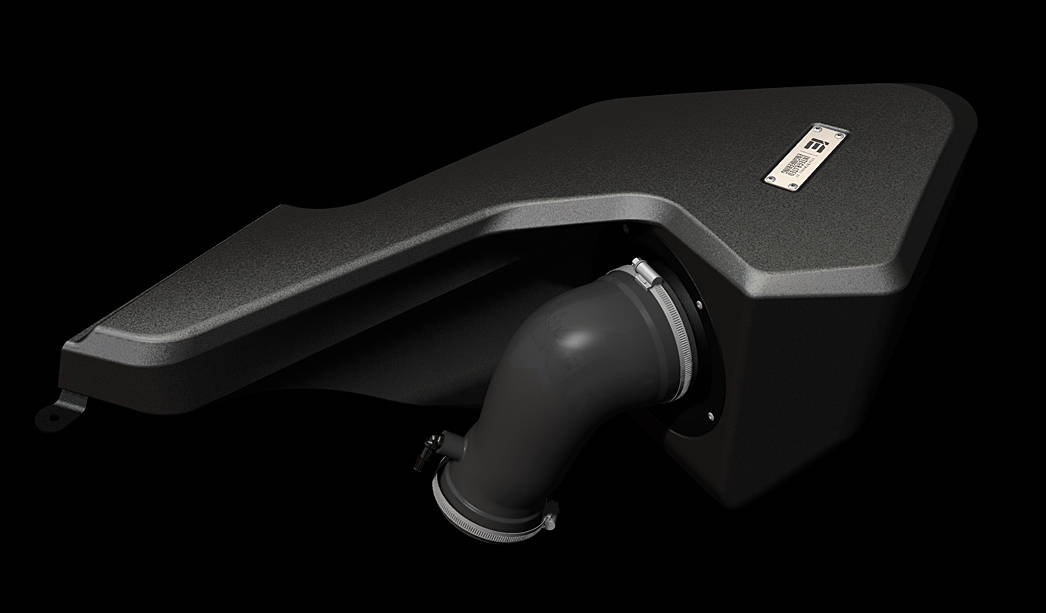 Our unique 1-piece airbox offers a seamless and beautiful look without chances of air leaks, finicky installation, rubbing noises, or parts loosening over time, common with multi-peace airbox designs.
The built-in velocity stack smoothly reduces airflow from the massive 5" air filter down to the turbo inlet with excellent laminar properties. This transition creates a very high inertia flow from the huge filter with very low drag or power-robbing turbulence.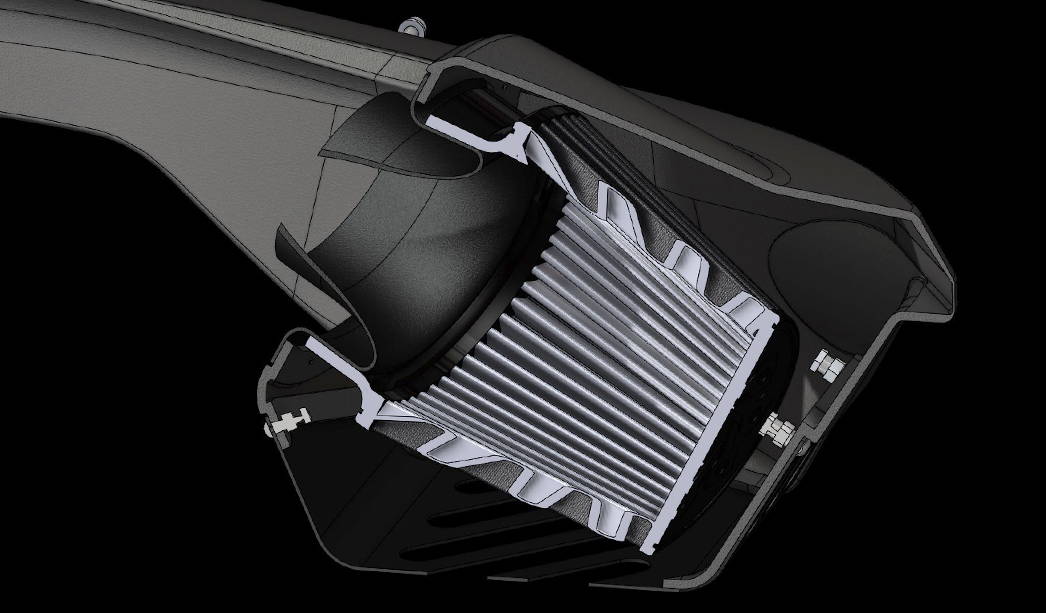 The intake takes advantage of multiple air supply avenues to support any power level. The front large air inlet receives outside high-pressure flow from the front of the grille and acts as a ram air design for most of the air supply. Additionally, the filter plate louvers pull extra required air from the low-pressure zone under the intake. These dual zones provide a free air supply across the entire filter and ensure your intake will never be a power limiter for even the most extreme builds.
3D scanning tools are leveraged to create a digital duplicate of the vehicle's engine bay, grille, bumper, and hood. These high-resolution scans provide a digital environment that allows our engineers to take advantage of all available space while ensuring a perfect fit.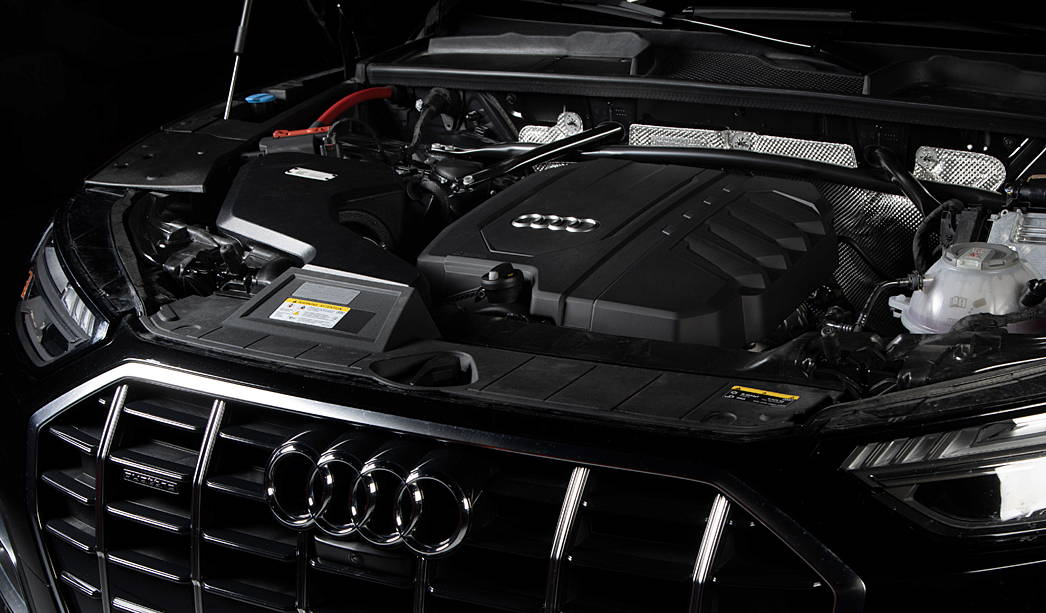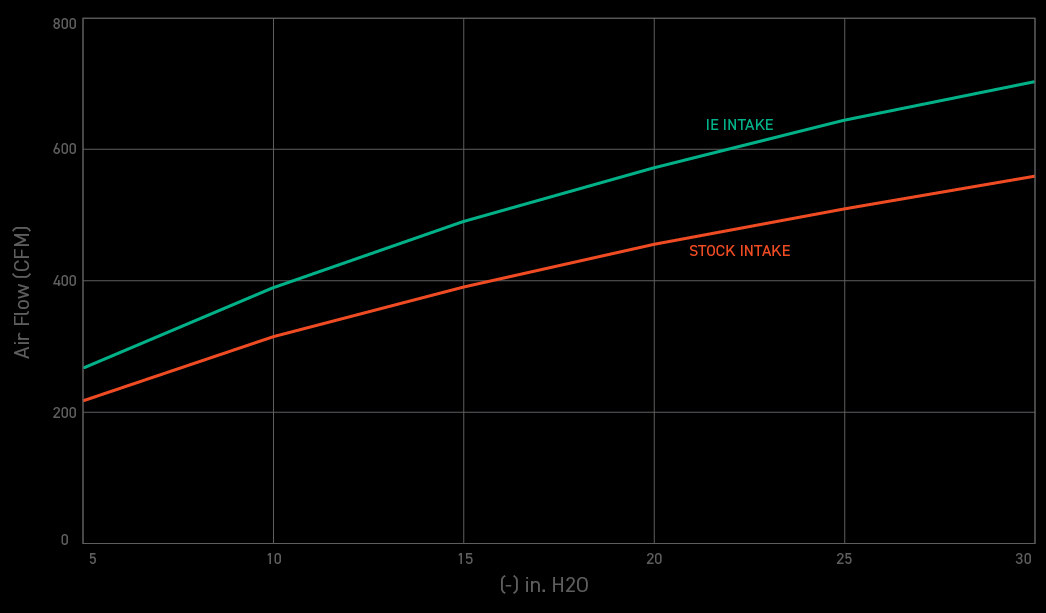 Every inch of IE's intake system evolved from countless design revisions, rapid prototyping, flow bench testing, dyno runs, and real-world verification to maximize airflow and performance. The result is an intake system with power gains of up to 10-20HP when combined with ECU engine tuning!  
The proof is in the testing. Back-to-back flow bench results show constant and consistent gains of up to 134 CFM over stock! This increase in flow details the intake design's efficiency over the factory parts and capability to provide any required airflow demands from ECU tunes and hybrid turbocharger upgrades.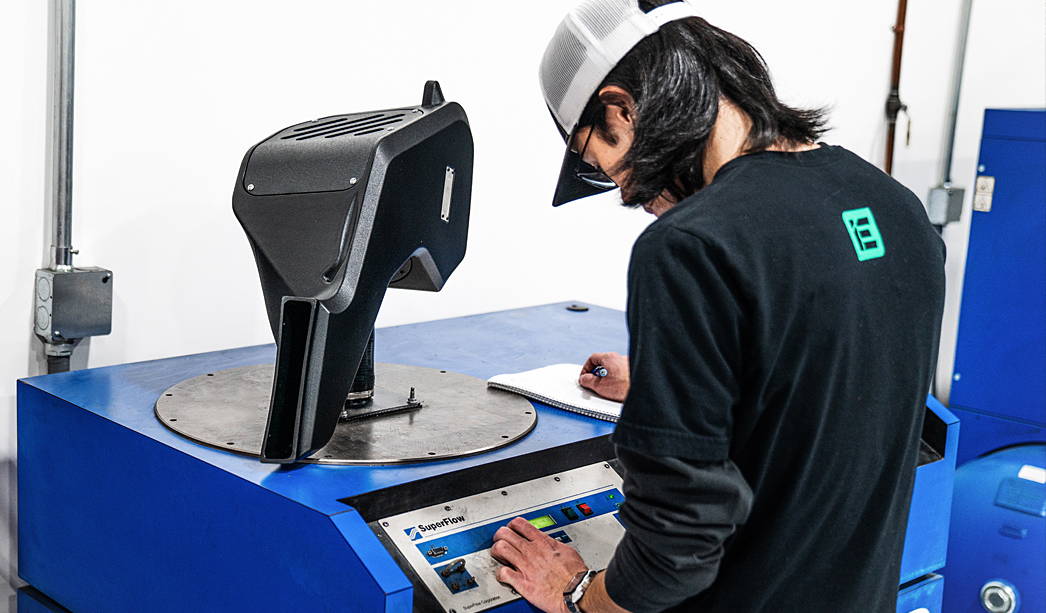 The following report details the above graph proving the efficiency gain of our performance intake system on the stock turbo.
| | | |
| --- | --- | --- |
| -IN. H20 | STOCK INTAKE | IE INTAKE |
| | | |
| | | |
| | | |
| | | |
| | | |
| | | |
The above gains are a result of various design details:
The 5" air filter surface area and increased air volume improve turbo efficiency.


The internal velocity stack provides a low-turbulence transition from the filter to the inlet.



High & low-pressure zones channel low-temp airflow quickly to the engine while protecting it from radiant engine heat.
To learn more about these features, click the design tab above.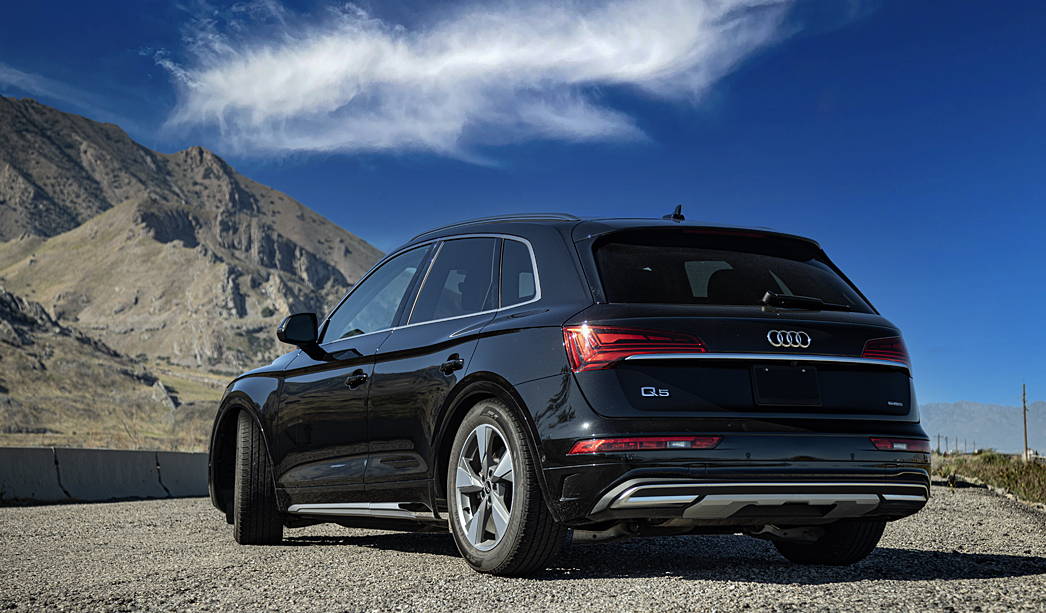 The installation process is quick and straightforward using basic hand tools. The entire airbox system utilizes factory-style mounts that ensure a perfect and hassle-free fit.

Intake install time: 20-40 minutes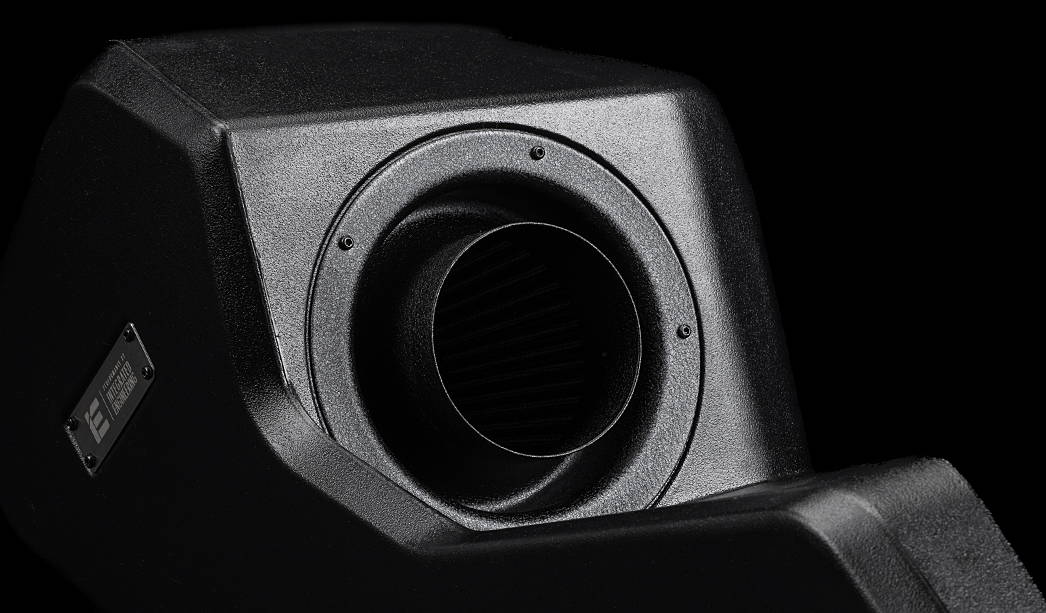 NOTE: Does not fit hybrid engines or ROW models equipped with a MAF sensor, please verify before ordering.