Engineered specifically for Audi B9 3.0T high-power builds, the IE Race Series FDS Intercooler System is obsessively optimized in every dimension to surpass all competition in volume and size. The staggering 280% larger than stock bar and plate core with aluminum end tanks delivers unmatched cooling properties, while our FDS (Flow Distribution System) fin technology evenly distributes charge air and increases flow. Defeat heat soak and push the limits of your build with maximized power output.

MARKET LEADING
280% INCREASE
VOLUME OVER STOCK
OVERSIZED
70MM
INLET & OUTLET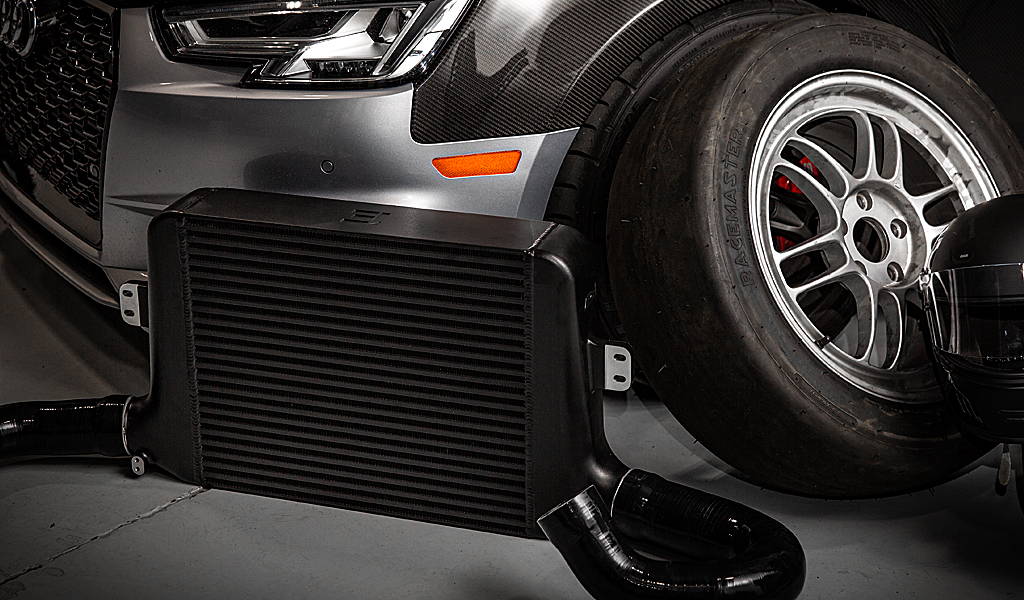 Heat soak occurs when the Intake Air Temperature (IAT) generated by the turbo exceed the cooling capacity of the intercooler and passes hot air to the engine. The result is a noticeable loss of power during acceleration and long pulls. Our IE Race Intercooler dramatically increases the core size and useable area of the core with FDS technology to significantly reduced intake air temperatures consistently lower than OEM and competitor intercoolers while increasing flow.
FLIR Thermal Equipment and advanced Computational Fluid Dynamics (CFD) software were used to engineer the application-specific FDS fin design. The thermal imagery details air distribution evenly through the core in real time; notice the hot inlet air flowing evenly to the top and across the intercooler core. The better this flow is distributed, the more efficiently the intercooler operates and the speed at which heat is expelled.
To prove the positive effects the intercooler design and FDS system have on airflow and pressure drop, flow testing was performed on the IE Race Intercooler VS. our standard IE FDS Intercooler option. Test results show consistent gains of up to 81.6% more flow over our alternate intercooler offering. This increase details the Race Intercooler's efficiency and capability to provide optimal cooling without negatively impacting airflow demands on any build level.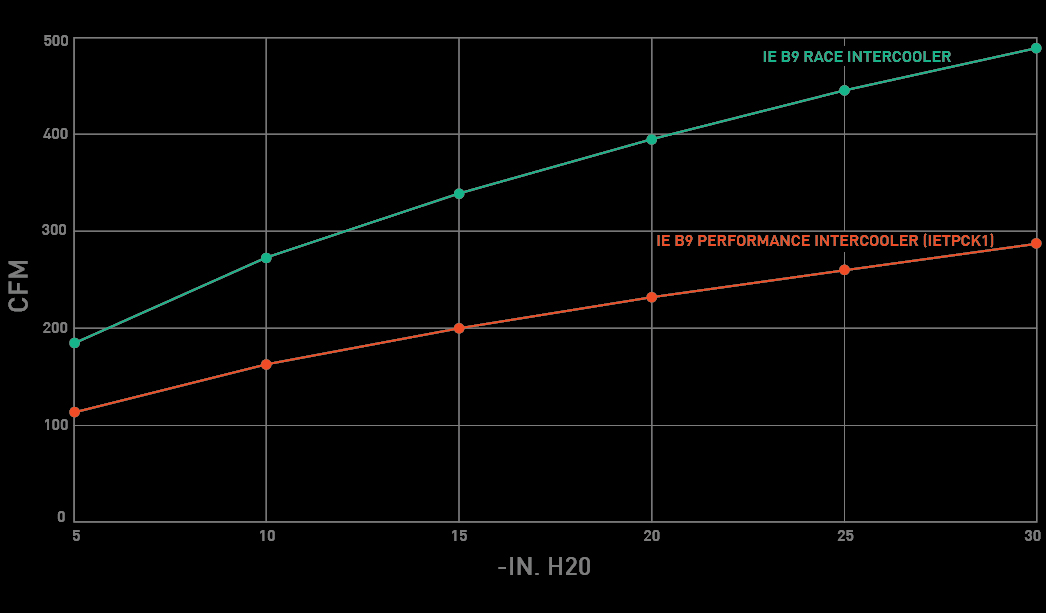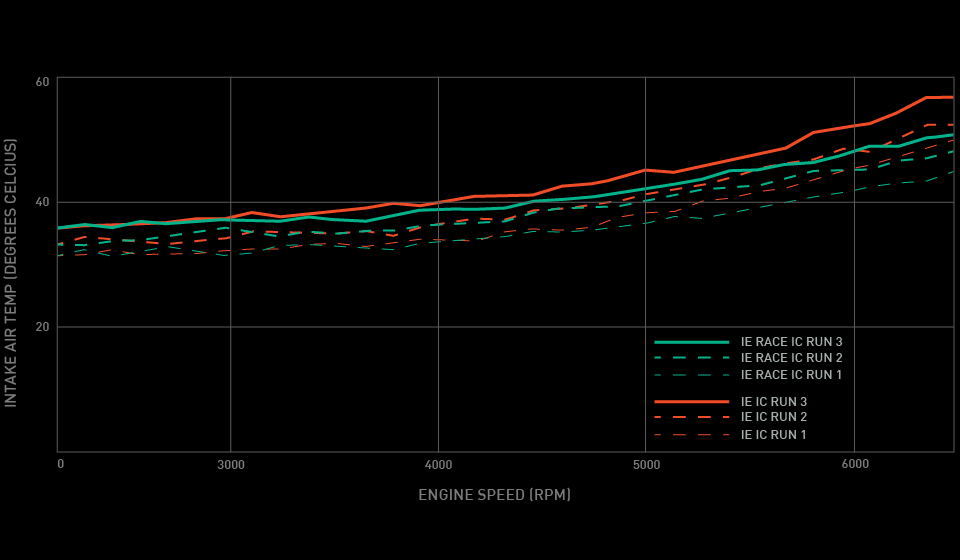 This graph details the Intake Air Temperature (IAT) over consecutive runs on a Stage 3 Hybrid Turbo S4 at over 650WHP. Three wide-open throttle pulls were made back-to-back on an IE Race FDS Intercooler VS. our standard IE FDS Intercooler (IETPCK1). The result was up to 11.4% lower IAT over our alternate performance intercooler design.
| | | | | |
| --- | --- | --- | --- | --- |
| | RUN 1 | RUN 2 | RUN 3 | AVERAGE |
| | | | | |
Install your new intercooler kit (and charge pipes) without any permanent modifications or installation hassles. The install process is involved, yet straightforward with basic tools.
Install time with charge pipe pre-installed: About 2-3 hours
Install time with new charge pipes: About 5 hours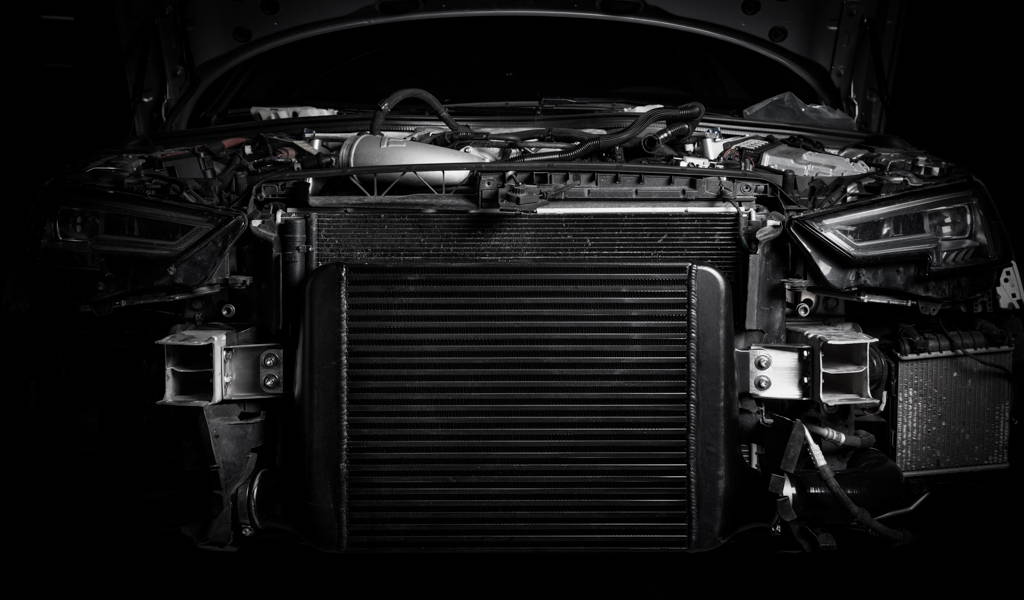 SQ5 Fitment: Please note that while our intercooler can be installed on the SQ5 model, the factory crash beam will not clear.
IE is currently developing a dedicated aftermarket crash beam for the SUV platform to supply a seamless fitment with our race series intercooler.