The IE Turbo Inlet pipe for your Audi B9 RS5 or RS4 feeds your twin-turbocharged engine an unrestricted supply of airflow. This turbo inlet pipe is an upgrade to our existing 2.9T air intake system and provides a complete high-flow path from the intake to the turbochargers. Enjoy innovative features including the impressive flow gains, premium quality aircraft-grade aluminum casting, and the massive size that fills up the engine bay with a stylish look. Fully upgrade your intake system and breathe free!
ADD UP TO
39.27% MORE FLOW
OVER STOCK
AIRFORCE GRADE
CAST ALUMINUM
PREMIUM CONSTRUCTION
DESIGNED TO SUPPORT
STOCK & HYBRID
TURBOCHARGERS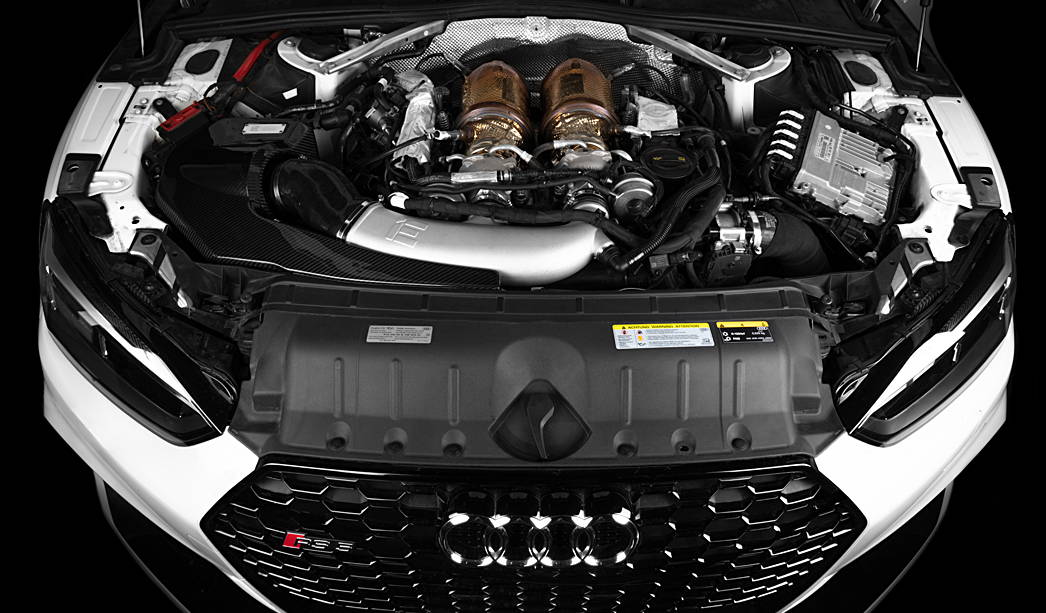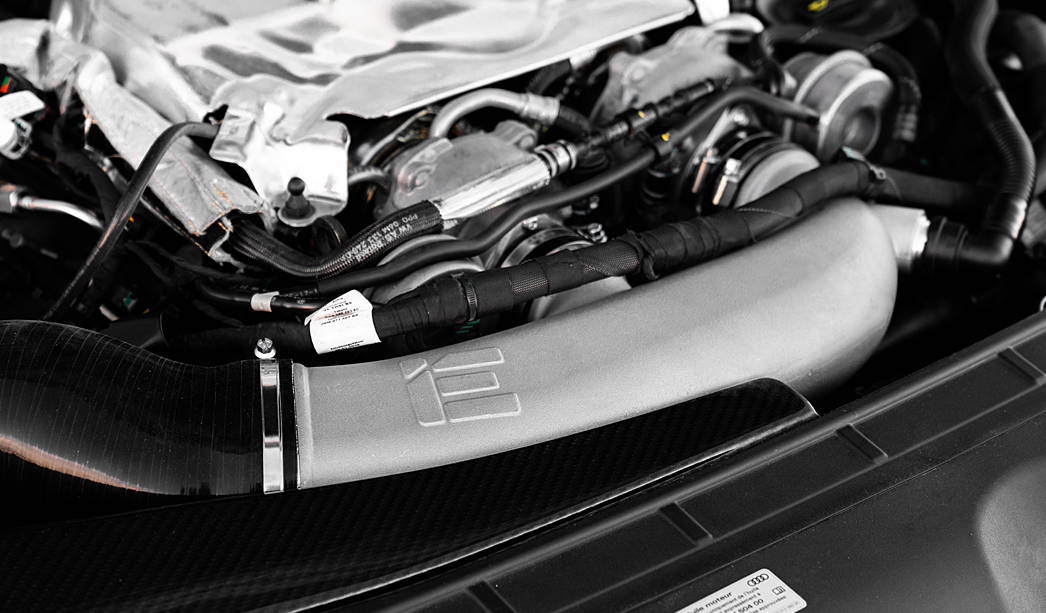 High-flow design -Up to 39.27% more flow over stock
Utilizes all engine bay space -Massive 3.2" inner diameter cross-section
Exceptional quality -Aircraft grade aluminum casting
Perfect Install -CNC machined with exacting tolerances
Designed for IE intake -Easy bolt-in upgrade with IE 2.9T Air Intake System
High-flow design
Up to 39.27% more flow over stock
Utilizes all engine bay space
Massive 3.2" inner diameter cross-section
Exceptional quality
Aircraft grade aluminum casting
Perfect Install
CNC machined with exacting tolerances
Designed for IE intake
Easy bolt-in upgrade with IE 2.9T Air Intake System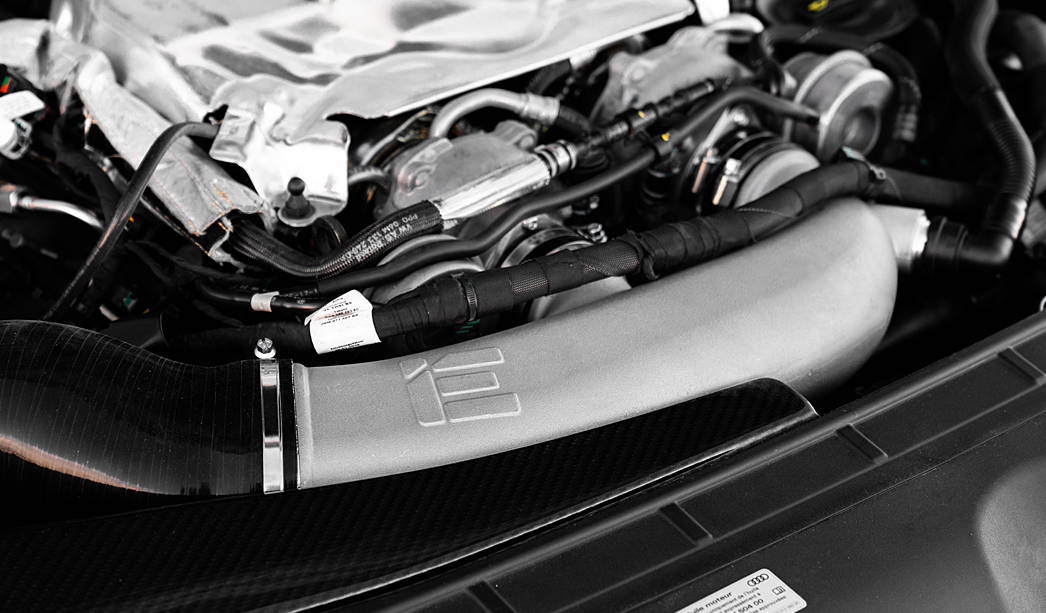 Performance tunes and hybrid turbochargers add easy power to your Audi twin-turbo 2.9L engine; however, these upgrades demand more airflow. The factory-installed turbo inlet is a significant bottleneck in the stock air intake system that can restrict horsepower. IE's cast turbo inlet is engineered to maximize all available engine space to increase airflow for your turbochargers.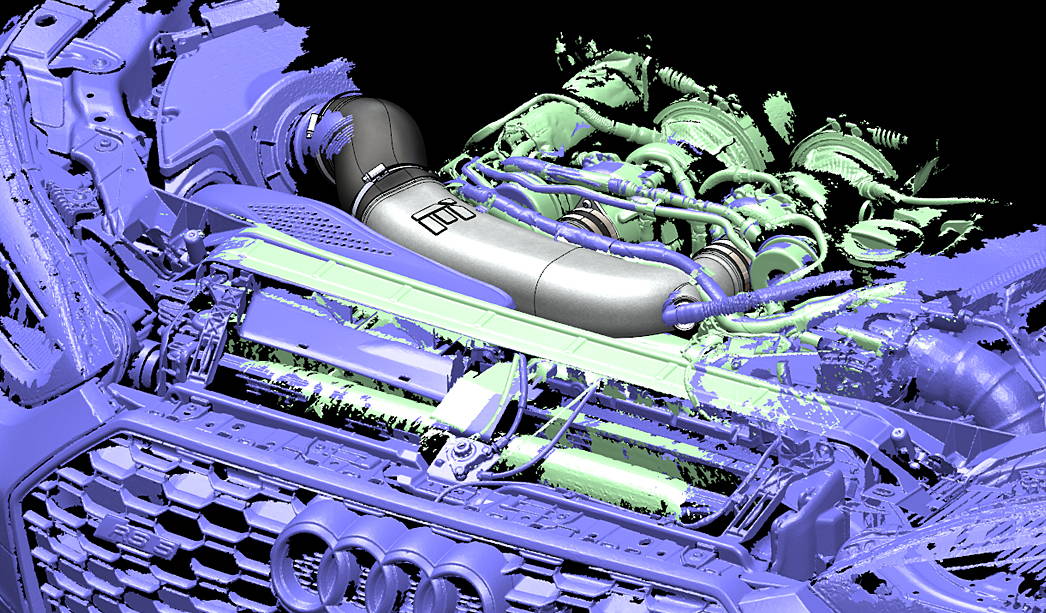 Maximizing flow in the constraints of the factory engine bay is the result of the turbo inlet size and shape. Our engineers use high-quality 3D scans and digital flow dynamic software to utilize every millimeter of space for a true-performance design. The result is a perfect fit, a stylish look, and a massive 3.2" effective inner diameter cross-section with an optimized flow path.
Our inlet design is manufactured from aircraft-grade aluminum to accomplish the unique bends and shapes required for the cleanest airflow path possible. The casting is then CNC machined to precise tolerances for a perfect fit without clearance issues or the risk of rubbing expensive factory hoses or lines.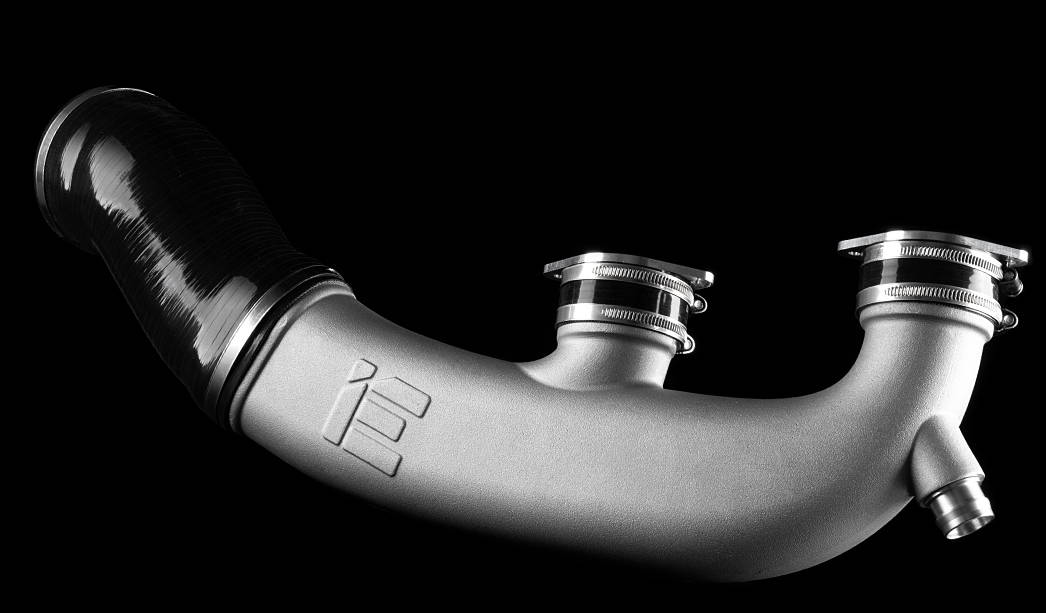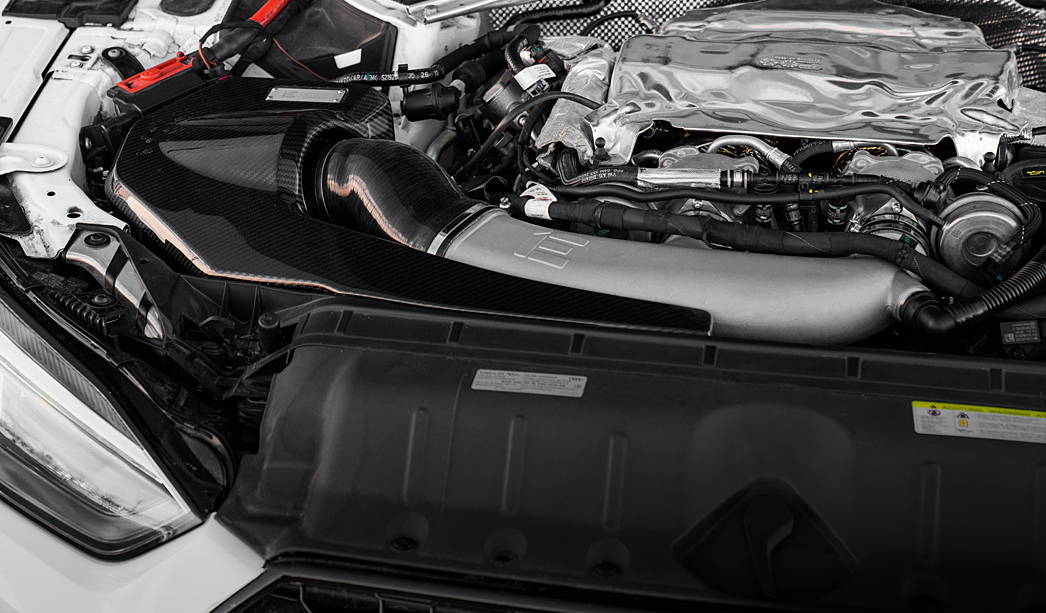 PERFECT FIT WITH IE INTAKE

IE cast turbo inlet is the second step to upgrading your intake airflow and has been designed as a direct-install fit with an IE cold air intake system. This combination removes significant airflow restrictions and maintains the largest size possible from the intake to the turbocharger.

Non-IE brand intakes are not guaranteed to be a direct fit and may require custom modifications.
Designed to make installing hybrid turbochargers a simple bolt-in job, the CNC-machined and o-ring sealed adapter flanges are available for the stock turbos (included) or TTE720 aftermarket turbos (sold separately). These adapter flanges always adapt to the turbo inlet size to avoid introducing any restrictions and maintain the largest flow path possible.

TTE720 adapter flanges are currently in production and coming soon. Adapter flanges will be sold separately.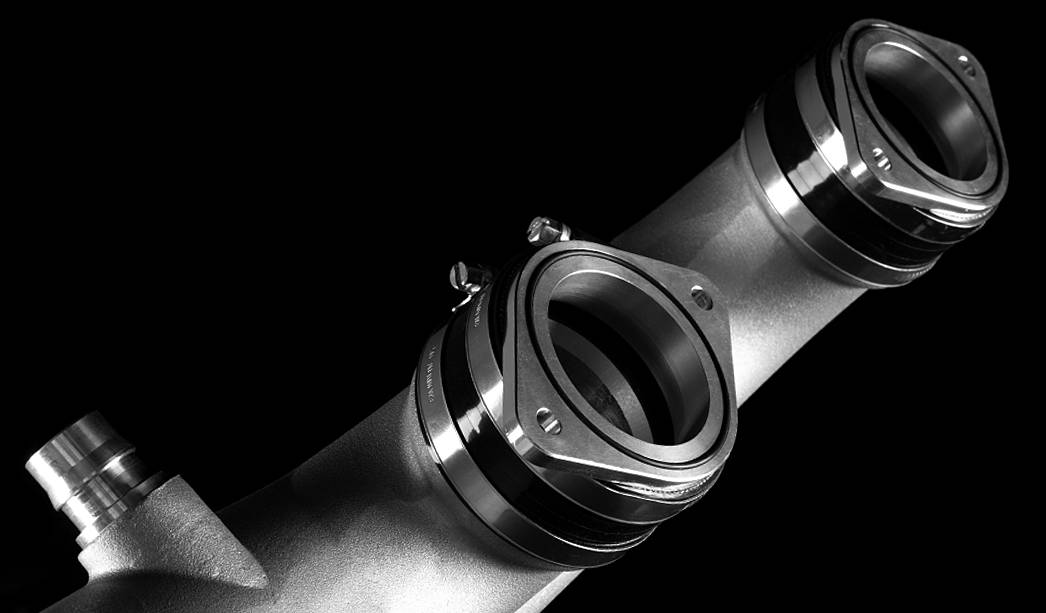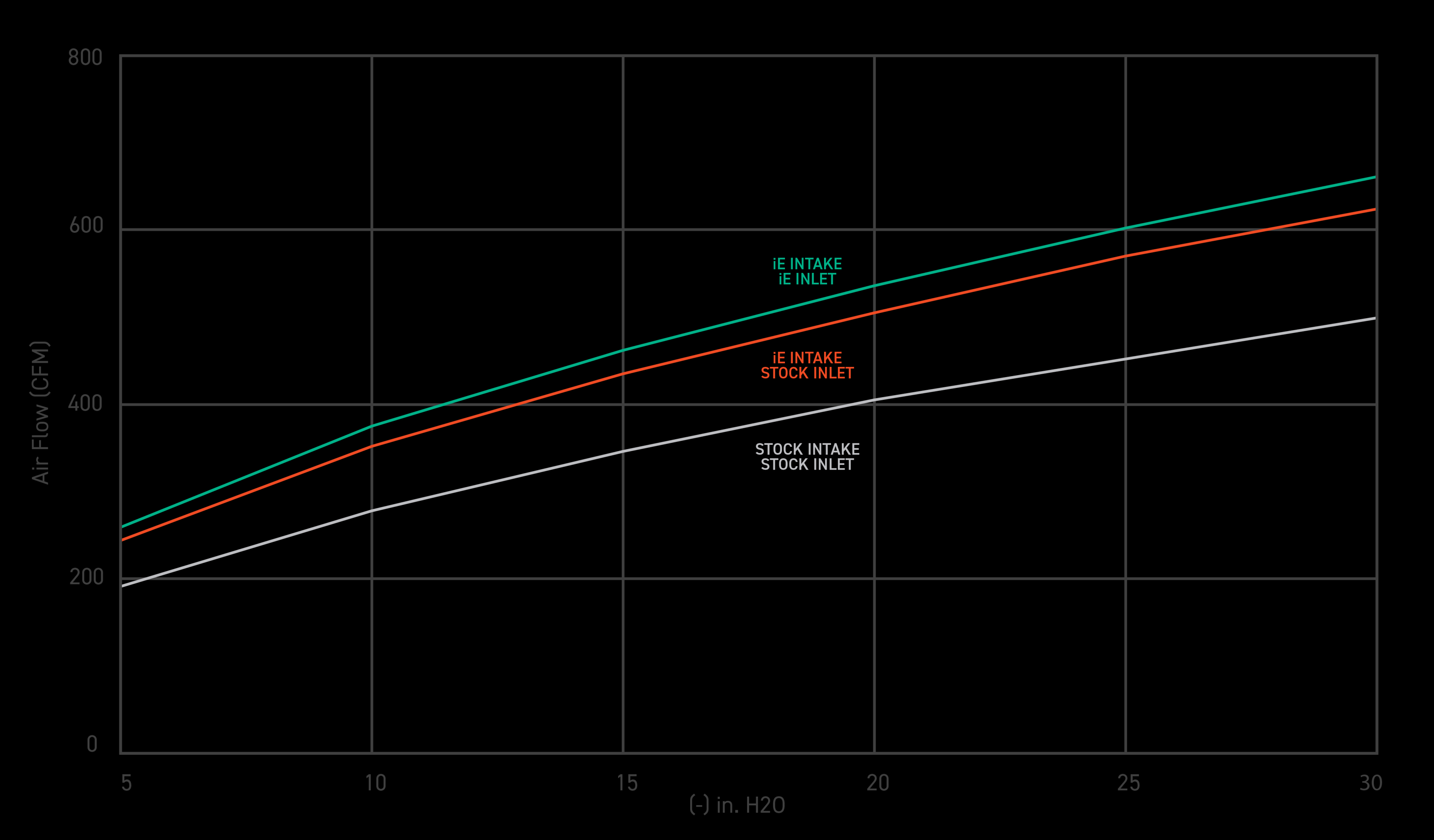 Back-to-back flow bench results show consistent CFM gains of up to 39.27% CFM over stock! This flow graph details our turbo inlet's efficiency over the factory parts and capability to provide any required airflow demands from ECU tunes and hybrid turbocharger upgrades.
The following report details the above graph proving the efficiency gain of our turbo inlet and intake system on the stock turbos.
| | | | |
| --- | --- | --- | --- |
| -IN. H20 | STOCK | IE INTAKE | IE INTAKE & INLET |
| | | | |
| | | | |
| | | | |
| | | | |
| | | | |
| | | | |
This flow report represent IE's intake and inlet upgrades with TTE720 hybrid turbos.
| | | |
| --- | --- | --- |
| -IN. H20 | STOCK | IE INTAKE & INLET |
| | | |
| | | |
| | | |
| | | |
| | | |
| | | |
The above gains are a result of various design details:
The 3.2" cross-section inner diameter increases volume for improved airflow efficiency.


The smooth reduction turbo flanges provide a low-turbulence transition from the turbo inlet pipe to the turbo compressor housings.



The unique inlet shape provides an optimized path to quickly channel air from the intake to the turbochargers.
To learn more about these features, click the design tab above.
Engineered for a perfect and no-fuss fit, the installation process is quick and straightforward using basic hand tools.

Intake install time: 1-2 hours